THIS WEEK'S CANBERRA WEEKLY COLUMN: 12 MARCH 2020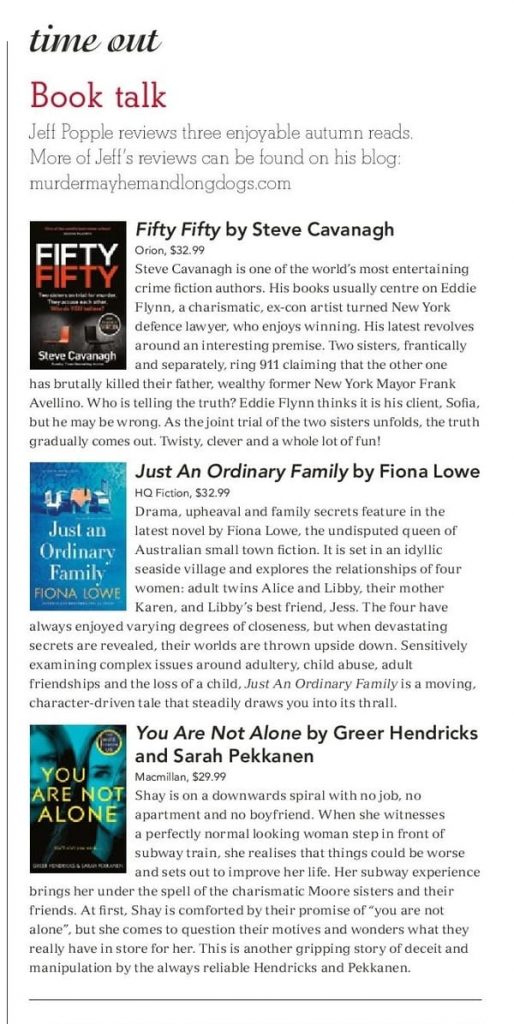 This week in the Canberra Weekly I review three enjoyable novels for reading over autumn, or if you are stuck in voluntary quarantine!
The first is Steve Cavanagh's wickedly clever legal thriller Fifty Fifty. Full of good twists and subtle misdirection, it is a very entertaining novel that will pleasantly distract you from the news headlines for several hours. See my longer review at:
https://murdermayhemandlongdogs.com/fifty-fifty-by-steve-cavanagh-orion/
Fiona Lowe, the undisputed queen of Australian small town fiction, has another sizeable tale of family drama and old secrets. Just An Ordinary Family is full of Fiona's trademark mix of engaging, well described characters and interesting social issues. It will readily appeal to her growing base of fans.
Greer Hendricks and Sarah Pekkanen have followed up their quite enjoyable An Anonymous Girl with another story about the perils of single life. You Are Not Alone is a well constructed novel, that is held together by the authors' believable portrayal of the down-at-heels and desperately unhappy Shay Miller. There are some good twists and the story builds to a taut climax in the New York subway.