THIS WEEK'S CANBERRA WEEKLY COLUMN: 16 July 2020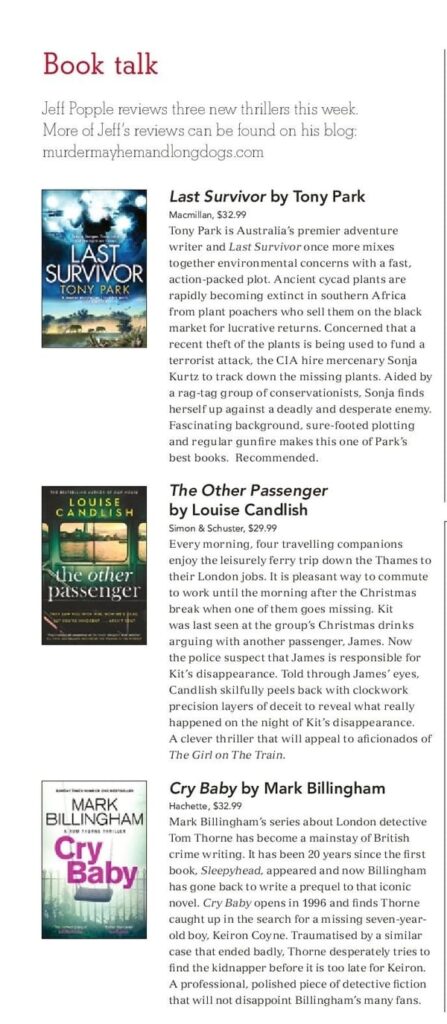 This week in the Canberra Weekly I review three thrilling novels by Tony Park, Louise Candlish and Mark Billingham.
Tony Park is one of my favourite thriller writers and his latest southern African adventure novel, Last Survivor, delivers his usual mix of fascinating environmental detail and an action-packed storyline. This time his plot revolves around ancient cycad plants, which are facing extinction in southern Africa. The plants demand ridiculous prices from collectors and not surprisingly there is a lucrative illegal trade in them. When the CIA learn that a recent theft of the plants is linked to the funding for a terrorist operation they send in former mercenary Sonja Kurtz to help track them down.
I always enjoy the Sonja Kurtz novels and this one is no exception. As I said in my review above: "Fascinating background, sure-footed plotting and regular gunfire makes this one of Park's best books."
Louise Candlish's The Other Passenger is a well constructed and clever suspense thriller that reveals its many surprises with clockwork precision. A masterful and thoroughly enjoyable crime novel that also has some interesting things to say about human relationships and the tension between the different generations. See my longer review at: https://murdermayhemandlongdogs.com/the-other-passenger-by-louise-candlish-simon-schuster-july-2020/
Mark Billingham's first Tom Thorne novel, Sleepyhead, appeared in 2001 and since then the London detective has become a mainstay of the British crime writing scene. His latest novel, Cry Baby, takes us back to 1996 when Thorne is a Detective Sergeant investigating the disappearance of a
seven-year-old boy, Kieron Coyne. Haunted by a similar case that ended badly, Thorne desperately tries to find the kidnapper before it is too late for Keiron. 
Billingham trots out some familiar tropes, the creepy neighbour with a liking for young children and the too friendly school teacher, but also adds some neat twists and a convincing portrayal of police work. Regular fans of the series will appreciate seeing the younger Thorne with his marital and housing problems and the early development of his independent streak. It is also interesting to see Thorne's his first interactions with pathologist Phil Hendericks, who becomes a major player in the series.
In all, a professional, polished piece of detective fiction, that will not disappoint Billingham's, and Thorne's, many fans.
Thanks to Simon & Schuster, Pan Macmillan, Hachette and the Canberra Weekly for advanced copies of the books.
The reviews can also be seen on the Canberra Weekly's new stylish website at: https://canberraweekly.com.au/book-talk-three-new-thrillers/