THIS WEEK'S CANBERRA WEEKLY COLUMN: 19 MARCH 2020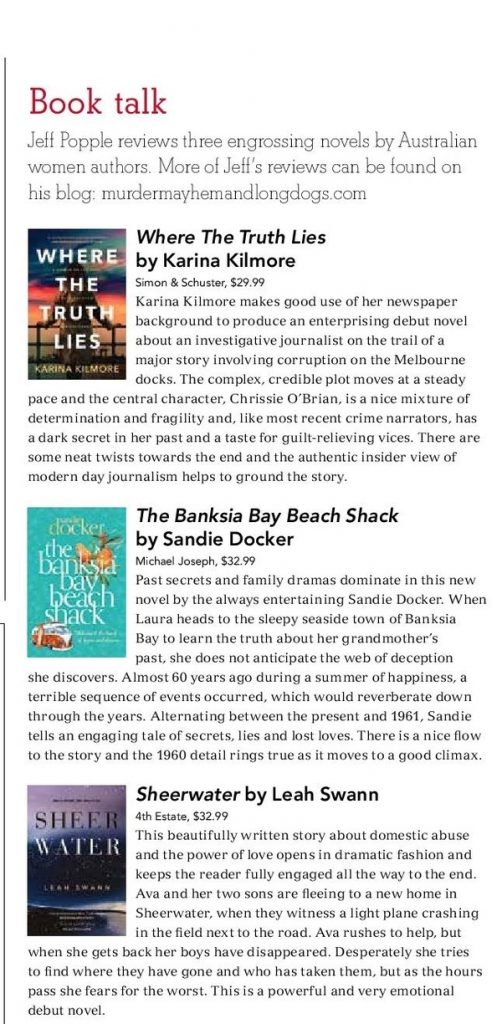 This week in the Canberra Weekly I reviewed three very good novels by Australian women authors.
First up is Karina Kilmore's accomplished debut Where The Truth Lies. This is a complex, well grounded crime novel with a flawed, but determined central character. I recently provided a longer review of Where The Truth Lies at:
https://murdermayhemandlongdogs.com/where-the-truth-lies-by-karina-kilmore-simon-schuster-march-2020/
Sandie Docker's The Banksia Bay Beach Shack is a good family drama, that makes effective use of its alternating timelines between the present and 1961. The setting of Banksia Bay is well imagined and evocative, and Docker skillfully recreates Australia in the early 1960s. Perhaps some elements stretch credibility, but overall it is an engaging book to read while in self-isolation!
Finally, Leah Swann's impressive debut, Sheerwater, is the most powerful of the three books. Drawing on recent events, this gripping tale of domestic abuse stirs the emotions and will have you frantically turning the pages to see how it ends. It is also very well written, but emotionally draining.
Thanks to the Canberra Weekly, Penguin Random House, Simon & Schuster and Harper Collins for copies of the books.