THIS WEEK'S CANBERRA WEEKLY COLUMN: 20 FEBRUARY 2020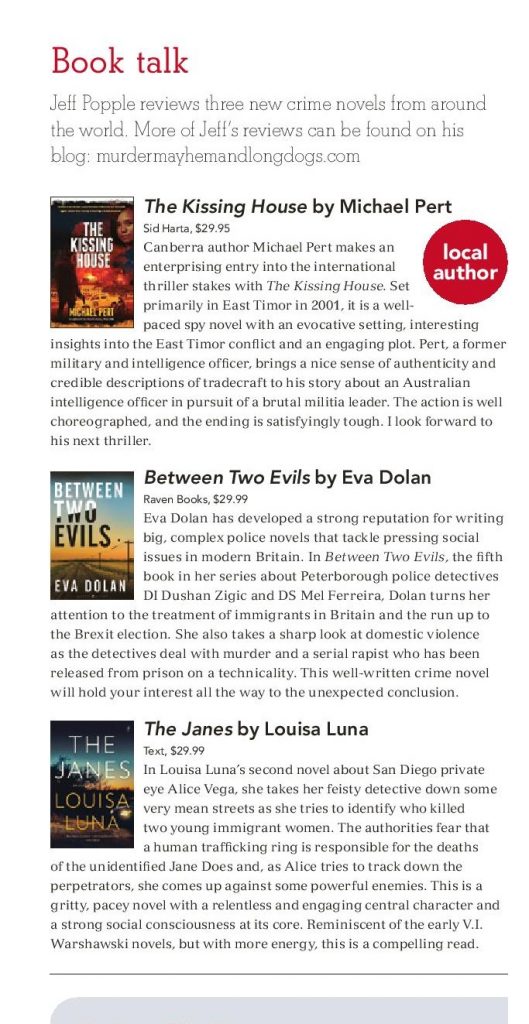 In this week's Canberra Weekly column I review three new crime novels from around the world.
Leading off the column is The Kissing House by Canberra author Michael Pert. What I really liked about this spy thriller was Pert's very evident insider understanding of military operations and spycraft. The 2001 East Timor settings were vividly conveyed and the story generally moved at a good pace. I also enjoyed the tough, gritty conclusion. It will be interesting to see where Pert goes from here.
Eva Dolan's Between Two Evils was another literate and compelling look at current social issues in the United Kingdom by this fine author wrapped up in the framework of a crime novel. Perhaps a little slow at times, but it does build to a powerful conclusion. See my longer review here:
https://murdermayhemandlongdogs.com/between-two-evils-by-eva-dolan-raven-books-29-99/
I really enjoyed Louisa Luna's first crime novel, Two Girls Down, and thought that her second novel, The Janes, was just as good. Very gritty and unflinching in its look at human trafficking and corruption, it is a powerful novel with a terrific central character in the form of Alice Vega. It moves along at good pace and has some enjoyable twists. A very enjoyable PI novel with a strong social conscience.
In all, three good books. Next week I will be reviewing Dervla McTiernan's The Good Turn prior to her visit to Canberra and talk at the Australian National University.