THIS WEEK'S CANBERRA WEEKLY COLUMN: 21 MAY 2020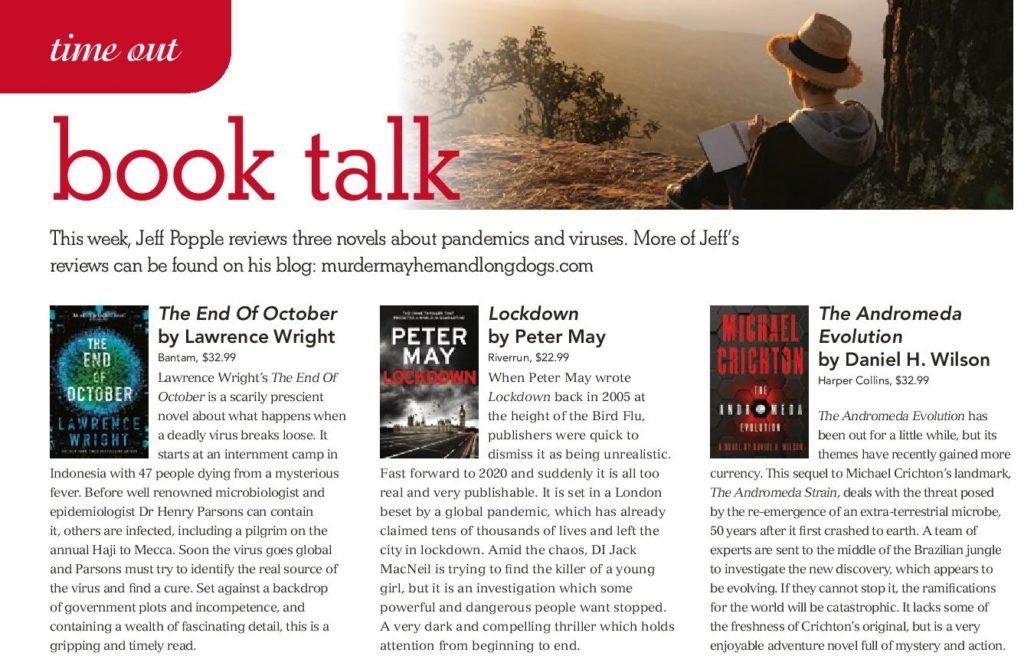 This week in the Canberra Weekly I reviewed three books with a virus theme.
Lawrence Wright's The End Of October (Bantam) is the scariest of the three books. Using a wealth of information about viruses, both historic and current, Wright paints a sobering picture of what might happen if a virus cannot be quickly contained. Setting the story against a believable backdrop of international military tensions and cyber attacks, Wright steadily escalates the tension and puts his core characters through some horrific scenarios. It makes for disturbing, but compelling reading. Sometimes too much information is dumped undermining the flow of the story, and towards the end Wright seems to lose control of some of his storylines, but overall this is a gripping 'disaster' thriller which resonates strongly with our current global situation.
Peter May's Lockdown (Riverrun) is also very bleak. May's portrayal of a London under severe lockdown is convincing and the thriller elements work reasonably well. The ending is slightly over-the-top, but it certainly holds attention from beginning to end. See my longer review of Lockdown here: https://murdermayhemandlongdogs.com/lockdown-by-peter-may-riverrun/
Daniel H Wilson's sequel of Michael Crichton's iconic The Andromeda Strain was always going to suffer in comparison, but generally The Andromeda Evolution maintains the tone and feel of the original. The emergence of an evolved version of the extraterrestrial microbe in Brazilian jungle results in a new team being formed to stop the potentially apocalyptic threat. Set over a five day period, the story contains contains some good action
set-pieces and plenty of dazzling scientific detail and speculation. It lacks the originality of the original book, but is still an enjoyable read.
The reviews can also be seen on the Canberra Weekly online site: https://canberraweekly.com.au/