THIS WEEK'S CANBERRA WEEKLY COLUMN: 22 August 2019 – Books for Father's Day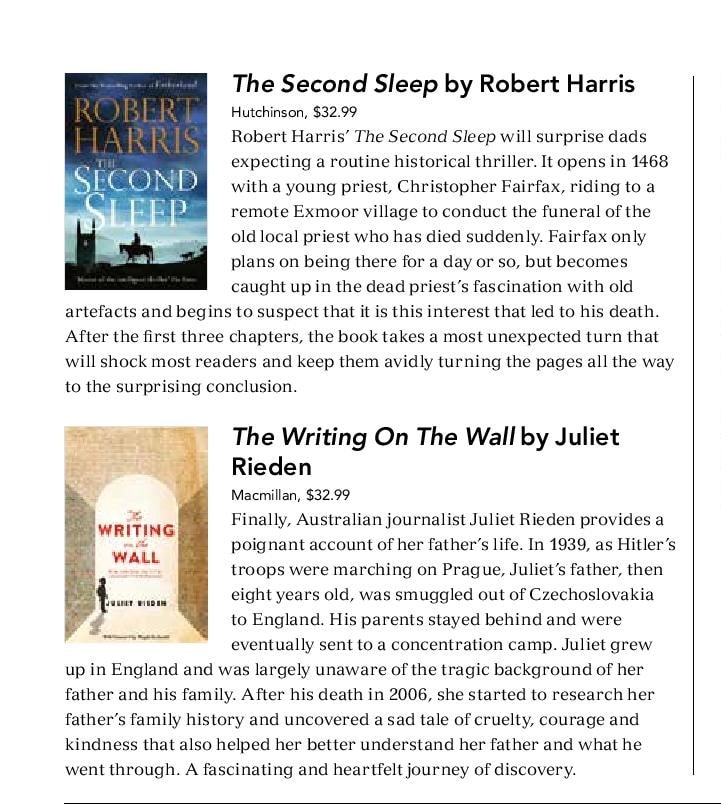 This week in the Canberra Weekly I reviewed five books for Father's Day. Two of them were novels which I had already reviewed prior to their release in this blog: Robert Harris' The Second Sleep (reviewed 22 July 2019) and Jo Nesbo's dark Harry Hole novel, Knife (reviewed 12 June 2019).
The other ones were a useful guide for dads, Dad Hacks and Robert Macklin's Castaway, about Narcisse Pelletier, a French cabin boy who was abandoned on the Far North Queensland coast in 1858 and saved by the local Uutaalnganu people with whom he lived for the next seventeen years. It is a fascinating account, set against the broader canvas of the frontier wars in Queensland, of a forgotten incident in Australia's colonial history. Well worth reading.
Also well worth reading is Juliet Rieden's journey of discovery into the tragic Holocaust history of her father and his family, The Writing On The Wall. Meticulously researched and very moving, it is a compelling account of a terrible time in the world's history.