THIS WEEK'S CANBERRA WEEKLY COLUMN: 24 SEPTEMBER 2020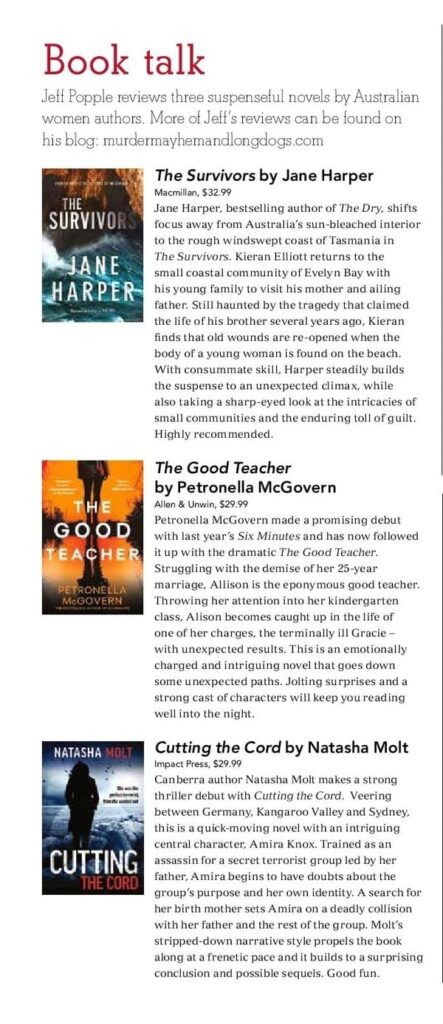 This week in the Canberra Weekly I reviewed three great new novels by Australian female authors of suspense and mystery.
First up is the latest novel by the much acclaimed Jane Harper, The Survivors. Set on a vividly described section of the Tasmanian coast, it is a slow burn of a crime novel that builds to highly emotional and surprising conclusion. Containing Jane's usual components of superb plotting, fully realised characters and insightful comments on small town mentality it is a very engaging read. See my longer review here: https://murdermayhemandlongdogs.com/the-survivors-by-jane-harper-macmillan-2020/
Petronella McGovern caught attention last year with her debut novel, Six Minutes, and she has now followed it up another compelling mix of domestic suspense and popular drama, The Good Teacher. Touching on a number of modern social dilemmas and trends, including crowd funding, it is a highly emotional tale about a good, if somewhat fragile, woman caught in a situation beyond her control. This is an engaging tale of psychological suspense and social commentary that will appeal to fans of authors such as Caroline Overington
Finally newcomer Natasha Molt makes a good entry to the thriller genre with Cutting The Cord. Displaying some nice originality and a good brisk pace, it takes the Australian thriller down some new paths as it follows an indoctrinated assassin trying to break free from her job and her father. I expect that she will be hearing a lot more from Ms Molt in the future. It is quite enjoyable, but it may take some effort in tracking a copy of this small press book (Impact Press).
Thanks to the Canberra Weekly, Allen & Unwin, Pan MacMillan and Natasha Molt for copies of the books.