THIS WEEK'S CANBERRA WEEKLY COLUMN: 27 AUGUST 2020 – BOOKS FOR FATHER'S DAY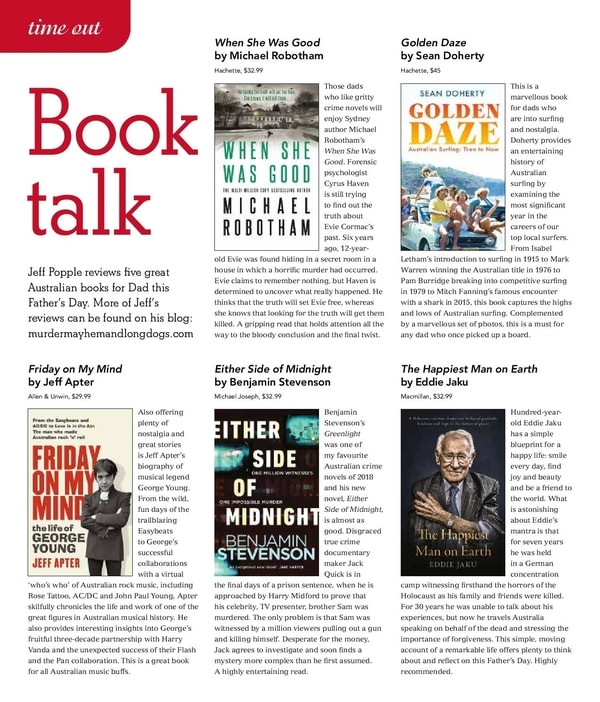 This week in the Canberra Weekly I recommend five great Australian books for Father's Day.
Included among them are Jeff Apter's enjoyable biography of musical legend George Young, Friday On My Mind, and Sean Doherty's beautifully presented history of Australian surfing, Golden Daze. A really inspiring book is The Happiest Man on Earth by Eddie Jaku. The hundred year old Eddie suffered terribly whilst in a German concentration for seven years during World War, but survived and now travels Australia encouraging forgiveness and promoting the value of being a friend to the world. An amazing story.
I also recommended two novels which I have previously reviewed here, Michael Robotham's When She Was Good and Benjamin Stevenson's Either Side of Midnight: https://murdermayhemandlongdogs.com/either-side-of-midnight-by-benjamin-stevenson-michael-joseph-1-september-2020/ and https://murdermayhemandlongdogs.com/when-she-was-good-by-michael-robotham-hachette-august-2020/
In all some great reading for dads of all ages.
The link to the review on the Canberra Weekly site, which is also full of other great news: https://canberraweekly.com.au/book-talk-5-australian-books-for-dad/