THIS WEEK'S CANBERRA WEEKLY COLUMN: 30 APRIL 2020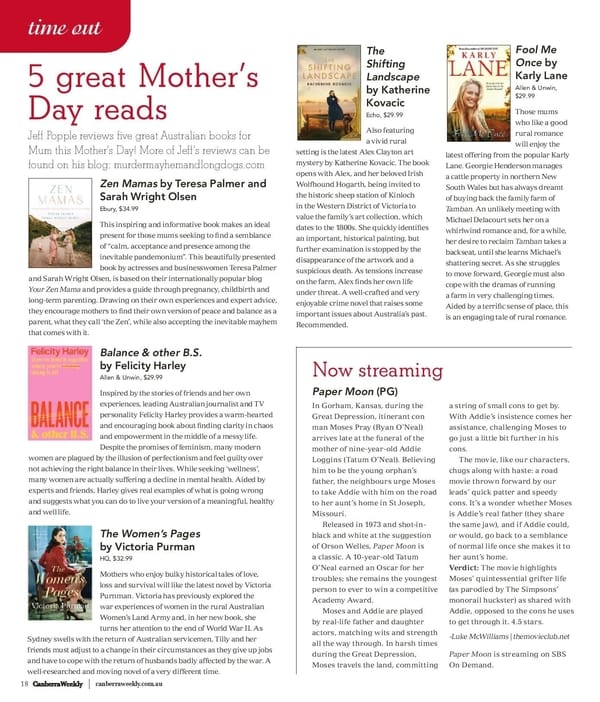 This week in the Canberra Weekly I reviewed Five Books for Mum for Mother's Day.
Included in the five were two useful guides on how to lead less stressful lives while raising children: Zen Mothers by Teresa Palmer and Sarah Wright Olsen and Balance & Other B.S. by Felicity Harley.
Also in the mix was the latest rural romance by the very popular Karly Lane: Fool Me Once. Karly has a real gift for evoking rural Australia settings and also seamlessly works into her romance plots interesting contemporary farming issues. Her strong fan base will enjoy this latest novel.
Victoria Purman's The Women's Pages is a great follow-up to her last novel, The Land Girls, and is set against the return of soldiers to Australia at the end of World War II. She ably brings to life the dilemma faced by women when they were told that their services were no longer needed, as the returning soldiers needed their jobs. For many women there was also the trauma of having to recreate lives with husbands who were injured during the war or had suffered trauma whilst a prisoner of war. A powerful and moving book. Please note that a last minute decision by the publisher to hold back the publication of The Women's Pages means that it now won't be released until September 2020.
My favourite book in the column was Katherine Kovacic's impressive art/rural crime novel The Shifting Landscape which I have also done a longer review of: https://murdermayhemandlongdogs.com/the-shifting-landscape-by-katherine-kovacic-echo/
In all, some great reads for mothers of all ages.