THIS WEEK'S CANBERRA WEEKLY COLUMN: 4 JULY 2019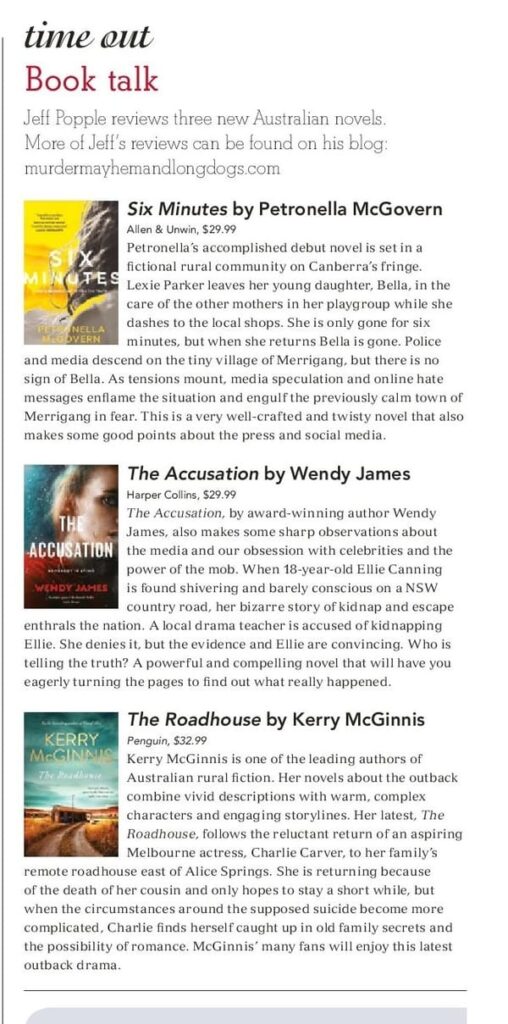 This week I reviewed 3 new Australian novels by women authors. The pick of them for me was Petronella McGovern's Six Minutes. Set in a small rural township on the fringe of Canberra, it is a well written and quite compelling tale about the disappearance of a young child from a play group. There is a lot of things happening in Petronella's novel, which works well as a novel of domestic suspense and a biting commentary on traditional media, social media and friendships. She keeps the tension high through-out and will keep you guessing as to what really happened. The characterisations are strong and the portrayal of the members of the small playgroup is achingly real. There are also some good descriptions of Canberra and the communities around it. A very enjoyable read.
Wendy James' The Accusation also takes a nice a swipe at the press and social media and the sum up at the end, is very cynical but true. The reflections on true crime documentaries and podcasts reminded me of Benjamin Stevenson's Green Light and was quite effective in exploring the 'celebrity cult' phenomena. I quite enjoyed it and James does a good job at keeping the reader guessing.
Kerry McGinnis' The Roadhouse is another good story by the queen of rural fiction and will appeal to her many fans. As usual, she does a good job of mixing the various strands of the story and gets the balance right for her followers between romance, family relationships, mystery and vivid descriptions of the countryside.