THIS WEEK'S CANBERRA WEEKLY COLUMN: 5 SEPTEMBER 2019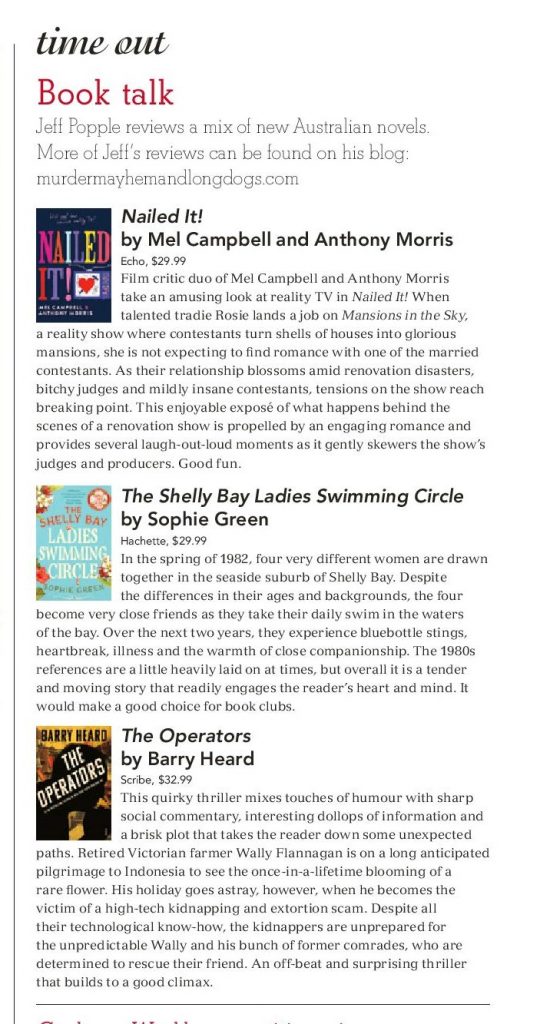 This week's Canberra Weekly column features three new books by Australian authors.
The pick of them is probably Nailed It (Echo) by Mel Campbell and Anthony Morris. A very funny send-up of reality house renovation shows, I particularly liked their skewering of the bitchy judges!
Crime readers will enjoy Barry Heard's The Operators (Scribe). A bit quirky, but quite enjoyable, it provides new slants on the traditional thriller. The depiction of life in Indonesia is very convincing and Heard's twist on the kidnap scam is credible. A tendency to stop the flow of the story, with drawn out 'back stories' of the various characters probably slows the pace at times, but Heard's natural, easy flowing narrative style carries the book through.
Fans of historical dramas will enjoy Sophie Green's The Shelly Bay Ladies Swimming Circle, which is set in 1982 and nicely captures the mood of the 1980s. For those who enjoy this sort of thing, it would make a good Book Club choice.