THIS WEEK'S CANBERRA WEEKLY COLUMN: 7 MAY 2020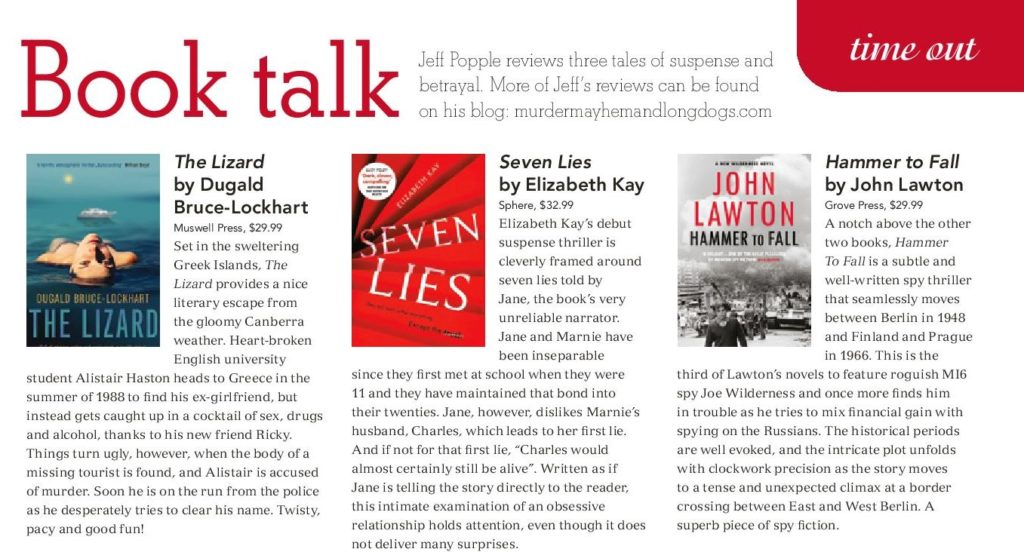 This week in the Canberra Weekly I reviewed three tales of suspense and betrayal by British authors.
Two of them were by debut authors who have made an instant impression on the British thriller scene. The first is a domestic suspense tale by well regarded publishing editor Elizabeth Kay. Seven Lies (Sphere) is an easy flowing tale about an obsessive relationship between two women, which leads to tragedy. I did an longer review of it in late April: https://murdermayhemandlongdogs.com/seven-lies-by-elizabeth-kay-sphere/
Dugald Bruce-Lockhart's The Lizard (Muswell Press) initially requires a little patience, but once underway it is a briskly paced, chase thriller about drugs, sex and murder on the Greek Islands in the 1980s. A longer review from earlier this month is at: https://murdermayhemandlongdogs.com/the-lizard-by-dugald-bruce-lockhart-muswell-press/
My favourite of the three books is John Lawton's exquisite Hammer To Fall (Atlantic). This follow-up to An Unfortunate Englishman, is cleverly plotted and subtly written espionage novel that smoothly weaves its way from Berlin in 1948 to Finland and Prague in 1966, with a few other geographic and historical stops in between. A thoroughly enjoyed it. I did slightly longer review of it here: https://murdermayhemandlongdogs.com/criminally-good-isolation-reads-some-recent-reading-during-lockdown/
In all, three very different thrillers!
A link to the reviews on the Canberra Weekly can be found here: https://canberraweekly.com.au/book-talk-tales-of-suspense-and-betrayal/