THIS WEEK'S CANBERRA WEEKLY COLUMN: 8 OCTOBER 2020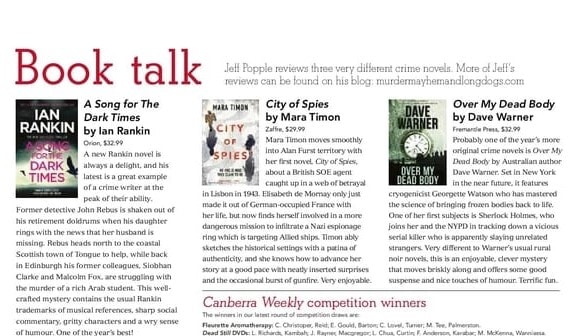 This week in the Canberra Weekly I review new crime novels by Ian Rankin, Mara Timon and Australia's Dave Warner.
Ian Rankin's A Song For The Dark Times has one of the most apt titles for 2020 and is a great read. In the Canberra Weekly I said:

"A new Rankin novel is always a delight, and his latest is a great example of a crime writer at the peak of their ability. Former detective John Rebus is shaken out of his retirement doldrums when his daughter rings with the news that her husband is missing. Rebus heads north to the coastal Scottish town of Tongue to help, while back in Edinburgh his former colleagues, Siobhan Clarke and Malcolm Fox, are struggling with the murder of a rich Arab student. This well-crafted mystery contains the usual Rankin trademarks of musical references, sharp social commentary, gritty characters and a wry sense of humour. One of the year's best!"

I also posted a longer review on my site at: https://murdermayhemandlongdogs.com/a-song-for-the-dark-times-by-ian-rankin/
Mara Timon's City Of Spies is a good new entry into the realm of historical spy fiction. In the Canberra Weekly I said:

"Mara Timon moves smoothly into Alan Furst territory with her first novel, City Of Spies, about a British SOE agent caught up in a web of betrayal in Lisbon in 1943. Elisabeth de Mornay only just made it out of German occupied France with her life, but now finds herself involved in a more dangerous mission to infiltrate a Nazi espionage ring which is targeting Allied ships. Mara ably sketches the historical settings with a patina of authenticity, and she knows how to advance her story at a good pace with neatly inserted surprises and the occasional burst of gunfire. Very enjoyable."
I also posted a longer review as part of a thriller round-up on blog: https://murdermayhemandlongdogs.com/thriller-round-up-some-recent-good-reads/
Australian author, and recent Ned Kelly Award nominee, Dave Warner has taken an interesting change of direction with his new novel Over My Dead Body, which imagines an medically revived Sherlock Holmes hunting a serial killer in 2020 New York. In the Canberra Weekly I said:

"Probably one of the year's more original crime novels is Over My Dead Body by Australian author Dave Warner. Set in New York in the near future, it features cryogenicist Georgette Watson who has mastered the science of bringing frozen bodies back to life. One of her first subjects is Sherlock Holmes, who joins her and the NYPD in tracking down a vicious serial killer who is apparently slaying unrelated strangers. Very different to Warner's usual rural noir novels, this is an enjoyable, clever mystery that moves briskly along and offers some good suspense and nice touches of humour. Terrific fun."
I also posted a longer review on my blog at: https://murdermayhemandlongdogs.com/sherlock-holmes-resurrected-over-my-dead-body-by-dave-warner/
Thanks to Hachette, Fremantle Press, Allen & Unwin and the Canberra Weekly for advanced copies of the books for review.
The review and other book reviews and news can also be viewed on the Canberra Weekly site: https://canberraweekly.com.au/book-talk-3-different-crime-novels/