THIS WEEK'S CANBERRA WEEKLY COLUMN: 9 APRIL 2020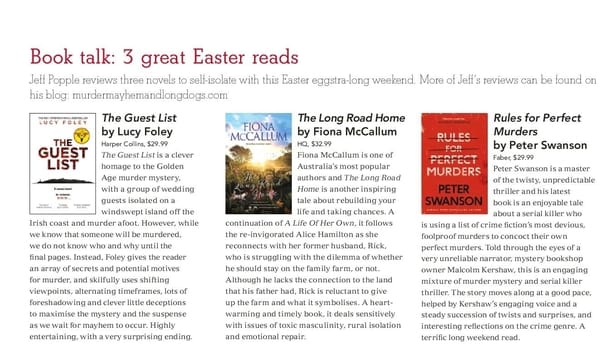 This week in the Canberra Weekly I review three enjoyable novels to read over the Easter long weekend.
First up is Lucy Foley's highly entertaining The Guest List. This clever twist on the traditional murder mystery where a group of guests are isolated on a storm swept island, is a well constructed mystery with plenty of surprises. See my longer review of The Guest List here: https://murdermayhemandlongdogs.com/the-guest-list-by-lucy-foley-harper-collins/
Fiona McCallum is one of Australia's most popular authors of family dramas and her latest book, The Long Run Home, is sure to appeal to her enthusiastic fan base.
Peter Swanson's Rules For Perfect Murders is an engaging mixture of serial killer thriller and loving homage to the crime genre. The book goes in some very unexpected directions and Swanson's central character, mystery bookshop owner Malcolm Kershaw, is a terrific unreliable narrator and a well informed guide to mystery books. I thoroughly enjoyed it. See my longer review of Rules For Perfect Murders here: https://murdermayhemandlongdogs.com/rules-for-perfect-murders-by-peter-swanson-faber-faber/
Some other recent releases well worth reading over the long weekend are The Boy From The Woods (Century) from the master of the twisty plot and the creator of the hit Netflix show The Stranger Harlan Coben; Dean Koontz's Devoted (Harper Collins) and the latest exquisite art mystery by Australian author Katherine Kovacic, The Shifting Landscape (Echo). All are well worth a read.
The Canberra Weekly now has an on-line presence and the link to my Weekly Column can be found here: https://canberraweekly.com.au/book-talk-3-great-easter-reads/