THIS WEEK'S CANBERRA WEEKLY COLUMN: 9 JULY 2020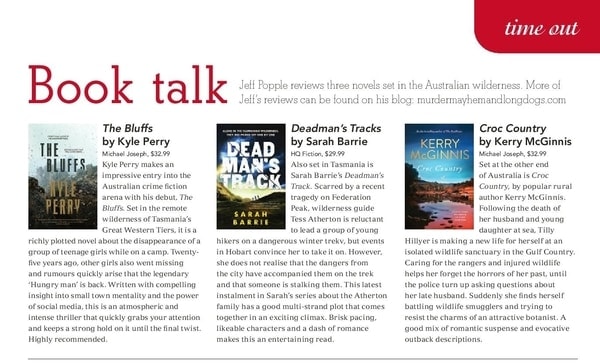 This week in the Canberra Weekly I review two new crime novels by Kyle Perry and Sarah Barrie set in the Tasmanian wilderness and Kerry McGinnis' romantic suspense tale set in the remote Gulf country.
Of Kyle Perry's excellent The Bluffs I said:
"Kyle Perry makes an impressive entry into the Australian crime fiction arena with his debut, The Bluffs. Set in the remote wilderness of Tasmania's Great Western Tiers, it is a richly plotted novel about the disappearance of a group of teenage girls while on a camp. Twenty five years ago other girls also went missing and rumours quickly arise that the legendary 'Hungry man' is back. Written with compelling insight into small town mentality and the power of social media, this is an atmospheric and intense thriller that quickly grabs your attention and keeps a strong hold on it until the final twist. Highly recommended."
Sarah Barrie's Deadman's Track was also very good and I made these comments:
"Also set in Tasmania is Sarah Barrie's Deadman's Track. Scarred by a recent tragedy on Federation Peak, wilderness guide Tess Atherton is reluctant to lead a group of young hikers on a dangerous winter trek, but events in Hobart convince her to take it on. However, she does not realise that the dangers from the city have accompanied them on the trek and that someone is stalking them. This latest instalment in Sarah's series about the Atherton family has a good multi-strand plot that comes together in an exciting climax. Brisk pacing, likeable characters and a dash of romance makes this an entertaining read."
Kerry McGinnis is a popular writer of rural romantic suspense novels, who has the ability to weave interesting wildlife and environmental detail into her novels. I made the following comments on Croc Country:
"Set at the other end of Australia is Croc Country, by popular rural author Kerry McGinnis. Following the death of her husband and young daughter at sea, Tilly Hillyer is making a new life for herself at an isolated Wildlife Sanctuary in the Gulf Country. Caring for the rangers and injured wildlife helps her forget the horrors of her past, until the police turn up asking questions about her late husband. Suddenly she finds herself battling wildlife smugglers and trying to resist the charms of an attractive botanist. A good mix of romantic suspense and evocative outback descriptions."
In all, three good novels set in the Australian wilderness!
See my longer reviews of Kyle Perry's The Bluffs and Sarah Barrie's Deadman's Track here: https://murdermayhemandlongdogs.com/tasmanian-wilderness-noir-the-bluffs-by-kyle-perry-deadmans-track-by-sarah-barrie/
The reviews can also be viewed on the Canberra Weekly online site here: https://canberraweekly.com.au/book-talk-australian-wilderness-novels/
Thanks to the Canberra Weekly, Harper Collins and Penguin Random House Australia for advanced copies of the books.