THIS WEEK'S CANBERRA WEEKLY COLUMN: Paranoia, romance and serial killers (9 January 2020)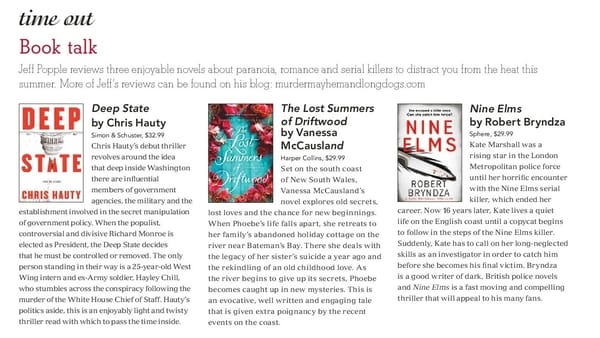 This week in the Canberra Weekly I review three novels ideal for summer reading.
Vanessa McCausland's The Lost Summers of Driftwood is a moving novel about old and new secrets and lost loves. Well written and very evocative it is a very engaging story, with an appealing central character. It's setting on the south coast of New South Wales near Bateman's Bay is well described and has gained some extra poignancy with the horrific events of the past few weeks.
Robert Bryndza is a well respected writer of British crime fiction, who is probably best known for his series about Detective Erika Foster. Nine Elms is the start of a new series about former detective Kate Marshall. Fifteen years ago Kate caught the notorious Nine Elms serial killer, but that case ended her career and she now lives a quiet life on the English coast. When a copycat killer takes up the Nine Elms mantle, Kate is drawn back into the fray as she tries to catch a killer before he kills her. I enjoyed this more than the Erika Foster books and I think Bryndza's many fans will keenly devour it.
Chris Hauty's conspiracy thriller Deep State is an enjoyable and fast paced read that builds to a clever twist ending. See my recent review of it:
https://murdermayhemandlongdogs.com/deep-state-by-chris-hauty/
Thanks to the Canberra Weekly, Hachette, Harper Collins and Simon & Schuster for the books.