THIS WEEK'S CANBERRA WEEKLY REVIEW – 23 MAY 2019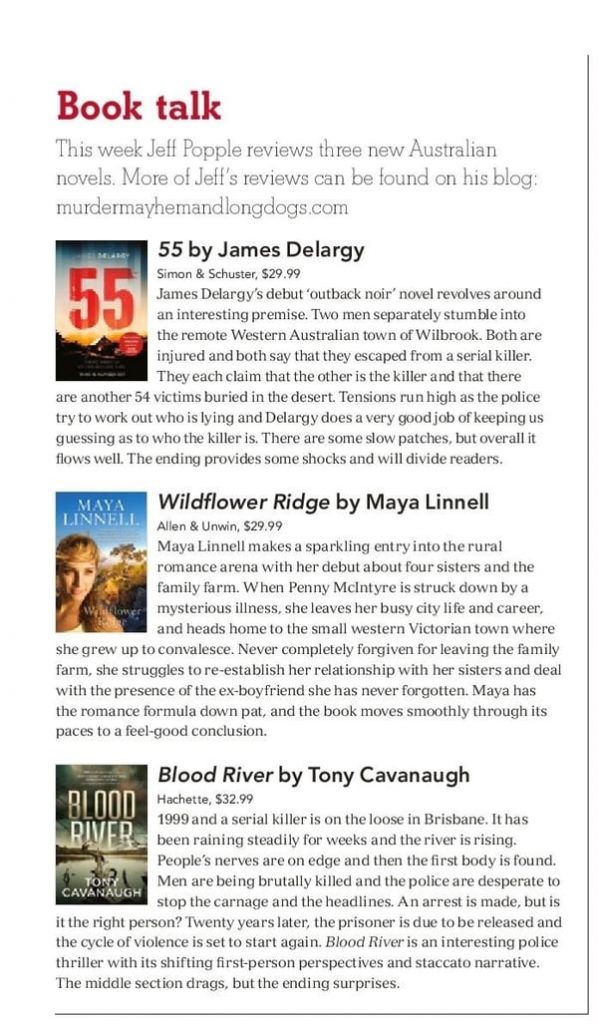 This week's review features 3 new Australian novels. I previously did a longer review of 55 (see my post of 11 March 2019). It is a very vividly described crime novel set in the remote Western Australia outback with some good twists and a controversial ending!
Tony Cavanaugh's Blood River is a tough a crime novel which starts promisingly in Brisbane in 1999 with a serial killer on the loose, killing random men as they walk near the Brisbane River. The depiction of Brisbane in 1999, with the river rising and threatening to break its banks, is very well done and the detective pair of rookie Lara Ocean and gruff veteran Billy Waterson have a good chemistry. The hunt for the serial killer has a good gritty feel to it and Cavanaugh delivers some neat twists in the final section. The middle part of the book, particularly the bits set between 1999 and the prisoner's release in 2019, drags a bit and Cavanaugh's use of a shifting first person perspective takes some getting used to. I really enjoyed parts of the book, but thought with some tighter editing it would have been a much better book. The characterisations, however, are very strong and credible.
Maya Linnell's Wildflower Ridge is a pretty standard rural romance, but quite enjoyable.