THRILLER ROUND-UP FEBRUARY 2021: Adrian Magson, Linwood Barclay and David Fennell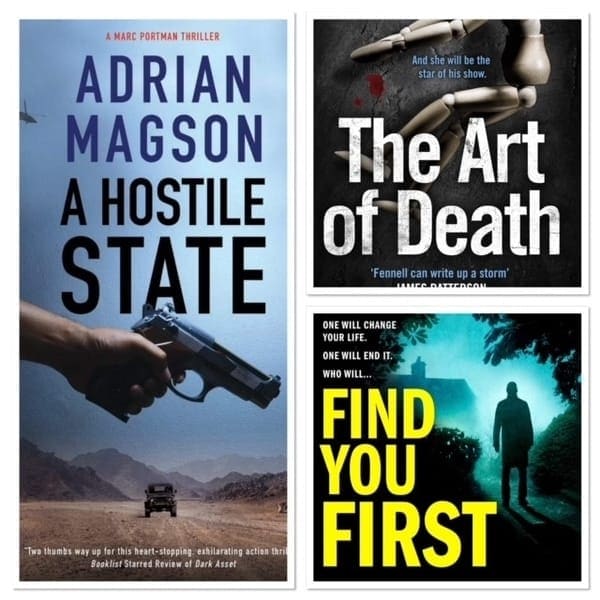 My reading in January and the early part of February, has been very mixed and has ranged between Allie Reynolds' ski lodge chiller Shiver to Michael Brissenden's excellent police/political crime novel Dead Letters to Pip Drysdale's girl-in-Paris thriller The Paris Affair (see the reviews elsewhere on the blog). I have also been re-reading some good old stuff, including Len Deighton's Horse Under Water, and catching up on a couple I missed last year, such as Patrick Hoffman's Clean Hands. Also crammed in between those books have been these three new novels.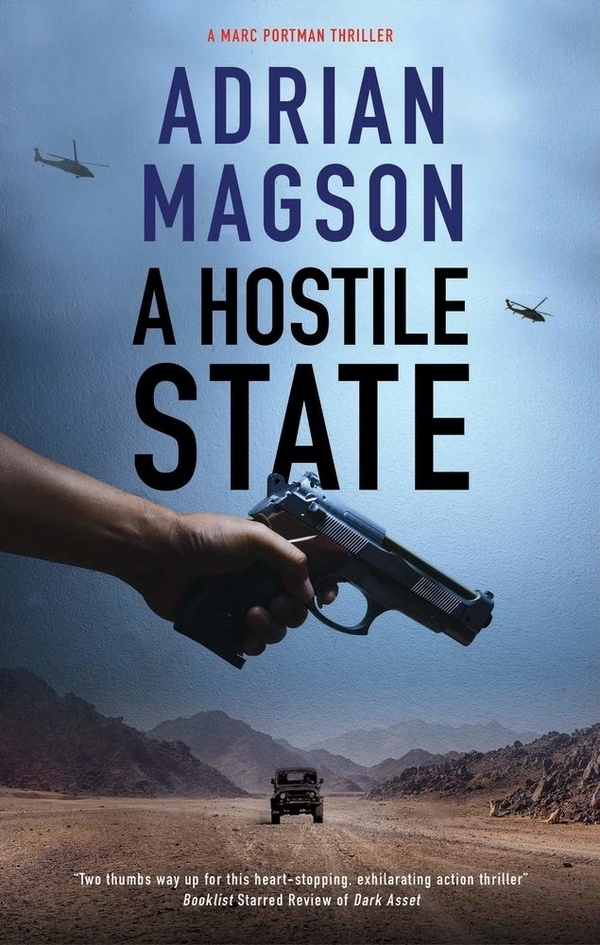 Adrian Magson is one of my favourite current writers of action spy novels.
His series about former MI5 agent Harry Tate is superb, as are the two hard-to-get novels in his Gonzales & Vaslik series, The Bid and The Locker. Running alongside these series are his books about Marc Portman, a freelance professional shadow, or watcher, who provides protection to British and American agents in potentially hostile situations. He works in the background, stays off the record and often the people he is guarding have no idea he is there. As with Magson's other books, these are good, old-styled spy novels with up-to-date plots, exciting shoot-outs and betrayals.
A Hostile State is the fifth book in the series and finds Portman in Lebanon on a last-minute assignment. A straightforward collect-and-go job, with Portman providing protection to a CIA source who needs to be extracted. Things quickly go bad, when the source does not show up and Portman is ambushed in a surprise attack. It soon becomes very clear that someone had advance warning of Portman's arrival and wants him dead. With his controller back in Langley hamstrung by internal politics, Portman goes on the run. Fearing that there is a leak at the heart of the CIA, Portman realises that he has to play by his own rules to survive.
This is a very enjoyable spy thriller that starts violently and keeps up a brisk pace for most of its length. Portman's race through Lebanon, aided by a middle-aged, female British agent, is nicely concocted, credible and very exciting, and is probably the highlight of the book for me. The action on the ground is nicely contrasted with the internal intrigue back in Washington, and Magson is as adept at the backroom scenes as he is with describing a gunfight.
A highlight of the book is Magson's crafting of two very strong female characters, who aid Portman in his quest to survive. Isobel Hunt, the unobtrusive undercover British agent in Lebanon, is a very believable and well fleshed out character, who defies the usual female stereotypes to be found in spy fiction, while Lindsay Citera, part of Portman's CIA communications support staff, is also a well wrought character. Lindsay has been in earlier Portman novels, but plays a larger role in this book and is an enjoyable addition to the book. She possibly verges on being too cute at times, but Magson nicely avoids the usual clichés with her.
In all, it is a very entertaining spy yarn. It probably does not have the myriad of surprising twists that is expected of modern thrillers, but it still works quite well. For me it is not quite as good as the Harry Tate novels, but it is still in the top echelon of espionage novels. An easy four stars out of five for me!
Thanks to Severn House and NetGalley for an electronic copy of the book to review.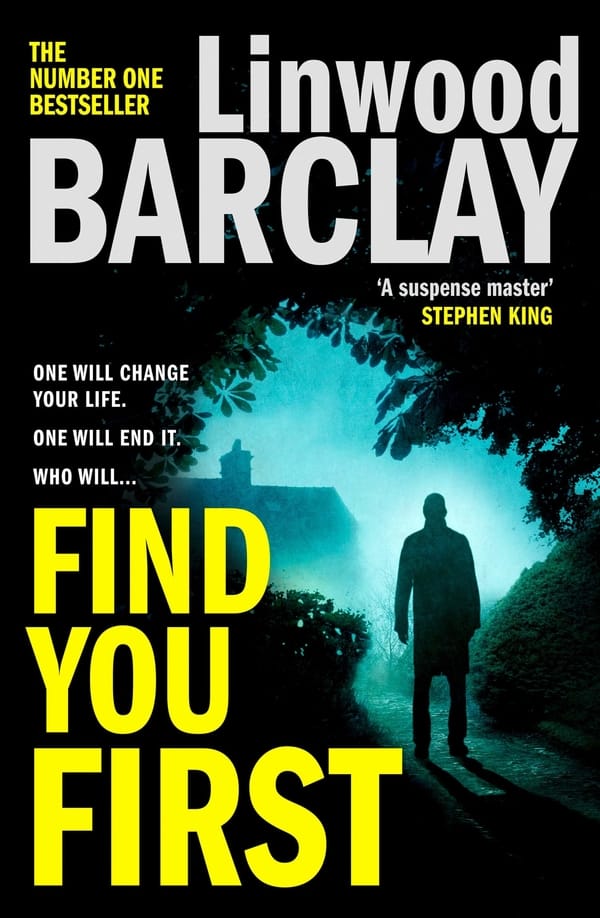 Since breaking into the bestseller ranks in 2007 with No Time For Goodbye, Linwood Barclay has established a good reputation of being a reliable provider of highly entertaining novels along the lines of Harlan Coben's suburban thrillers.
I have been a long time admirer of Barclay's novels, but thought that his last couple, especially 2019's Elevator Pitch, have been below standard. Fortunately his latest one, Find You First, is a good return to form and kept me happily engaged from beginning to end.
At first glance the storyline seems straight forward. Tech billionaire Miles Cookson finds that he is dying from Huntingdon's Disease and decides to make contact with his offspring from a sperm donation many years ago when he was struggling to make money. He illegally gets hold of the names of the nine children he has fathered, but as he tries to make contact he finds that someone else is systematically tracking them down and erasing their existence. Desperately he races to find the remaining ones before they too disappear.
It seems reasonably clear from early on where the story is going, but Barclay throws in some good curve balls to keep things interesting and he nicely plays with the reader's expectations as the book moves to a dramatic, cinematic climax. The pacing is pretty good throughout and Barclay provides an interesting cast of characters, which adds to the pleasure. Some coincidences towards the end require a level of disbelief, but it is very easy to ignore this and just keep on reading.
Find You First is a thoroughly professional and enjoyable piece of suspense fiction that will keep you happily entertained.
Four stars out of five!
Find You First is available now in Australia and the United Kingdom and will be released in the United States in May 2021. Thanks to the Canberra Weekly and Harper Collins for an advanced copy of the book.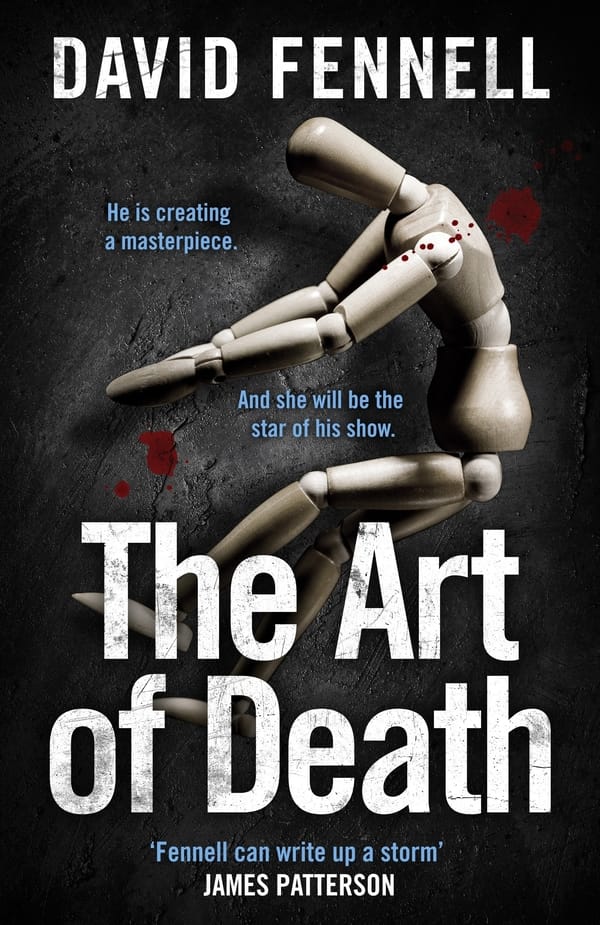 David Fennell makes a solid crime debut with his novel about a serial killer who likes to display his victims as pieces of art.
The Art Of Death starts in macabre fashion with newly promoted
D.I. Grace Archer being called to manage the crowd around some gruesome art exhibits that have been left in a public area. She quickly realises, however, that the displays are not mannequins, but the bodies of dead homeless men floating in formaldehyde. Although she is not liked at Charing Cross station where she has been promoted to, Grace is assigned to the murder investigation and finds herself racing against time to stop the killer/artist known as @nonymous before he strikes again.
Fennell ably leads the reader down some twisty, dark paths as the book powers its way to a suspenseful conclusion. There are some horrific moments and Fennell is good at conveying the impact of the killings on the families of those killed. The characters are generally well crafted, particularly Grace and her offsider DS Harry Quinn, although a couple, most notably Grace's rival DI Rodney Hicks, verge on being stereotypical.
In all, The Art Of Death is an entertaining thriller that will appeal to those who enjoy books about tenacious police detectives tracking down deviously smart serial killers, ala M. W. Craven and Mark Billingham. I picked the identity of the killer at first mention, but still enjoyed watching the story unfold and Grace's efforts to overcome the various obstacles, both personal and professional, placed in her way.
A good 3 and a half stars to 4 out of five!
The Art Of Death is already available in the United Kingdom and will be released in Australia in March 2021.