THRILLER ROUND-UP: SOME RECENT GOOD READS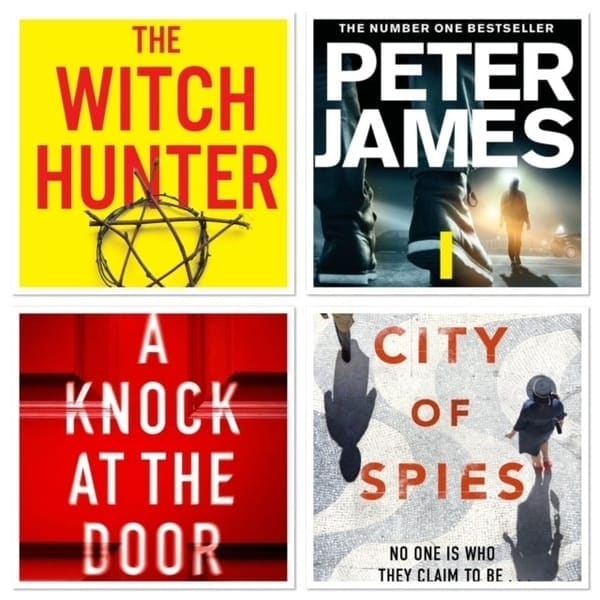 The recent flood of delayed and new thriller releases makes it hard to keep up with all the good books being sent out for review by publishers. Fortunately a recent long weekend has given me a chance to catch up on some of them. Here are quick reviews of four books which kept me happily occupied over the past week or so.
A Knock At The Door by T. W. Ellis (aka Tom Wood) came out in July in Australia, but I only just got to it and I am glad that I did.
It is a frenetic, fast moving tale that opens briskly and then accelerates even more as the story races from one tense episode to the next.
Jen and Leo live in a small town outside New York City. Leo, a wine merchant, has just left for a business trip when two FBI Agents knock on the door. They tell Jen that Leo is not who she thinks he is and want details of where he has gone. While she is trying to absorb what they are telling her, she gets a phone call from an agent called Carson who warns her that the agents in her house are not from the FBI. He tells her not to trust them and to run. Suddenly Jen, who suffers from anxiety, finds that her normally staid life is thrown into chaos and she has to move quickly to stay alive.
Basically set over a 24 hour period, A Knock At The Door, is a wild rollercoaster of a read that reminded me a lot of the novels by Simon Kernick. The book races through a myriad of twists and turns and has the reader quickly turning the pages as Jen tries to work out what is happening, while trying to stay one step ahead of a pair cold hearted killers.
Jen and the local female police chief caught up in the events, Rusty, are nicely sketched, but the other characters come across as being cardboard cut-outs who are mainly there to advance the action. However, the fast plot makes this easy to overlook, as well as the occasional lapses in logic, and the ending delivers a good final twist. An ideal book for a lazy wet weekend.
Four stars out of five!
Fans of Nordic noir and serial killer thrillers will enjoy The Witch Hunter by Max Seeck.
Popular Finnish author Roger Koponen is in Savonlinna at a book reading when his wife is murdered on a snow swept night in a seemingly bizarre occult ritual at their house on the coast near Helsinki. When more bodies are found in quick succession it appears that a serial killer is on the loose taking inspiration from Koponen's bestselling trilogy about a witch hunter. Is it the work of an obsessive fan or are there more sinister motives at play?
Leading the investigation into the killings is Detective Jessica Niemi, a very capable Helsinki detective with a mysterious past that we gradually get glimpses of. She is aided by a well fleshed-out collection of quirky colleagues and a gruff boss whose health is clearly fading. As the murders mount it becomes clear that they somehow link back to Jessica.
Unlike a lot of Nordish noir, this is a fast moving thriller with plenty of twists and turns and several well staged surprises. The plot is well constructed, and the detail on witchcraft and the occult is fascinating and smoothly woven into the story. The suspense steadily mounts throughout the book, and the final fifty pages, or so, are very difficult to put down.
The settings around Helsinki are interesting and well described and Seeck makes you feel the cold and the icy winds. There are the usual quirky details and characters that you expect in a Nordish crime novel and the dialogue is sharp and witty.
My only reservations with The Witch Hunter are the series of overly prominent flashbacks involving Jessica, which are awkwardly positioned and initially a little confusing, and, after a terrific build-up, the ending falls a little flat and leaves a lot unresolved. Nevertheless, I really enjoyed it and keenly rushed through the second half of the book to see how it ended. I am looking forward to the next Jessica Niemi novel.
Four stars out of five! (if it wasn't for the ending I would have rated it higher).
The Witch Hunter was released in Australia on 29 September 2020 and in the United Kingdom on 17 September 2020.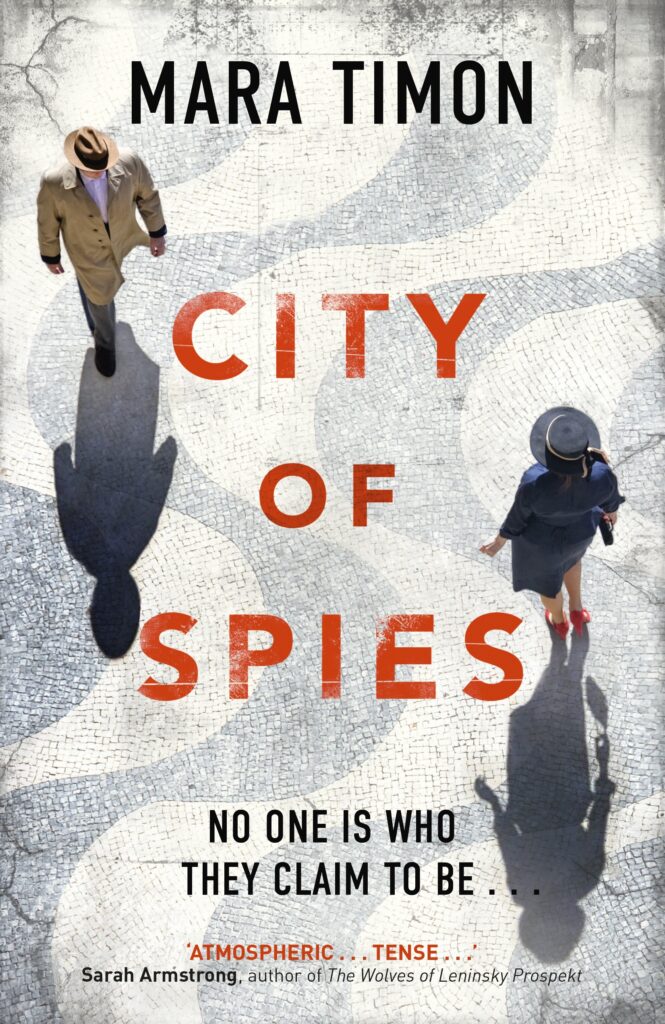 Mara Timon moves smoothly into Alan Furst territory with her first novel, City Of Spies, about a British SOE agent caught up in a web of intrigue and double agents in Lisbon in 1943.
After a betrayal by a neighbour, Elisabeth de Mornay only just made it out of German occupied France with her life, but now finds herself stranded in neutral Lisbon. Elisabeth wants to make her way back to England, but she is persuaded by an old family friend in British Intelligence to stay and help with the infiltration of a Nazi espionage ring, which is targeting Allied ships. Posing as a wealthy French widow, Elisabeth tries to get close to a group of German officers, but in a city of spies it is difficult to know who to trust.
Mara ably sketches the historical settings with a patina of authenticity and a good eye for detail, and smoothly interweaves real and fictional characters into her story. There are a couple of slow patches, but generally Mara advances the story at a good pace. She creates a nice sense of tension and suspicion and the book builds to a good climax.
She is not yet in the same class as Alan Furst and Philip Kerr when it comes to plotting and subtlety of writing, but she knows how to tell a good story and the cast of characters are interesting and engaging. An enjoyable wartime spy story.
Four stars out of five!
City Of Spies was released in Australia on 29 September 2020 and in the United Kingdom on 17 September 2020.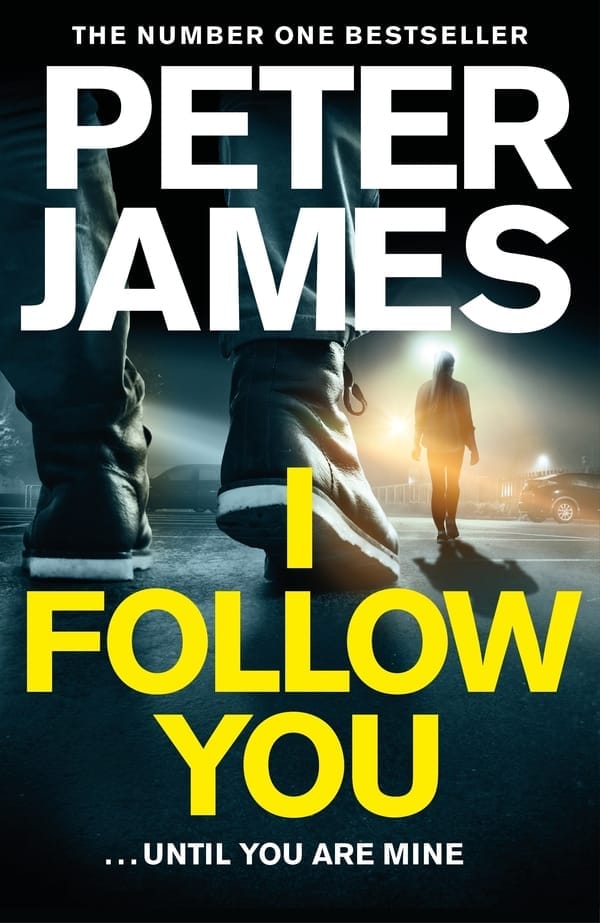 Peter James has taken a break from his regular series about Detective Superintendent Roy Grace to produce a compelling psychological thriller about obsession, I Follow You.
Doctor Marcus Valentine seems to have it all. A loving wife, three children, a great job and a nice home on the Island of Jersey. But for him there has always been something missing, his first love Lynette. Driving to work one morning, his mind wanders elsewhere and he almost knocks down a female jogger at a pedestrian crossing. The girl reminds him of Lynette:

"Marcus sat staring after her, stunned. His mind flooded with emotions from the past.
She was exactly how he imagined Lynette might look now – some thirty years on. Handsomely beautiful, alluring, and in great shape."
From that point Valentine becomes infatuated and obsessed with the jogging girl and becomes determined to have her.
Alternating the viewpoint between Valentine and Georgie, and the other characters, James steadily builds the suspense as the story progresses through some good twists. The medical detail is convincing and smoothly woven into the story and, as usual, James' writing is crisp and simple, making it easy to keep on turning the pages. Some of the developments are predictable, but James keeps the reader engaged with the story and it makes for an enjoyable, easy read. With summer quickly approaching in Australia, it will be a great book for the beach or the pool!
Four stars out of five!
I Follow You was released in Australia on 29 September 2020 and on 1 October in the United Kingdom.