THROWBACK THURSDAY: 8th DAY by Glover Wright (Pan, 1991)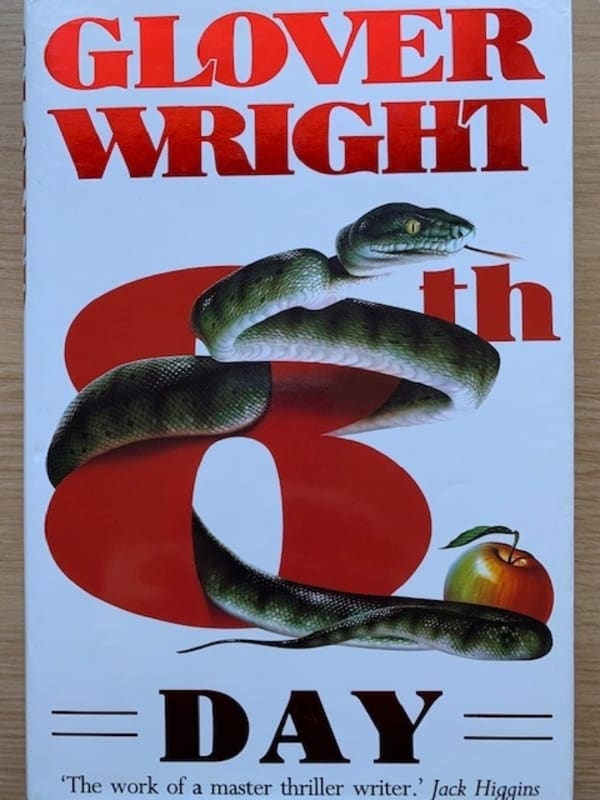 This is an old one from the vault!
Combining elements of science fiction, horror and political intrigue, this 1990 thriller meshes the old favourite of secret Nazi experiments with modern day (1990) nastiness on the Dartmoor wastelands to produce a thrilling read that keeps a tight grip on the reader's attention.
The book opens with a daring, secret Allied mission into Nazi Germany during the last days of the Second World War. Forty-five years later the importance of that mission is gradually revealed when the escape of a confused, mysterious young man from a top-secret English defence establishment sets in train an explosive series of events.
The story races along at a hectic pace and, Wright's unpredictable plot keeps the reader guessing as to what will happen next. There are plenty of surprises, and the story builds to a tense climax on the desolate Dartmoor wastelands.
Although the events verge on the fantastic, Wright presents them in a convincing manner, and most readers will have no difficulty in happily suspending disbelief for the duration of the book. The story is assisted by a good cast of believable characters who, for the most part, are presented as flawed human beings caught up in something beyond their control, rather than the usual super heroic action figures.
The only compliant is that the ending is a little too convenient, but this quibble aside the 8th Day is a terrific read that is quickly and enjoyably consumed.
The 8th Day is now nearly thirty years old, but has lasted the passage of time reasonably well. The science now sounds less likely than it did back in the early 1990s, but the basic storyline still works well. The book sits comfortably in that swathe of thrillers from the 1980s and 90s that revolved around secret Nazi scientific advances from World War II and speculated that Western governments were involved in present day horrific experiments that they wanted to keep secret. Ira Levin's The Boys From Brazil was undoubtedly the best of the Nazi experimentation books, while the dangers of secret government experimentation featured most effectively in books such as Stephen Gallagher's Chimera (1982)and Victor Canning's excellent The Doomsday Carrier (1976). The idea that the Nazis were involved in secret advanced experimentation is still popular today, as witnessed by James Hazel's The Mayfly (2017)and the recent Overlord movie.
Nowadays copies of 8th Day are difficult to track down, although there are second hand copies available on Amazon and Ebay.