THROWBACK THURSDAY and FORECAST FRIDAY: BITTER WASH ROAD (2013) and PEACE (November 2019) by Garry Disher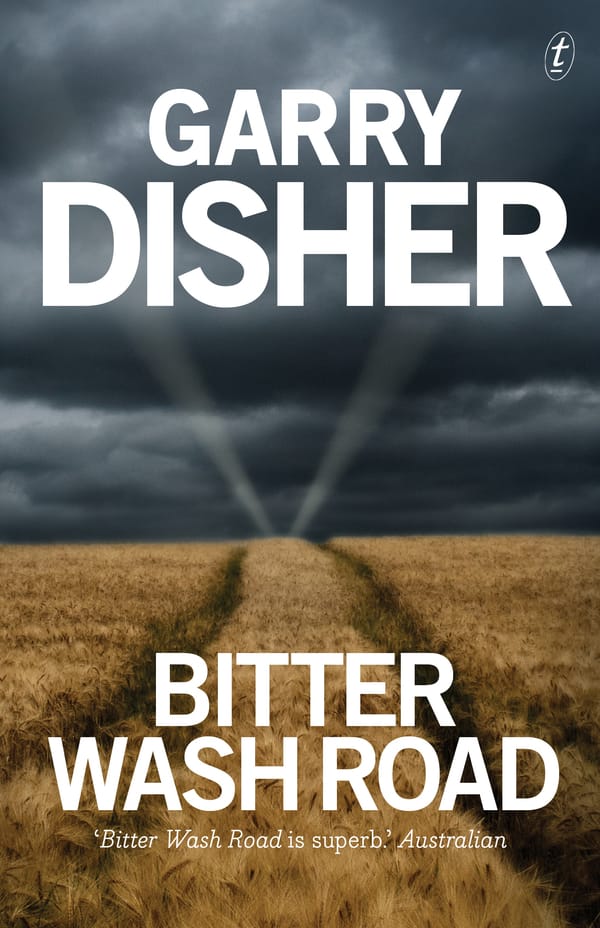 This week I am combining my Throwback Thursday and Forecast Friday entries into one.  Garry Disher's Bitter Wash Road is one of my all time favourite Australian crime novels.  Set in a remote rural town in South Australia it is a very tense and well written crime story featuring a struggling policeman, Constable Paul Hirschhausen.  For a long time, it seemed that it was going to be a one-off novel by Disher, but Text Publishing have recently advised that a sequel, Peace, is to be released in November.  I cannot wait for it.   I have set out below my thoughts on Bitter Wash Road when it first appeared, and some initial details on Peace. 
The following review of Bitter Wash Road originally appeared in the Canberra Times in 2013 and in a slightly different form in Deadly Pleasures in 2014. 
"It is no exaggeration to say that Garry Disher is the Australian equivalent of Ian Rankin. His series about police detective Hal Challis, set on Victoria's Mornington Peninsula, has garnered well deserved praise from around the world and shares the same mixture of high-quality criminal action and astute social commentary to be found in the Rebus novels.
Bitter Wash Road, is not part of the Challis series, but introduces a new police detective in the form of Constable Paul Hirschhausen, known as Hirsch.  Once a promising metropolitan officer Hirsch has been demoted and sent to a one-cop station in South Australia's wheat belt following a corruption inquiry.  Accused of being a 'whistle blower' Hirsch is treated as a pariah by the other police in district.  When he is sent to investigate a report of shots being fired on an isolated bit of country near Bitter Wash Road Hirsch half suspects that he is being set up by his so-called colleagues.  The explanation behind the shots is reasonably straight forward, but his investigation leads Hirsch into a dangerous world of runaway teenagers, small town politics and murder.
This is a well-crafted crime novel that excels in its characterisations and the subtlety of it plotting. The story moves at a very good pace and Disher constantly keeps the reader off balance as the story twists and turns its way to a tense and unexpected conclusion.
The depiction of the small town in which Hirsch is posted rings true and Disher shares Rankin's ability to capture the mood of a location through his vivid descriptions of the architecture and the countryside:
"Hirsch saw a dozen stone chimneys and eyeless cottages back in the stunted mallee, little heartaches that had struggled on a patch of red dirt and were sinking into it."
The characterisations are also very good and multi-faceted, especially Disher's portrayal of Hirsch's boss, the all-powerful and corrupt Sergeant Korp.  On the surface Korp is a typical older rural cop:
"One of the hard men with their fiefdoms. All around the state, men who'd turn evasive and arrogant if you tried to pin them down. Clever men, though, a witness-box headache to every judge."
Disher, however, adds extra dimensions to Korp and rounds him out as a character without ever excusing his behaviour.
This is easily one of the best Australian crime novels of the year and an absolute pleasure to read. "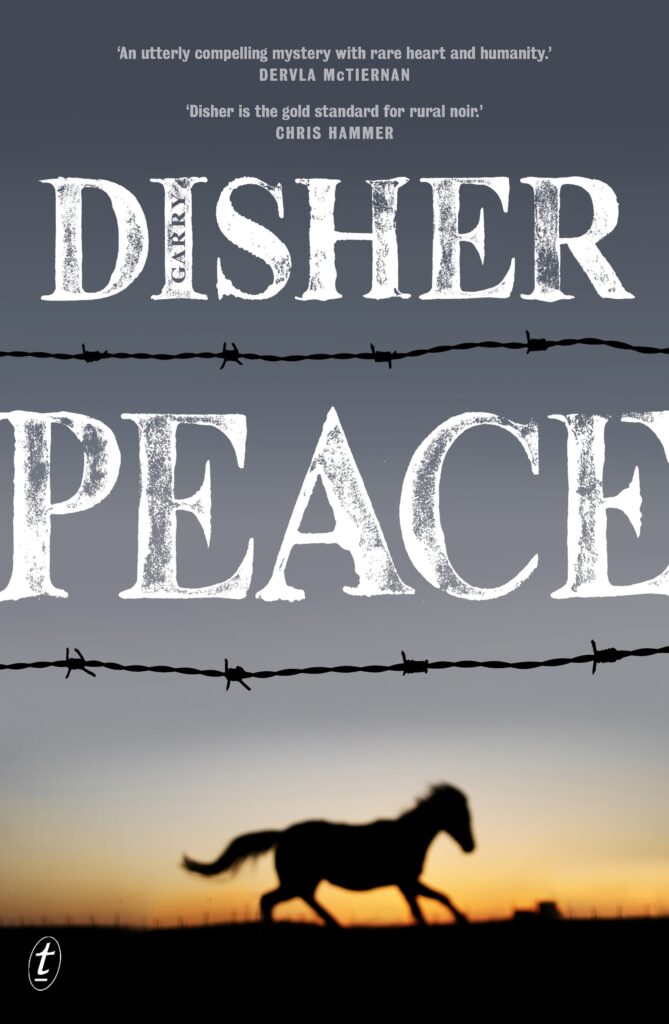 Now after nearly six years Hirsch is back. Peace is apparently set a few months after the dramatic conclusion to Bitter Wash Road. Hirsch is still a Constable in a small one-man police station in the dry farming country south of Flinders Ranges. With Christmas approaching it is a relatively peaceful job, until he is called to a strange, vicious incident on one of the main streets and the Sydney police ask him to look in on a family living on a forgotten back road outside of town. Suddenly, it does not look like the season of good will anymore.
I am really looking forward to reading again about Hirsch. Disher is always a good plotter and his stories never disappoint. Hirsch is a more complicated character than his other series characters and it be interesting to see how he develops in this book. From the brief snippet that came with the publicity material, it is also clear that Disher has lost none of his ability for evocative sharp-eyed descriptions of the countryside:
"Down the shallow valley, low dry hills on either side, greyish brown with the darker speckles of shadows or trees clinging to the stony soil. Stone ruins close to the road, distant farmhouse rooftops, a line of windfarm turbines along a nearby ridge – the settler years, the struggling present and the future, all in one."
Mark Peace down as one to look out for, and if you have not already done so, give Bitter Wash Road a read, you won't be disappointed.
I rate Bitter Wash Road as being five out of five stars!
Peace will be released in November 2019 by Text Publishing with a recommended retail price of $A29.99. Bitter Wash Road is still available as a paperback for $A19.99