THROWBACK THURSDAY: OCTOBER KILL by Robert Rostand (Pocket, 1989)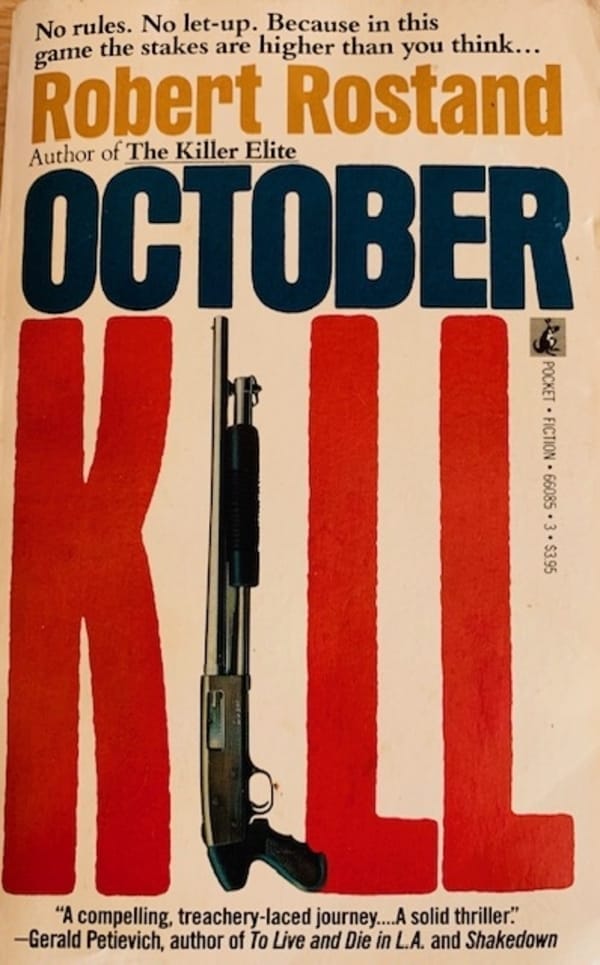 Robert S Hopkins wrote seven action novels under the pseudonym of Robert Rostand. He is probably best known for The Killer Elite, which was turned into an average 1970s film by Sam Peckinpah. The book, and the film, featured Mike Locken a former agent of the secret American Department of Security/Office of Protective Services (SYOPS).  Rostand went on to write another two Locken novels, the excellent The Viper Game and A Killing in Rome. He also wrote four 'stand alone' novels of which October Kill was the last.
October Kill is probably the longest (just over 300 pages) and most ambitious of his novels. It opens in Paris with ex-Vietnam War correspondent Mose Culvert being asked by his ex-wife, Cassie McClanahan daughter of a high-powered U.S. Senator, to come to Rome and help free her current husband from an Italian jail. Her husband, businessman Kyle Scott, is in jail suspected of killing his business partner at his luxurious house on Lake Como. As Culvert investigates the murder he finds links between Scott and a dodgy multi-million dollar Californian land deal and a powerful Italian mobster. When an attempt to free Scott goes wrong, Culvert finds himself and Cassie on the run from the authorities, the Italian mob and a shadowy CIA agent with his own agenda.
This is a top-notch action thriller. I had not realised that Rostand had written any books after his six novel, Cross Currents, and was very pleased to recently find October Kill online. It starts a little slowly, for a Rostand novel, but once all the initial pieces are in place it powers along at a hectic rate. There are several well choreographed shoot-outs and scenes of violence, and plenty of twists and turns and betrayals along the way to the final bloody conclusion in Paris.
As the story unfolds, the plot cleverly morphs from a standard tale about crooked business deals into something more complex and unexpected involving corruption at the highest levels in Washington. Rostand makes some telling points about corruption and foreign policy, but without ever slowing the plot. Some of the developments strain credibility, but I was too busy turning the pages to notice.
October Kill is a very enjoyable tale with just the right amount of 1980s paranoia to elevate it above the standard action thriller. Culvert is an engaging hero, worn out and jaded by his experiences in Vietnam and elsewhere, but willing to go the extra yard to help a friend. Although he is not a professional gunman, he knows his way around a weapon and is not afraid of getting his hands dirty. The concluding scenes in Paris are surprising and shocking and the final last page twist has a nice cynical touch to it.
Copies of October Kill are likely to be hard to track down, but they are well worth the effort. I am going back to re-read Cross Currents and The D'Artagnan Signature, both of which I remember fondly.