THROWBACK THURSDAY: Retrieval by Colin Dunne (1984)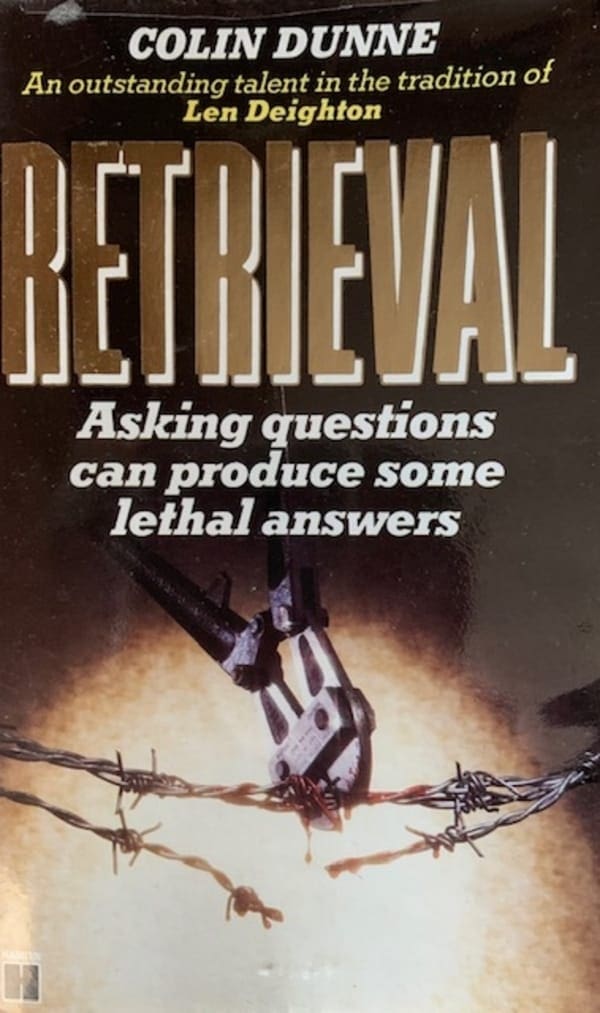 Colin Dunne wrote four novels in the 1980s which sat comfortably in that literary space between spy novel and tough guy thriller. Two of them, Ratcatcher and Hooligan, had part-time SAS man and private eye Joe Hussy as the central character, whereas the other two were stand-alone novels that sat more in the spy realm.
The first of them, Retrieval, featured a former soldier, known only as Pete, who still does the occasional job for British Intelligence. He works for a shady, secret agency known as the Operations Unit, which sounds very much like the Section from the Callan television show and books:
"Our line of work? If it was a department store, you'd go straight through Military, turn left at Espionage, and you'd find us on the right, just past Crime."
Pete was part of a team, along with Kit and Yokel, that did dangerous jobs that required military expertise. One of their last jobs involved extracting a 12-year-old girl from East Germany and bringing her over the Wall past the guards, guns and minefields. It did not go to plan, and they left a trail of bodies behind them, including the girl's older brother.
After that Yokel left the Unit to set up a fish and chip shop. When business went bad, he mentioned his past secret heroics to a newspaper to get some publicity for his shop. It was not appreciated by the authorities and Yokel got a warning. Then when he persisted, Pete found him pinned to the wall of his chip shop with Borneo spear. Determined to find out who killed his friend, Pete started his own investigation and soon found out that everything points back to the retrieval job involving the young girl from East Germany and a charismatic Labour politician.
Retrieval is a fast-paced tale told in Pete's distinctive working-class London voice. There is plenty of violence and wise-cracks and a general feel of nastiness, as Pete tries to work out what was so important about the retrieval job. Pete is an engaging character, and most of the minor characters are well sketched, although sometimes Dunne falls into caricature as in his portrayal of Pete's upper-class occasional girlfriend Tamara:
"'Ooooo," she whooped again, touched by a frisson of delight. "Quelle joy. It's exactly like Coronation Street."'
"'Rude!" she shrieked, "Quelle sauciness!"'
The plotting is adequate, but it is fairly clear by the half-way point where it is heading. Dunne ably takes Pete through the process of tracking down clues and bashing his way to the truth and there is also a good secondary story line involving Pete's involvement in an undercover operation for the police. Looking back from now, the involvement of British Intelligence in the plot at the core of the story, seems very unlikely, even in the more paranoid early 1980s. Nevertheless, it is an enjoyable story that builds to a dark and nasty conclusion.
It is probably the best of the four spy thrillers that Dunne, although the last of them, Black Ice, is also quite good and features some well described scenes in Iceland. As far as I can ascertain, Dunne only wrote four thrillers, but he did write other books, including an account of his time as a journalist.
Nowadays paper copies of the Colin Dunne novels are difficult to track down, although all are available as eBooks.