THROWBACK THURSDAY: SKYTRAP by John Smith (Corgi, 1985)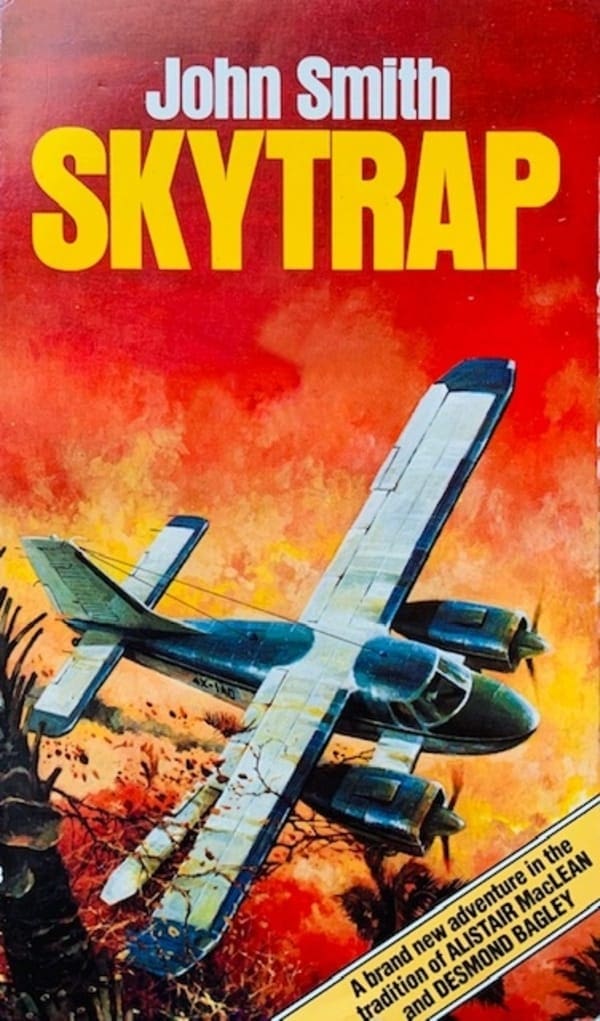 If you can find it, John Smith's debut thriller Skytrap (1983) is a good diversion for those who miss the glory days of British thriller writing.
Smith (John Templeton Smith) was a former pilot who turned to thriller writing under guidance of his friend and neighbour, the thriller master Desmond Bagley. Bagley mentored and encouraged Smith, who often regaled Bagley with his tales of flying in Africa, and helped him to write his first novel under the John Smith by-line, Sktytrap (1983). This was followed in quick succession by Patterson's Volunteers (1984), before Smith headed to America and wrote eight techno-action thrillers as John Templeton Smith.
Skytrap is a very solid thriller debut, which makes good use of Smith's own experiences in Africa. The story revolves around a proposed ferry flight of a Dornier aircraft from Malawi to Israeli. The pilot, Stephen Ritchie, has recently lost his pilot's license on medical grounds, a fact which he fails to disclose to his new employer. He also does not tell them that he has developed a fear of flying and that the trip to Israel will be his last.
Once in Africa he finds that things are more complex that he first expected. The plane has mechanical faults and as he waits in a remote part of Malawi for the plane to be fixed, he begins to wonder about the true purpose of the flight. He also becomes caught up in the complex personal life of his new employer and others living around the Zomba airfield. When violence strikes and the true purpose of the ferry job is revealed, he is forced to embark on a far more dangerous flight than he had signed up for.
Skytrap starts a little slowly and for a while seems to be stuck in Malawi as the reader sits out the repairs with Ritchie smoking, drinking, worrying and taking up with an old girlfriend. A shocking act of violence, however, kicks the story into action and the second half of the book is very exciting, especially the flying scenes. There are some good twists and turns and a nice conclusion that reminded me of Gavin Lyall.
Smith makes good use of his experience as a pilot to bring alive the dangers of flying and the interesting remote refuelling stops along the plane's flight. The introduction of Ritchie's friend and fellow pilot, the smooth-talking Irishman Rafferty, also adds some zest and banter to the second half of the book, and he is a welcomed addition to the story. It is a shame that Smith never wrote another book featuring him.
John Templeton Smith kindly provided me with some background information on the book and his friendship with Bagley and it is easy to see the thriller master's influence on the story.  Ritchie's encounters with the wildlife in Africa have that Bagley feel to them, as does the smooth inclusion of convincing technical detail and the good use of Ritchie's expertise and proficiency. 
In the material that Smith provided, he mentions how the editor asked him to add "a little more romance" to the middle section and I have to say that the romantic elements do seem to be tacked on.  The novel is also very much a product of its time and the comments and views of the various characters need to be seen in that light.
In all, Skytrap is an enjoyable yarn that comfortably sits alongside a host of other British thrillers written at the same time that were set in foreign countries.  It has a stronger sense of authenticity than a lot of other thrillers and it is a shame that Smith did not write more in the same vein, albeit with a bit more pace.
The above 1985 Corgi edition of the book is also enhanced by a terrific action cover, which is far superior to many of the photographic covers that were in vogue at the time.
Smith's second novel, Patterson's Volunteers, was also the subject of an earlier post:  
https://murdermayhemandlongdogs.com/throwback-thursday-pattersons-volunteers-by-john-smith-corgi-1985/