TRASHY TUESDAY: AUSTRALIAN PULP – TEMPTATION by Richard Lynford (Mercury, 1957)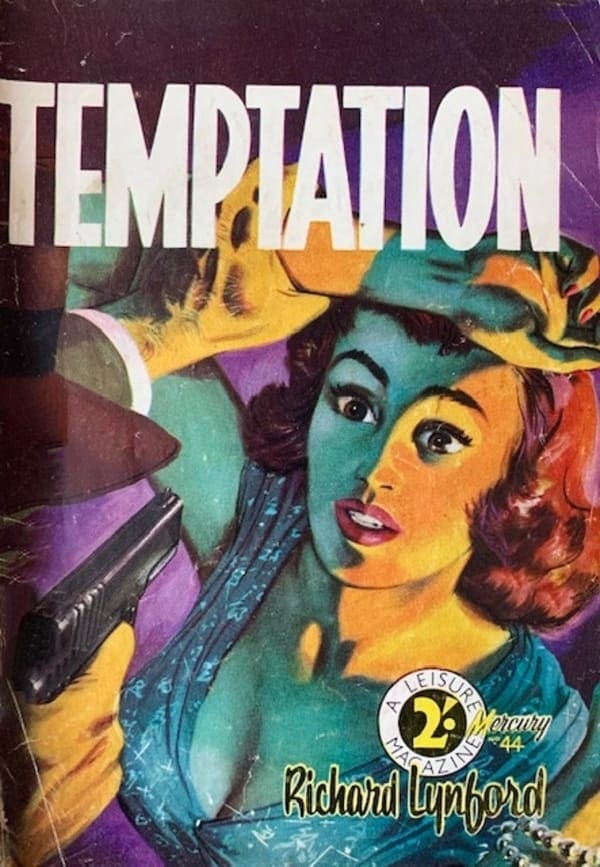 Action Comics was one of the small Australian paperback publishers which flourished during the boom years of the 1940s and 50s. In the early 1950s they grew big enough to take over Leisure Publications, which had mainly been publishing westerns. One of the brands of Leisure Publications was Mercury Novels which produced a handful of books in the late 1950s (Graeme Flanagan lists four books under the Mercury name – Temptation is numbered 44, but there is no evidence of another 40 odd books).
Temptation was published in 1957 and was written by Richard Lynford, the pseudonym for Eric Waters. Lynford/Waters wrote about 22 books for Action Comics and a handful of short stories and novellas. Temptation is a short novel, 85 pages, with the rest of the 98 page stapled digest being taken up with a short story by American pulpster, Dwight V. Swain, Troubled Night.
Temptation, like most Australian written crime pulp fiction of the 1950s, is set in America and features a tough cop intent on cleaning up a town, who is helped by a sexy blonde "who had everything a dame ought to have in the places a dame ought to have it." It is a very light read, and is nothing special. It is a solid men's adventure, cop tale that is quickly consumed and just as quickly forgotten.
Unlike a lot of Australian pulp digests of the late 1950s, Temptation features an illustrated cover, rather than a photo. The unsigned cover illustration is quite good and features an auburn haired woman being menaced by an unseen man who has hold of her arm and is thrusting a gun in her face. The light and shadow on the woman's face is quite effective and adds to the sense of her terror. The small detail is also quite good, the pattern on her dress and the pearl bracelet on her other arm, and overall it is a very effective cover. It has more of a reality to it, than some of the stylised model pictures that adorned many covers of the time. I quite like it.
Thanks to Graeme Flanagan's Australian Vintage Paperback Guide for the background information on Leisure Publications.