TRASHY TUESDAY: PHANTOM BOOKS #1 – BLACKMAILER by George Axelrod (1953)
Between 1951 and 1961 the Sydney publishers Original Novels Foundation published over 300 titles in their Phantom Book series. These were mainly reprints of novels from American publishers, such as Ace, Gold Medal and US Phantom Books.
Often the Phantom books re-used the original US cover art, but sometimes the covers featured revised illustrations of the same scene or totally different art work.
This variation can be seen in the Phantom edition of Blackmailer by George Axelrod. The Phantom edition features a more dramatic version of the original Gold Medal art work (see below). The Phantom version focuses in on the girl, slightly re-positions her hands and adds a bit more colour. More significantly it adds a knife to the man's hand and re-positions it so as to show more of the girl's leg. The result is a more threatening and interesting image.
Interestingly, the Phantom edition still has the original tag from the Gold Medal edition: "She put herself on sale – and murder won the bid." Overall the Phantom version is a better cover, the Gold Medal version seems washed out in comparison, and the art work is more dramatic.
When Gold Medal re-issued the book in 1959 it had a nice Barye Phillips drawing, typical of his work for Gold Medal. The description of the book on the back cover, however, remained same as that used in the earlier Gold Medal and Phantom editions.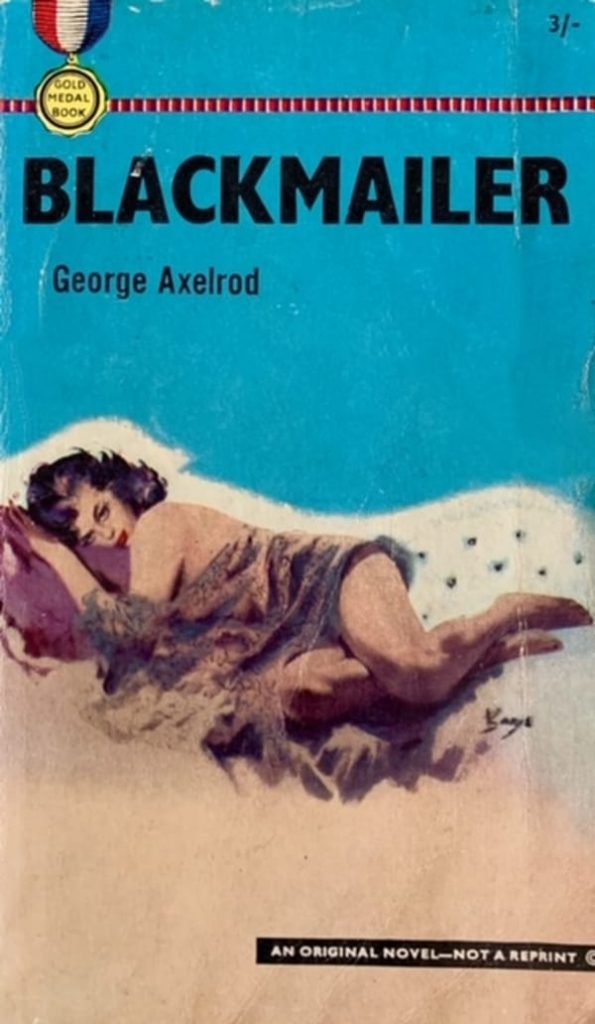 As to the book itself, it is a fairly standard 1950s romp about a missing manuscript and a publishing agent, Dick Sherman, determined to get it back. There are other parties also interested in the manuscript, a murder and some attractive dames. The book has a 1950s private eye feel to it and there is a good murder mystery at its core. There is also lots of drinking and Sherman is an engaging enough hero. Axelrod, who went to become a successful screenwriter (Breakfast At Tiffany's and The Manchurian Candidate) and director, has a light touch and the book does not take itself too seriously. It does not hold up as well as other novels from this period, but is worth a read.
Hard Case Crime re-issued Blackmailer in 2006.
Graeme Flanagan's Australian Vintage Paperback Guide provided useful background information.