TRASHY TUESDAY: BOOK FAIR HAUL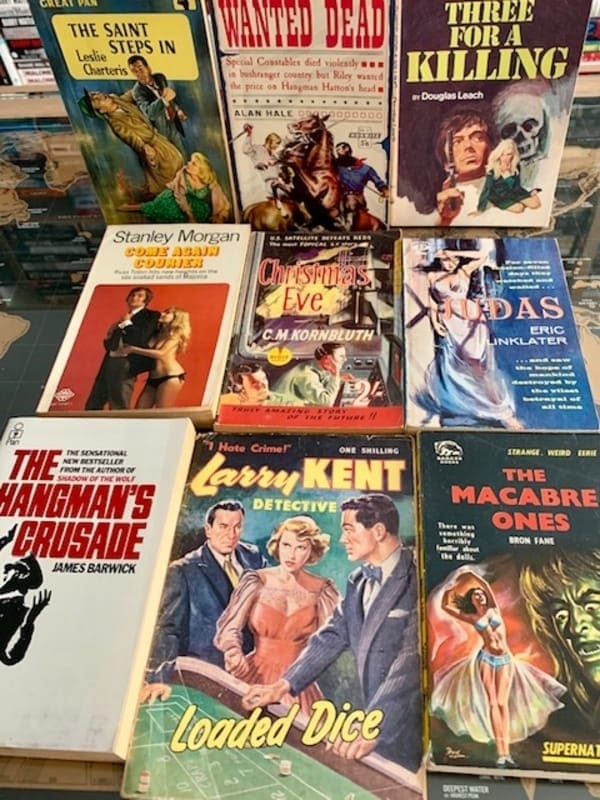 I thought I would share some of the books I recently found at the Lifeline Bookfair in Canberra.
I ended up buying much more than the ones above, but these were my favourite ones. Most of them I got because of the covers and I will be discussing some in more detail in future posts.
I was particularly impressed with the Larry Kent one. Loaded Dice is numbered 23 and probably dates from 1955 (there are no publication dates in any of the Larry Kent books or novelettes). I will be writing more about it in future weeks.
Of the others, it is rare to find Badger Supernatural Specials these days and The Macabre Ones (SN 90) has a particularly good, cheesy Fox cover. I also liked the cover on C M Kornbluth's Christmas Eve, which is a science fiction title done by Digit books.
I got a couple of Stanley Morgan books, mainly because of the terrible photographic covers, and the Great Pan edition of Leslie Charteris' The Saint Steps In fills a gap in my collection. I also liked the covers on Eric Linklater's Judas and Three For A Killing by Douglas Leach. The latter is a Fleetway Thriller Library book, which are hard to find these days. I will be writing more on these later. The Hangman's Crusade by James Barwick is a Second World War thriller, which I have been on the look out for. I read it many years ago and quite enjoyed it, but had lost my earlier copy.
Along with the Larry Kent, the most interesting find was Alan Hale's Wanted Dead, mainly because of the cover.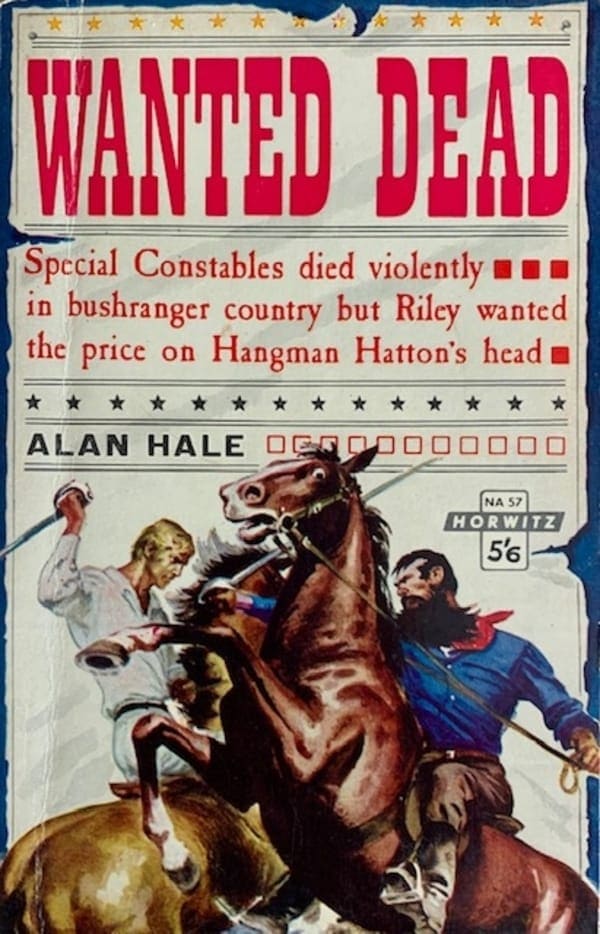 Alan Hale was an pseudonym for Kenneth Cook, who is best known as the author of Awake In Fright. Wanted Dead was published in 1963 by Horwitz as part of their Named Author series, which included Cook and other Australian authors such as Jon Clearly and A. G. Yates, both under his own name and as Carter Brown.
Wanted Dead was a gritty violent tale about Australian bushrangers. A sort of Australia version of a western, but with no real heroes. The book centres around the pursuit by a Special Constable in the late 1890s of a New South Wales bushranger who hangs his victims.
The cover is styled to look like a wanted poster and features the climatic battle between the constable and the bushranger. Although there are plenty of shots fired, the pair end up resolving the battle using swords. It is an unlikely outcome, particularly as police constables were not usually armed with swords, and the cover gives the impression of a Middle Ages duel with sabers. It is a dramatic cover, but with little relationship to real life in 1890s Australia.
I also could not resist the cover on the below Tobin novel by Stanley Morgan. One of the many books written by Morgan about Russ Tobin, a young British lad who travels the world seducing women and getting into trouble, Tobin On Safari is set in Africa and features the usual antics. The dreadful cover also displays the usual subtlety associated with the series, even down to the girl admiring Tobin's extra large camera!