TRASHY TUESDAY: BOOK HAUL!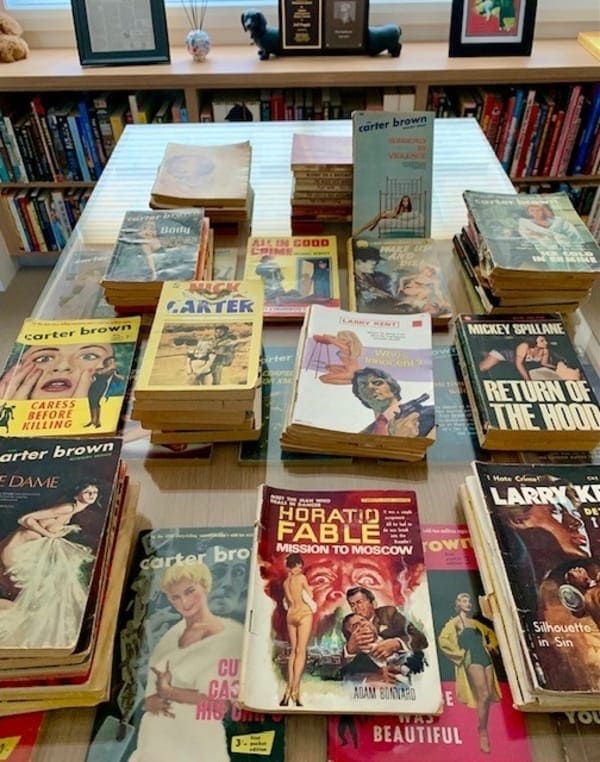 I was recently alerted to a closing down sale at a Retro and Emporium store in the nearby rural town of Bungendore (about 40 km from Canberra). I bought a couple of the books on sale and the owner, Tom Stokman, advised that he had another ten bags or so of old Cater Browns, Larry Kents, etc.
After working my way through them, a lot had badly damaged covers or were the more recent photographic Carter Brown covers, I ended up with the above pile!
The condition was not always great, but there were some good Carter Browns, early and old Larry Kents, some Nick Carters with particularly noteworthy covers and a couple of oddities
Currently working my way through them and will post copies of them as I go.
To start off, a couple of Carter Brown covers.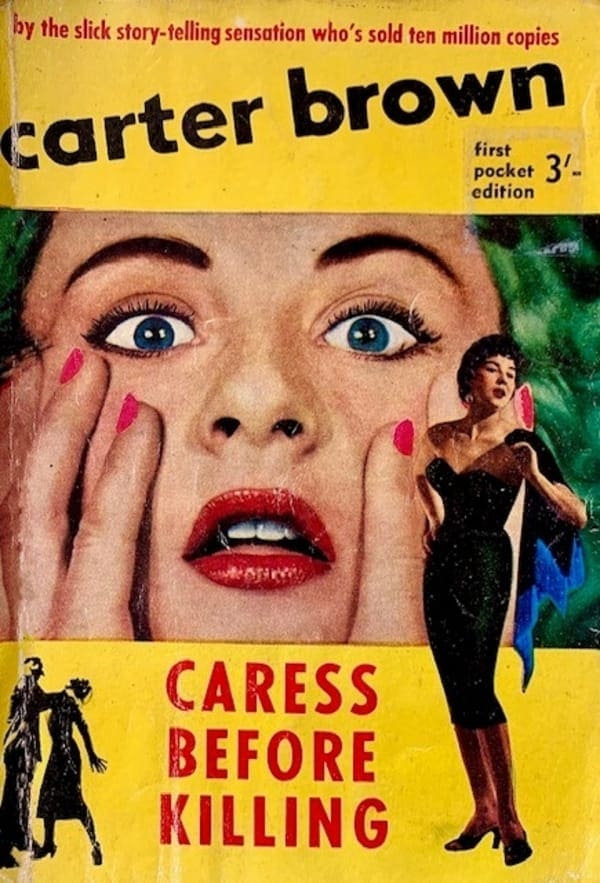 This 1956 first edition of Caress Before Killing (#30 in the numbered series) features a typical Horwitz cover from the period, with different sized pictures interposed on each other and silhouette figures in a corner. The close-up focus on faces and mouths was also a regular feature of covers from this time.
The pink nail polish has obviously added afterwards and is quite poorly done (easier to see on the actual cover).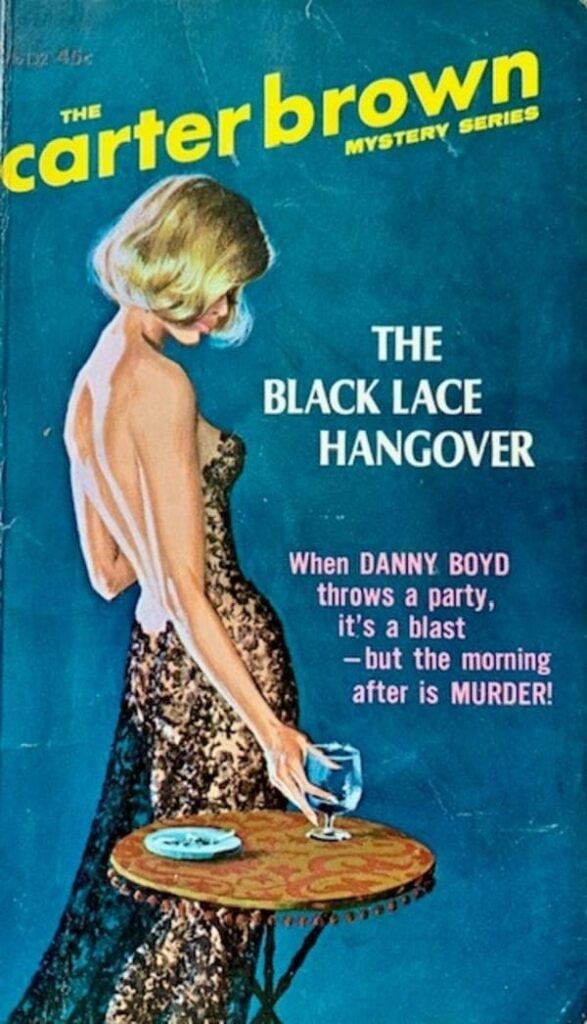 The Black Lace Hangover is from 1966 and is a nice cover fairly typical of the ones from that period.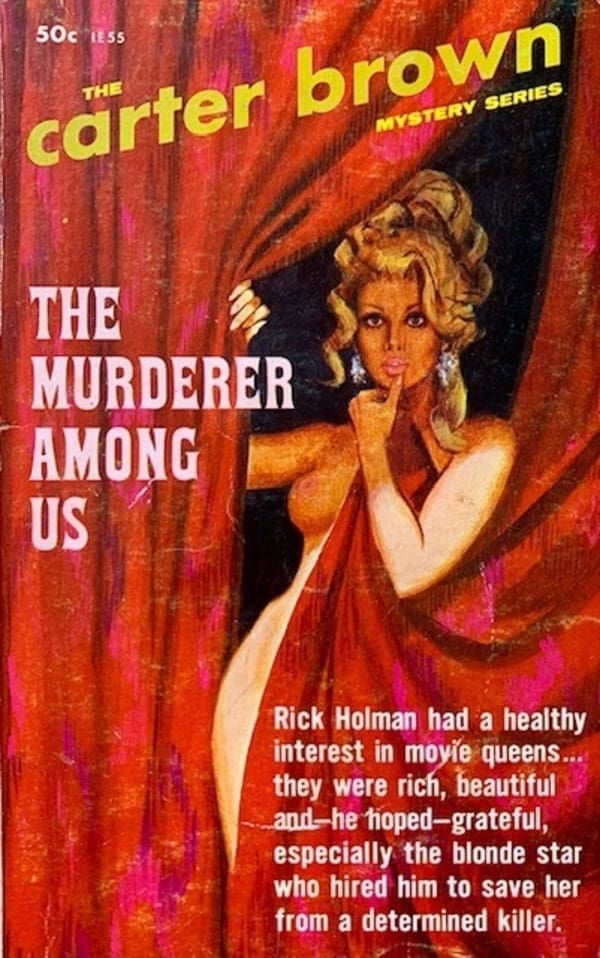 This 1968 Horwitz International Edition of The Murderer Among Us, features delicate shading to probably avoid the censor's wrath. The American Signet editions changed the title to: A Murderer Among Us. Not sure why.
The success of James Bond and other secret agents saw publishers around the world trying to come up with their own 'super spies' to cash in on the Bond phenomena.
Cleveland's short-lived Horatio Fable series (1967-68) by Adam Bonnard (Paul Wheelahan) was just one of the local Australian attempts and was aimed at the lower end of the men's adventure market. Mission To Moscow was the third in the series (there were only four written) and features Horatio Fable who works for the Agency, which is part of the British Department of Security Intelligence. In the 98 page digest he is sent to get revenge on a Russian agent who killed another operative from the Agency (known as Field Men) and find a secret weapon capable of remotely detonating any nuclear bomb in the world. It is pretty routine and formulaic, with a silly ending.
The cover which features the spy cover of quartet of: semi naked girl, gun, violence and an exotic foreign location, was done by the famed Walter Stackpool and is quite good in its way.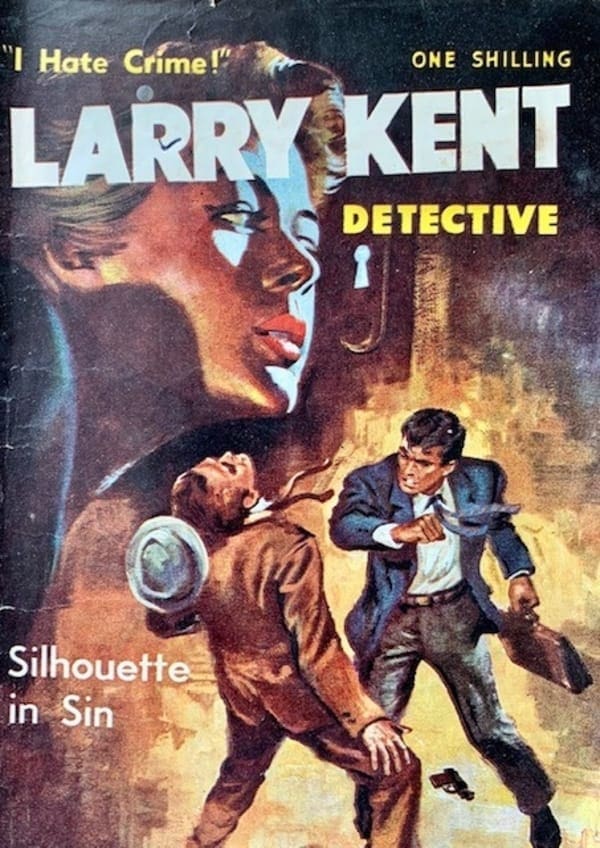 This 1962(?) Larry Kent novelette, Silhouette In Sin #97, also features a good action Walter Stackpool cover.
For more info on Larry Kent see my earlier posts: