TRASHY TUESDAY: BUTCHER OF AUSCHWITZ by John Slater (Horwitz, 1965)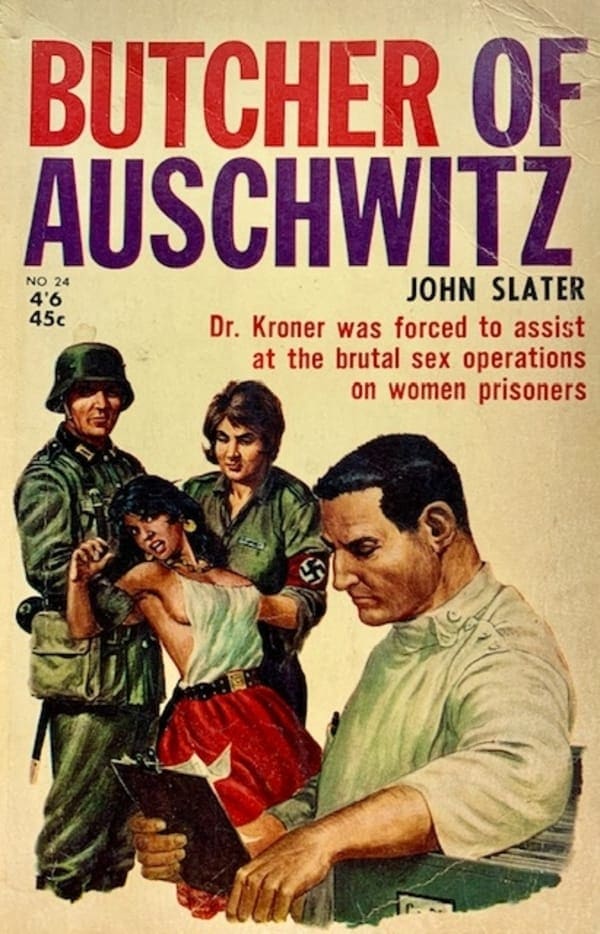 In the early 1960s Australian paperbacks featured a steady stream of books about the horrific treatment of Australian POWs and nurses at the hands of the Japanese and the Nazis during the Second World War. A particularly popular sub-theme of this were the numerous books written by Ray Slattery, under his own name and as John Slater, and others about the treatment of beautiful young women by depraved Nazis doctors and officers.  These books had titles like: Gestapo Camp, White Slaves of the Swastika and Victim of the S.S. and usually featured on the covers naked women being tied or chained up and tortured. The content of the books was not overly graphic and was less horrific than the actual horrors of what happened in the concentration camps. Nowadays, they seem distasteful and exploitative. (Also see my post of 2 April 2019 on Ray Slattery's Counter-Spy and my Bad Doctor post of 1 October 2019 ).
I recently came across Butcher of Auschwitz by John Slater (Ray Slattery), which is typical of this sub-genre. The unlikely story revolves around
Dr Lonus Kroner who is forced to assist with the medical operations at Auschwitz, until the woman he loves is chosen "for butchery in notorious 'A' Block" and he has to help her escape.
The cover is by Col Cameron and contains all the usual tropes associated with this genre: the terrified and scantily dressed attractive young woman, the brutal looking guards (including a masculine looking female guard), a Swastika, and a well dressed doctor staring intently at a clipboard.
The woman is supposed to be a gypsy and is wearing a very unlikely outfit, which probably corresponds more to 1960s male fantasies about exotic gypsy women, even down to fortune teller ear-rings, than it does to concentration camp reality. Cameron has the female Nazi guard leering down at the young woman and holding her arm, which seems to have mysteriously disappeared behind her prominent breasts. The female guard also appears to be wearing a name tag, which strikes me as being a bit odd.
The doctor has that strong chin and well groomed appearance typical of paperback cover doctors of the 1960s, including the pens in the shirt pocket, but which seems out of place here. He appears calm and professional and actually looks a lot like the doctor on the cover of the 1964 medical romance Doctors In Conflict (link below), which was also probably done by Cameron.
In all, it is not a particularly good cover, but it is impressive for the number of stereotypes it manages to effortlessly convey.