TRASHY TUESDAY: DANGER CIRCUIT by David Bower (Horwitz, 1963)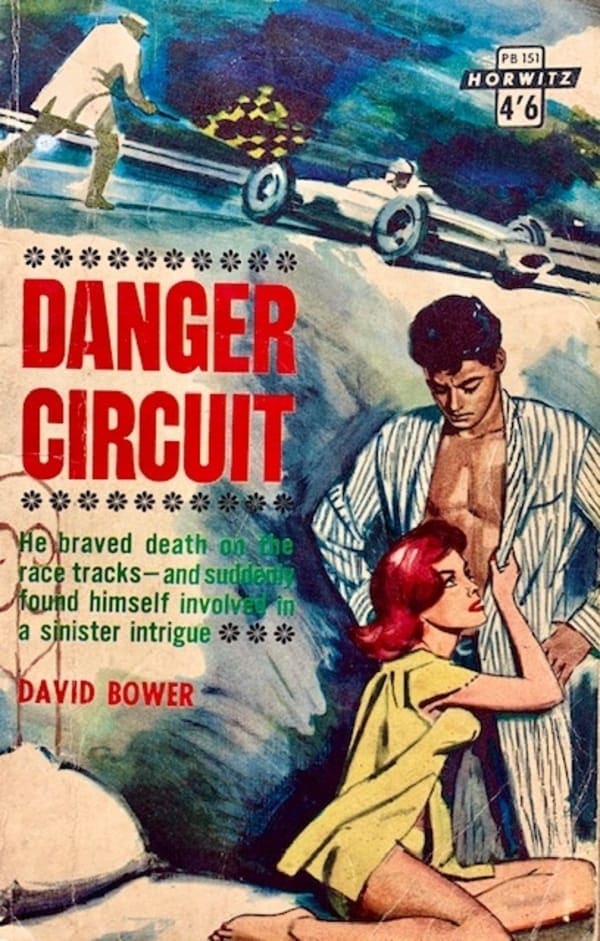 Racing car dramas never reached the high levels of popularity in Australia that novels about hot rods and motorcycle gangs did, although there was enough interest for publishers to occasionally dip their toes into the market. Horwitz had the Frank O'Hara racing car series, which produced four books between 1959 and 1963, and occasionally the Carter Brown books had a racing car motif, such as Madam You're Murder (1957).
Danger Circuit (Horwitz, 1963) by David Bower was also set against a racing car background, although it was mainly a cold war thriller about a murderous plot by Russian and Cuban agents. The race scenes occur early in the book, culminating in the hero, Phoenix Palmer, winning a race at Indianapolis. After that the spy elements take over.
The cover for Danger Circuit highlights the racing car theme, with a car taking the ubiquitous checkered flag at the top of the book. The rest of the cover is given over to a rather stock drawing of the hero, in what looks like a pajama coat, looking down on a semi-clothed woman on a bed. The illustrator is not identified and the drawing, which has little to do with the story, is not particularly well done. The limbs are poorly arranged and the whole thing has an amateur drawing class feel to it. The idea that the picture of the couple is a stock drawing, rather than one commissioned for the book, is also reinforced by the colour of the girl's hair, in the book it is flaxen, not red. Overall it lacks the polish and depth of a McGinnis or Peff cover.
Interestingly, the back cover also continues the racing car theme with a drawing of a car race.
As far as I can determine this was the only book written under the name David Bower, about whom I could find no details. It would also seem to be one of the last racing car books produced by Horwitz.
There are some interesting spy gadgets in Danger Circuit, including exploding capsules implanted in people's heads, but overall it is one to miss!
More details on Horwitz's racing car novels can be found at my article on Frank O'Hara's Spin Out!:
https://murdermayhemandlongdogs.com/spin-out-by-frank-ohara-horwitz1962/