TRASHY TUESDAY: DARK LEGION by John Crawford (Badger, 1967)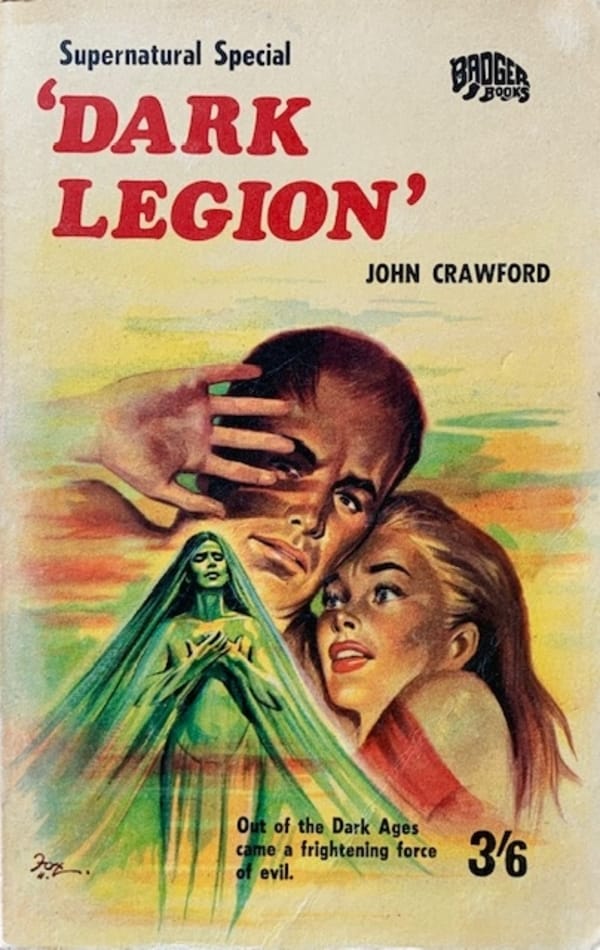 Badger Books were published across a range of genres, including science fiction, westerns and supernatural tales, between 1960 and 1967. The quality of the books was not high, but they were quite popular and around 600 titles were produced.
John Crawford was one of several names used by the prolific John Glasby whilst writing for Badger Books between 1960 and 1967.  Amazingly, Glasby and the legendary Lionel Fanthorpe wrote most of the Badger output during this period under various pseudonyms. 
Dark Legion is very typical of the Badger Supernatural books, which often revolved around some ancient curse or evil entity wreaking havoc today.  In Dark Legion the evil comes from an ancient pre-Celtic temple. During the Black Plague the local inhabitants conducted human sacrifices on the old altar to appease the "Darker Gods" and rid the village of the pestilence and have been cursed ever since.
Dark Legion is a solid, old style British supernatural novel in which the horror is muted and the sex almost non-existent.
The cover for Dark Legion is by Henry Fox, who did most of the covers for Badger. It has the usual Badger feel of simple art work, amateurish composition and good use of colour. The illustration is typical of the Badger Supernatural Specials, which usually featured a young woman reeling in fear from some ancient horror (see below). Fox was quite keen on hands and often the women (and men) would be holding their hands before their faces to shield themselves or clutching their hands to indicate terror and fear. Unlike most British pulp paperbacks of the time, the covers were always chaste and mild in their depiction of the horror within.
Fox brought a distinctive feel to the Badger books, which probably helped to identify them for readers. The illustrations were usually corny, but with an appealing cheesiness. The cover for Dark Legion is typical of the Fox/Badger output and is quite appealing in its way.