TRASHY TUESDAY: SAME COVER DIFFERENT BOOK! #2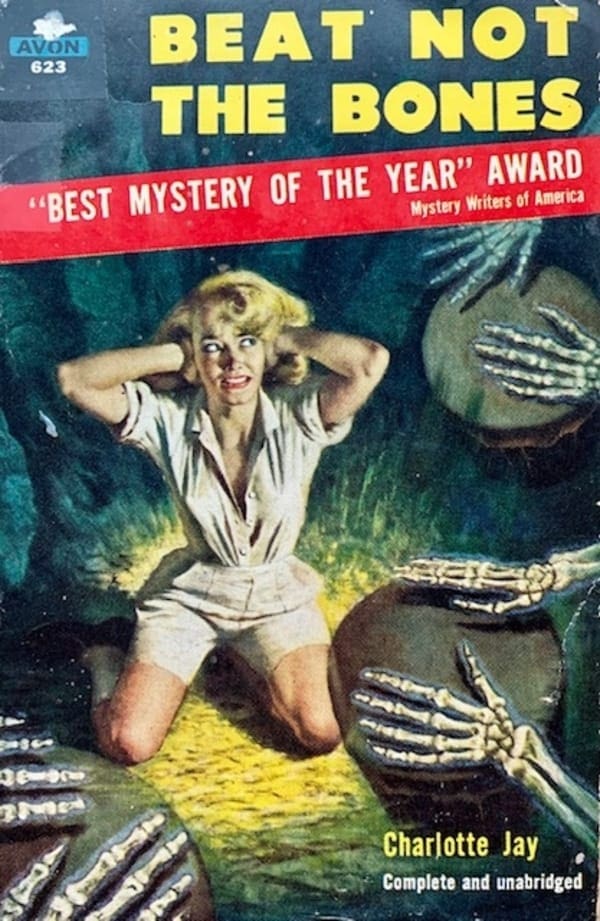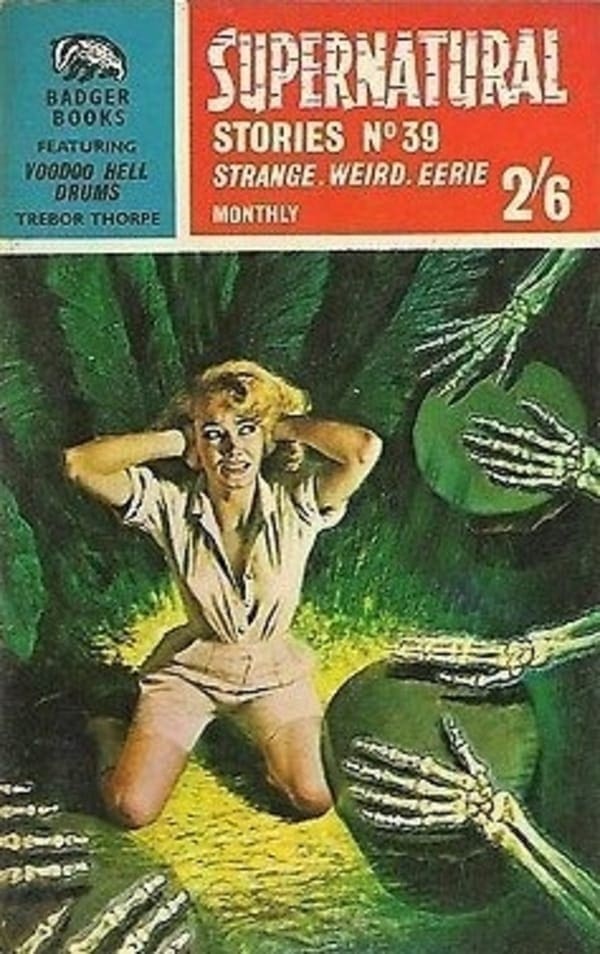 At first glance there would seem to be little connection between an Edgar Award winning novel about a woman's journey into the depths of New Guinea and a collection of short horror stories by a mass market British paperback publisher. Both, however, ended up with the same cover!
Charlotte Jay was the pseudonym of Australian author Geraldine Halls who wrote nine largely unorthodox crime novels between 1951 and 1964 as Jay. Beat Not The Bones (1952) was her second novel and follows the actions of a sheltered young woman, Emma Warwick, who arrives in New Guinea determined to find out what really happened to her husband, the Chief Anthropologist in the colonial administration. His death has been ascribed to suicide but she has reason to believe it was murder.
Beat Not The Bones is a well constructed novel that is notable for its gradual build-up of suspense and its unusual and well described locations (Jay/Halls lived and worked in New Guinea between 1942 and 1950). It was well received outside of Australia and won the inaugural Edgar Award (1954) for Best Novel.
The 1955 Avon paperback edition (Avon, 623) of Beat Not The Bones features a very evocative cover of skeleton hands beating drums, while a pretty blonde woman sits covering her ears in terror. It is a very striking cover and dramatically captures the sense of disconnection and the fear that Emma experiences in the book. The cover artist is unfortunately not identified.
It is a far cry from the rapidly produced Supernatural Stories collections produced by Badger Books between 1960 and 1966. Most of the stories for these collections were quickly written by Lionel Fanthorpe, under a variety of pseudonyms, and were usually very average stories at best. Supernatural Stories No. 39 features five stories, most of which are by well used Fanthorpe pseudonyms, such as Bron Fane. The lead story in the collection is 'Voodoo Hell Drums', which is probably why the cover illustration was used.
The Badgers usually had original covers, a large proportion of which were done by Henry Fox, and they tended to lack the quality of illustrations done on more mainstream paperback books. This is the only example of a cover illustration from another publisher being re-used by Badger Books that I have come across. It is a good cover and a step-up from the usual Badger artwork. It also fits in quite nicely with the suggested theme of the collection. It just shows how two very different books can successfully use the same cover!
Here is a link to another example of 'Re-Usable Covers':
https://murdermayhemandlongdogs.com/trashy-tuesday-same-cover-different-book/
Thanks to Gayle Lovett for assistance with this post and for providing a copy of Beat Not The Drums.