TRASHY TUESDAY: FLOATING WOMEN AND A KILLER CLOWN! ELLERY QUEEN'S MYSTERY MAGAZINES OF THE 1950S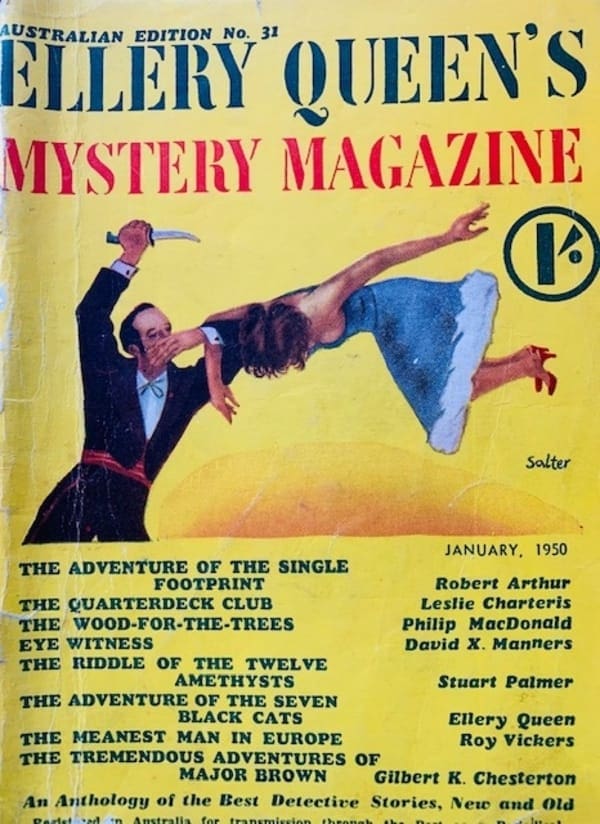 Ellery Queen's Mystery Magazine started publishing in 1941. In July 1947 the first Australian Edition was released. The Australian editions mainly used content from the American magazines, but often in different order from when they were published in America. The Australian edition stopped in November 1964.
This January 1950 edition features stories by Ellery Queen, Leslie Charteris (author of The Saint books) and British author Gilbert K Chesterton.
The cover illustration is by the renown artist George Salter, who created evocative, slightly abstract art work for the Ellery Queen magazines. Unlike the covers of pulp magazines, Salter created spare elegant illustrations for the magazine, which eschewed the titillation of the pulps. This one captures the eye with its floating body and the dramatic effect of the knife wielding man in a tuxedo.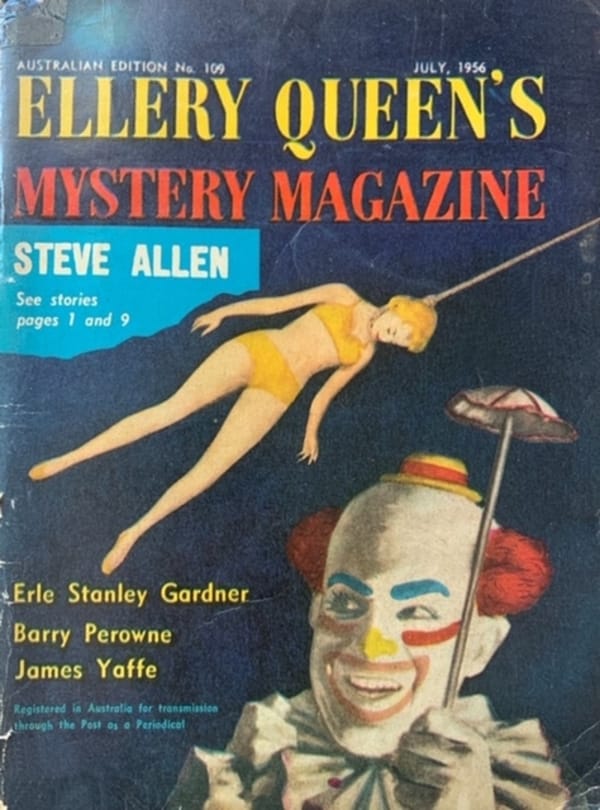 This July 1956 edition features a story by Erle Stanley Gardner (creator of Perry mason) and television personality Steve Allen.
The cover is not the same as the American edition and no artist is listed. Despite the clown and the bright colours, this is actually a quite sinister cover, with the swinging corpse of a hanged woman and an evil looking clown in the forefront. The juxtaposition, this is before Stephen King's It, of the smiling clown's face and the hanged woman is quite effective.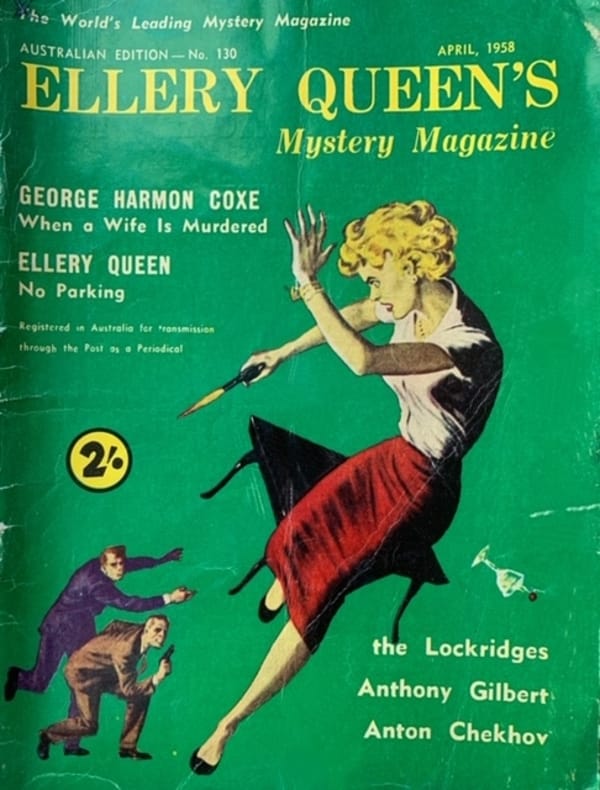 This April 1955 issue features another impossibly positioned image of a woman, this time with a gun fending off a pair of men. The cover artist is not identified. None of the figures are particularly well drawn or properly proportioned, note the arms on the back man and the lady's leg, but the details are good: the falling martini and the lady's bracelet. It is an interesting cover and certainly eye catching.
Although they lacked the sex and violence of other magazines, the covers of Ellery Queen's Mystery Magazine certainly hold interest, especially those which seem to dismiss the idea of physics!
Finally, another George Salter cover. Although it is not in keeping with the floating woman theme, it is quite effective.