TRASHY TUESDAY: JASON: VANISHING VENUS (Webster, 1958)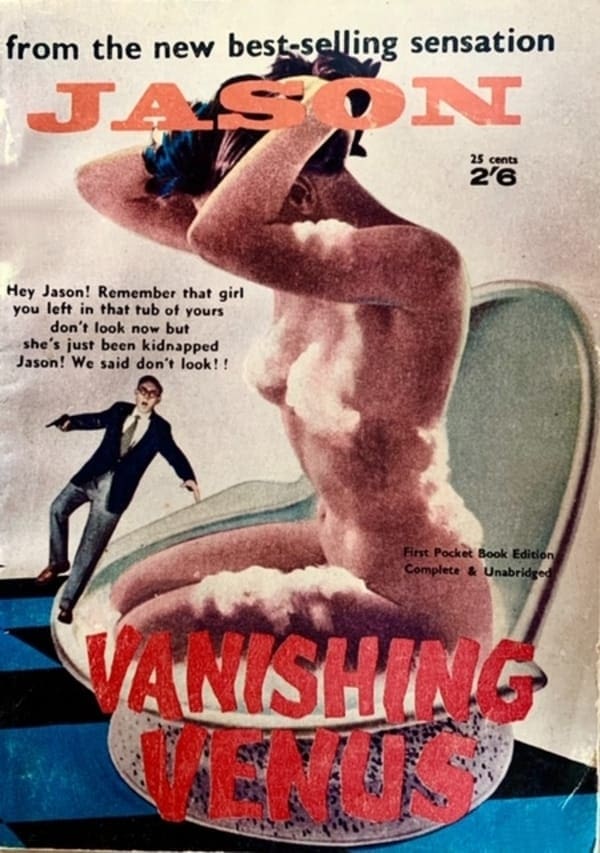 The success of Carter Brown in Australia spawned a number of imitators, including Larry Kent, Marc Brody and K T McCall. One of the more interesting was the light weight, semi-humorous Jason stories.
Told in the first person, the Jason stories were supposedly narrated by Jason himself, an American advertising man with a gift for stumbling across corpses, gangsters and beautiful, willing women. They were actually written for the short-lived Webster Publications by the team of G. Stannus and Hugh Munro, who wrote ten books, at the rate of two a month, between 1958 and 1959.
The packaging of the books, owed much to the early Carter Browns, with a photo of a pretty woman always on the front and a teasing quote usually directed at Jason. The titles also had that early Carter Brown ring to them, including the frequent use of alliteration and puns: Damsel For A Discount, High Litre Lolita, Long Shot Lady, Maiden You Slay Me and my favourite, Three's A Shroud.
Vanishing Venus would seem to be from the middle of the series' run and features a classic 'Jason' cover, which reflected the light tone of the story within. The covers usually featured miniature photos of 'Jason' being overshadowed by larger pictures of scantily dressed women. The photos of Jason were usually staged so that he was falling into large bath-tubs, like on Vanishing Venus, or about to be squashed by a topless women when she leans back in a chair (Maiden You Slay Me).
The back covers of the books continued this theme, with pictures of Jason and an attractive woman in different situations.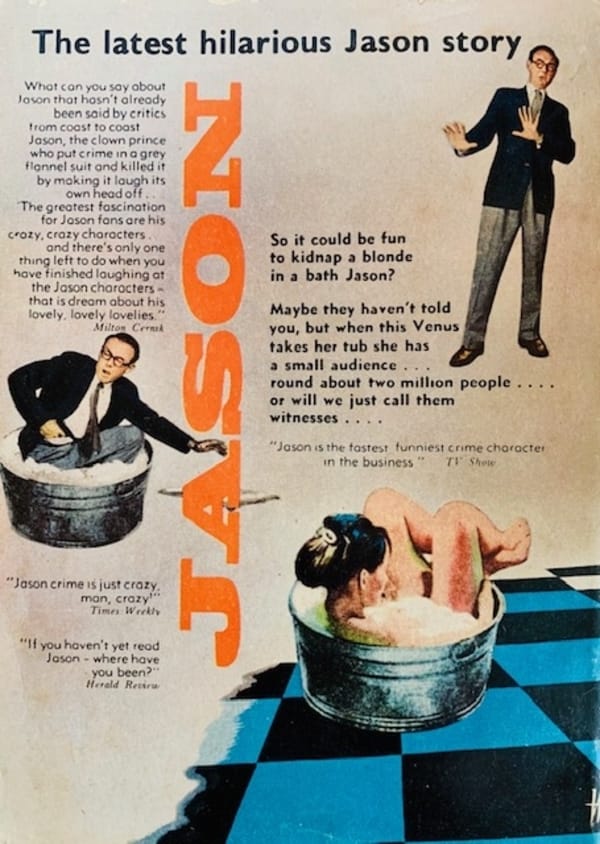 In Vanishing Venus, Jason comes up with a crazy scheme to kidnap a bath soap model. The advertising company has designed a successful major campaign around Jason's friend Luz who has all the attributes for a photo campaign, but is not suitable for the planned television campaign because she has "a voice like the commuter's special going over Brooklyn bridge. She can't even read lines from an idiots board." So when a competitor plans on releasing Luz's screen test, they decide to kidnap her to gain public sympathy. None of it makes any sense, but it does involve Jason with some dumb gangsters and lots of women.
The covers, the designers of which are not identified, are good fun and provide a nice contrast to the more serious crime covers of the time. They are certainly eye-catching, but were not good enough to guarantee the ongoing success of the series, or the publishers who seem to have folded in 1959.
The Jason books, which are very hard to find, remain an interesting oddity in Australian pulp fiction.
Thanks to Graeme Flanagan's Australian Vintage Paperback Guide for the background information on the Jason books.