TRASHY TUESDAY: MARC BRODY: SINISTER SISTER (Horwitz, 1957)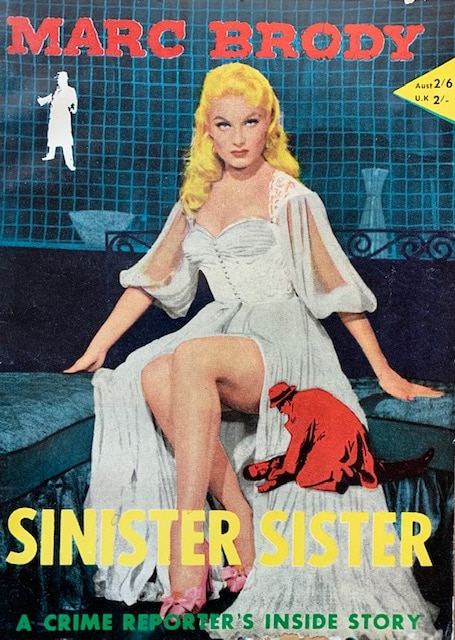 In Australia one of the main rivals to Carter Brown was the series of Marc Brody books which appeared between 1955 and 1960.
Marc Brody was supposedly the author and main character in a series of tough novels written for Australia's Horwitz Publishing. Like the Carter Brown books, the Brody novels were inspired by the popular hardboiled American fiction of the time and were largely set in America. Brody was a crime reporter who managed to get himself in a wide of troubles in the over 80 books he was featured in. In real life Marc Brody was W H (Bill Williams) an Australian novelist, journalist and editor of the tabloid newspaper Melbourne Truth.
The Brody books were initially published in digest format with photos of models on the covers, usually with an action backdrop or a smaller drawing or photo imposed on the model (as in the case of Sinister Sister). with a backdrop of action drawings (see below for some examples). When the books moved into numbered paperback format in 1958, they adopted an illustrated cover as shown on Baby Your Type's Murder (see the blog post of 25 June 2019). All the books had the signature Brody silhouette in the top left hand corner of the cover.
The cover of Sinister Sister (this is the second edition, but I think it is the same cover as on the 1957 original), is particularly striking. The photo is supposed to represent the German blonde Ona, who works at the mental institution that Brody is investigating. The blue backdrop is also suggestive of an institution. Compared to a lot of the Brody books, the cover is rather simple, with none of the busy backdrops usually to be found on the books. Only the red image of Brody crouched over a body suggests the potential violence within.
All the Brody books featured on the back cover a photo and biography of Marc Brody (see below), similar to the approach on the early Carter Brown books. I do not know if the photo is actually of Williams, or if it is a stand-in.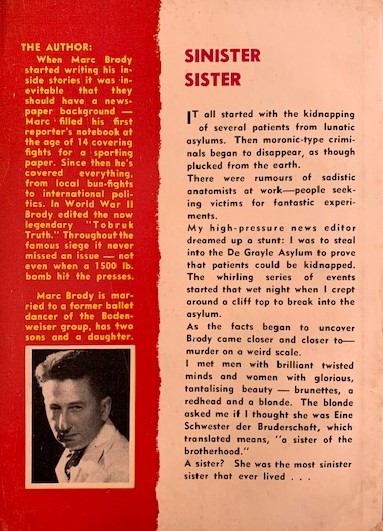 In all, a nice cover. Probably a little less enticing/risque than some of Carter Brown covers of the time, but still quite good.