TRASHY TUESDAY: MEN'S ADVENTURE QUARTERLY AND POCKET MAN – JUNGLE THEMES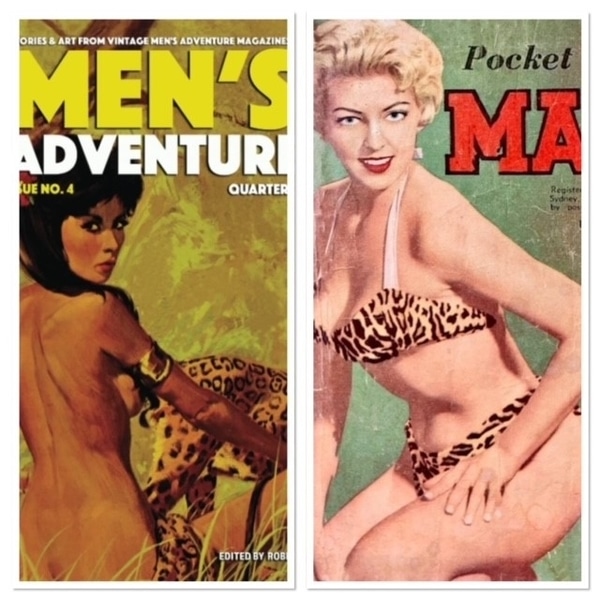 The latest issue of Men's Adventure Quarterly, Issue No. 4, focuses on Jungle Girls, which was a popular theme of men's magazines in the 1950s and 60s. Its arrival at my place neatly coincided with my acquisition of an Australian Pocket Man magazine from February 1959, which features a jungle girl model on the front cover.
Robert Deis and Bill Cunningham have done a marvellous job with the Men's Adventure Quarterly since its inauguration a year ago. The four issues to date have been beautifully produced and each has tackled a different theme. All of them are jammed pack with interesting insights and historical notes, representative stories and articles from men's magazines of the time and great artwork.
The current issue, No. 4, focuses on Jungle Girls, and I think it is the strongest issue so far. The background information on the growth of the Jungle Girl phenomena is interesting and the magazine's focus on the real life Jane Dolinger, and how she developed her persona as a Jungle Girl, model and writer was really fascinating. I had never heard of Jane Dolinger before, but I came away very impressed with this ground breaking and very capable woman.
The stories included in the issue are nicely representative of their time and the Gallery of Jungle Girl covers and artwork is spectacular. The article on German model and actress Marion Michael, Liane, Jungle Goddess!, was also interesting. I look forward to the next Dirty Mission Issue, and highly recommend that anyone interested in popular culture in the 1950s and 60s track the first four issues.
The arrival of the Men's Adventure Quarterly magazine coincided with me finding the above issue of Pocket Man from February 1959.
Man was a well-liked magazine for men in Australia and ran from 1936 to its demise in 1974, when it was unable to keep up with more sexually brazen magazines. Combining a mixture of girlie pictures, cartoons, regular comic strips, stories and faux news articles it was a popular fixture at newsagents and in barber shops. At times it had a strong Australian feel to it, but by the 1960s it was incorporating more American material.
Pocket Man was a spin-off from the original magazine, starting in 1954, and came in a smaller format.
Apart from the girl on the cover, the February 1959 issue does not make mention of Jungle Girls, but it does have a supposedly true account of how 12 African tribal chiefs, including three women, used magic to take over the bodies of 12 lions to stop a railroad from going through their land.
The magazine also has some other interesting inclusions, including stories by prolific Australian author Gene Janes and experienced American writer Day Keene, and some fine artwork by the respected illustrator Yaroslav Horak. It also has the obligatory 'true' World War II account.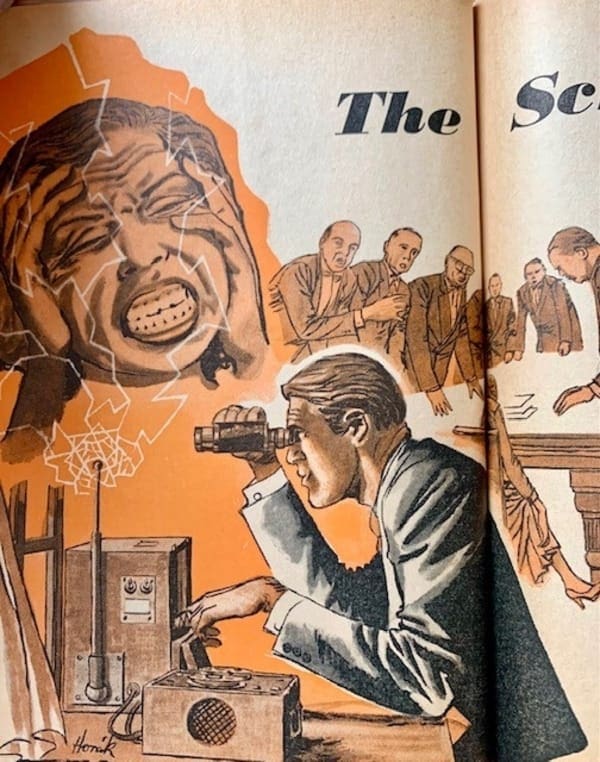 Gene Janes was a prolific Australian author of pulpy paperbacks and short stories, and his oeuvre ranged from spy fiction to war stories to horror to "a weird story of modern witchcraft", Come and Go Mad. In the February issue of Pocket Man he produced a typical story, The Scapegoat, about unscrupulous businessman trying to gain sole control of his dead father's wealth by using an electronic device to sabotage his step-sister's claims.
The story was illustrated by well known Australian artist, of Russian/Czechoslovakian heritage, Yaroslav Horak. Horak produced a number of popular comic strips and illustrations for Australian magazines in the 1950s, before moving to London in 1962 where he gained fame as the artist of the James Bond comic strip.
In addition to the above drawing, Horak also provided the main illustration (below) for a hard boiled crime story by Sydney R. Skellern (probably a pseudonym).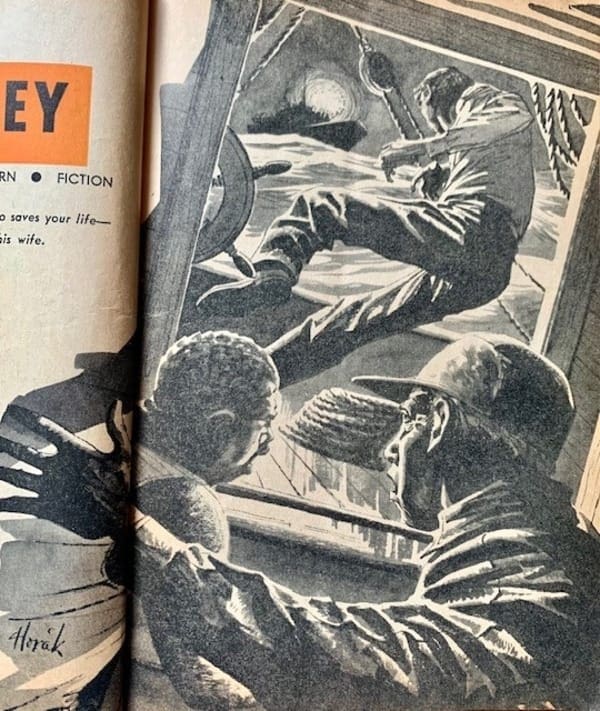 My favourite illustration, however, was the below uncredited effort, which accompanied the opening story, Angle Shooter. It has a good sexy, late 1950s feel to it and the duotone of orange and black works really well. And the girl's glasses are fantastic!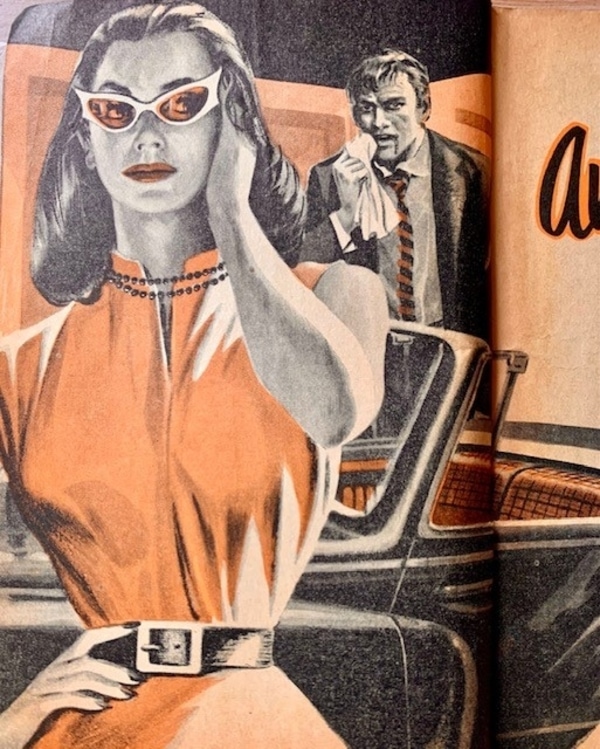 The pick of the rest of the stories and 'Fact' articles was Wild Noose Chase by veteran American author, Day Keene. A typical western yarn with a touch of humour, it first appeared in the American 10 Story Western Magazine in June 1951 before somehow making its way to Australia and Pocket Man. Note: the accompanying illustration has nothing to do with the story.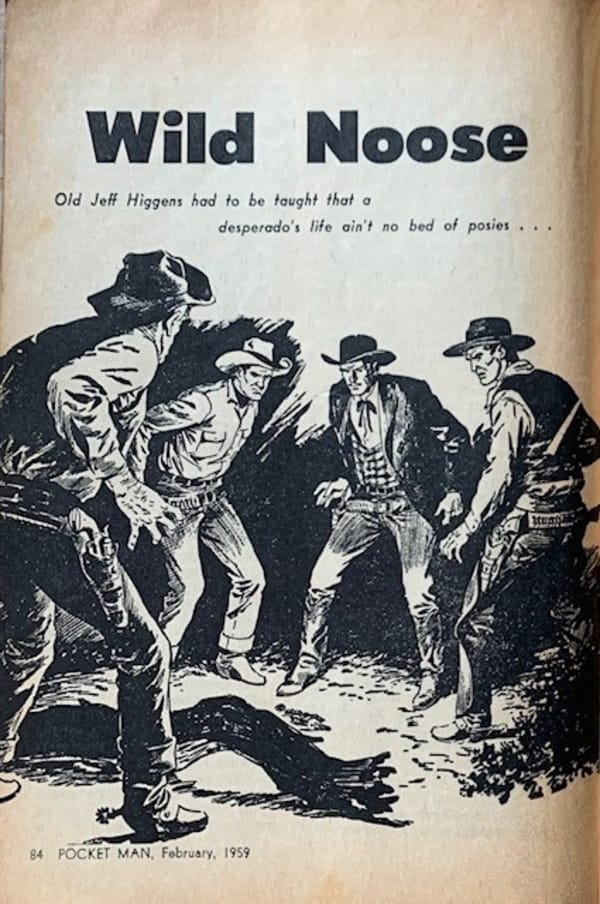 In addition to the stories and faux 'true accounts', the magazine had the usual photographs of bikini clad girls and cartoons typical of the period (below).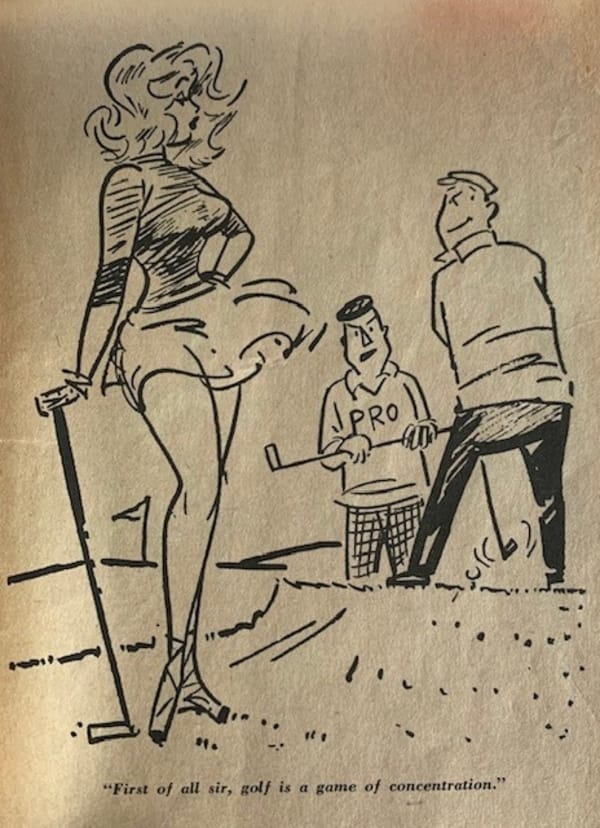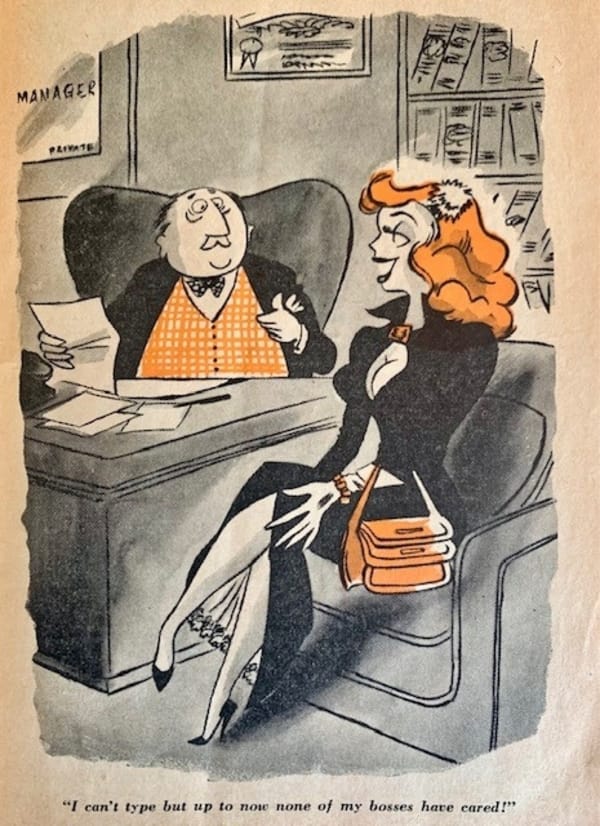 Apart from the Day Keene story, the contributions were pretty mediocre and very cliched, but they did reflect attitudes and stereotypes from the time. The cartoons are probably the best reflections of prevailing views. So no jungle girls, but some interesting material for those intrigued by popular culture of the 1950s and 60s.