TRASHY TUESDAY: PHANTOM BOOKS #2 – MURDER CAN'T STOP by W. T. Ballard (Phantom, 1955)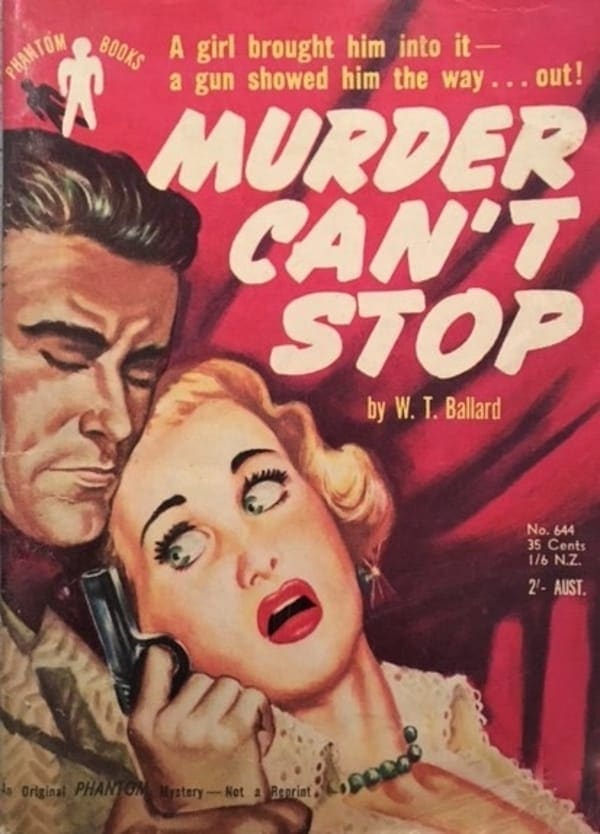 Australian Phantom Books were produced between 1951 and 1961. During that time they released around 300 titles, mostly digest-sized reprints of American titles by Ace, Gold Medal, Graphic and other publishers. The covers were mainly direct copies of the American cover art, although occasionally they featured new and quite different interpretations of the same scene. The copies varied in quality, but in some cases they out-shone the original version.
The cover art for W. T. Ballard's Murder Can't Stop compares nicely with the original cover art for the American and Canadian Graphic editions (see below).
Ballard was a hardboiled writer in the classic mold, who first introduced his tough guy hero Bill Lennox in the "Black Mask" pulp magazine. Murder Can't Stop was his second Lennox novel and was originally published in 1946 (some sources say 1947).
When Phantom published it in 1955, they did so as an "Original Phantom Mystery – Not a Reprint". There was no acknowledgement that the book had previously been released in America, instead there was a statement saying that: "This is an original story, especially written for Phantom books" and that the copyright was 1955.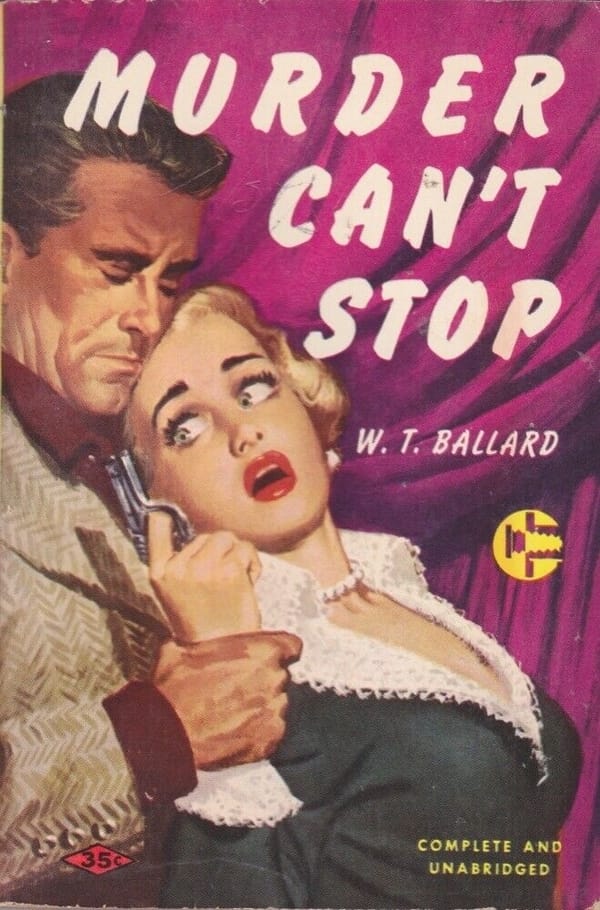 The Phantom cover is a good, slightly cropped copy of the original art, with the only noticeable differences being the change in the colour of the lady's necklace (from white to green), the sharper drawing of the earring, more detail on the white of the blouse and changes to the collar of the man's shirt. Otherwise it is a straight copy, apart from some toning, particularly the background, and extra points of detail.
I do not know the artist of either version, but it is a very striking cover that contains the usual tropes of a pretty girl, a menacing man and a gun. The cropped Phantom version, is probably more dramatic because of the focus on the fear in the woman's face. The curious thing about both versions, is that the man's eyes are closed. He almost looks asleep or in repose, rather than forcibly restraining the woman. It seems a strange decision to draw him with closed eyes.
Overall, it is a good cover and a nice example of Good Girl Art (GGA).