TRASHY TUESDAY: NOT SLEEPING, JUST DEAD by Charles Alverson (Playboy Press, 1980)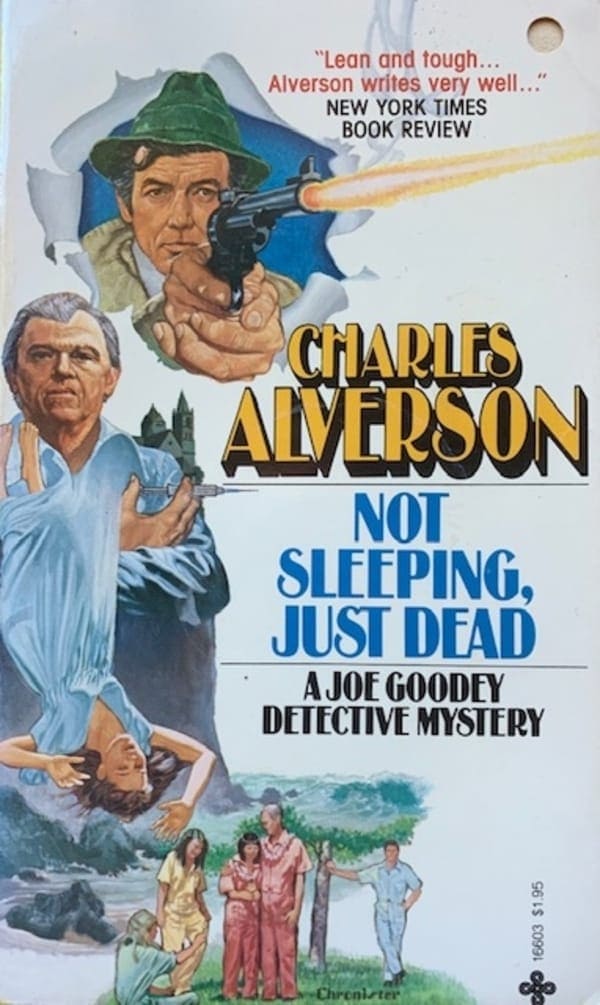 I remember reading and enjoying many years ago Charles Alverson's Goodey's Last Stand (1976) about a San Francisco cop, Joe Goodey, who accidentally shoots the Mayor's cousin and is forced to resign from the police force and become a private eye. Surprisingly, his first case involved working for the Mayor to clear him of involvement in the murder of a go-go dancer. It was a good edgy PI novel with some decent twists and a nice dash of humour.
I recently came across Alverson's second Goodey novel, Not Sleeping, Just Dead (1977) and thought I would give it a go.
At first glance it contained all the elements of the classic 1970s private eye novel: drugs, a new age cult with a messianic leader, a mysterious death of a beautiful young woman and a cynical PI with a good line in wisecracks. Unfortunately, it did not quite live up to expectations, mainly because it lacked that vital PI novel ingredient of some decent action.
The story involves a down-on-his-luck Goodey being hired by a very rich businessman to find out the truth behind the death of his granddaughter, Katie Pierce. The troubled young woman had joined a controversial Californian commune to heal her drug addiction, but is found dead at the bottom of its sea-swept cliffs. The police rule it an accident, but her grandfather has his doubts, especially as the future of the girl's three-million-dollar trust is at stake. Goodey cons his way into the commune, where he finds the usual mixture of misfits and misguided sycophants being controlled by a charismatic leader. Despite resistance from the cult's ruling elite, Goodey gradually pieces together what happened the night the girl died and solves another possible murder.
It is a very easy flowing tale and Goodey is a good guide through the tangled relationships and egos of the leading players at the cult. He is tough and cynical and spends a lot of time insulting and upsetting everyone and can be quite amusing. He does not do a lot of detecting and only works out how Katie died courtesy of an unlikely confession. There is not a lot of action in the book and the climax where Goodey reveals how the girl died owes more to an English country house murder mystery than a Californian private eye tale, with all the possible suspects gathered together in a large-scale therapy session. Goodey's final impassioned defence of why society needs incorruptible investigators like himself who are unafraid of the truth, is a good articulation of the PI code, but in 2019 seems a bit sanctimonious. Although his final analogy is quite good:
"you can't make an omelette without breaking eggs? Too true. But just once in a while, Rachel, you might want to take a good, close look at the omelette as you step over the broken eggshells."
The cover of the 1980 Playboy Press edition of the book that I have, is by Robert Chronister. It is not a particularly striking cover, but Chronister does manage to cram into it a number of the elements from the story and the usual PI tropes: a falling girl in a night dress, a hypothermic needle, a rugged PI, who looks vaguely like David Janssen, in a trench coat and hat firing a gun and some hippie types around a tree. It is similar to other crowded covers from that period, but lacks the eye-catching simplicity of a good McGinnis cover. Chronister's signature is quite clear at the bottom of the cover, and I wonder whether the man incongruously leaning against the tree above the signature is supposed to a self-portrait.
In all, I found it quite enjoyable, but it lacked the suspense and action that I usually look for in a good PI tale. As far as I can tell Alverson only wrote two Goodey novels and a third crime novel that also featured a PI, but not Goodey. The three books are available on Kindle. Alverson apparently now lives in a village in north western Siberia.