TRASHY TUESDAY: PRESENTING INSPECTOR FLAGG by John Cassells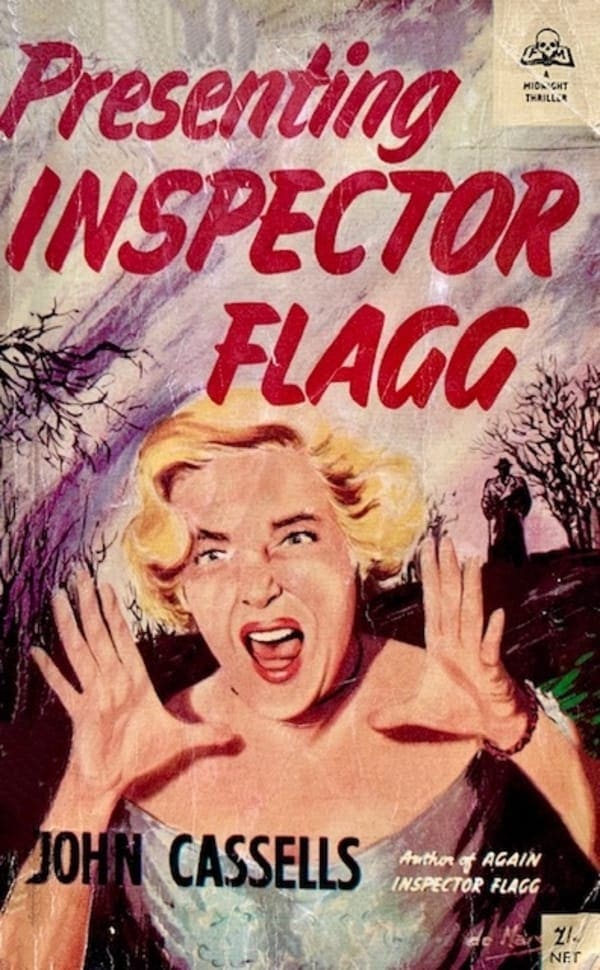 This 1957 edition of Presenting Inspector Flagg by John Cassells
(W. Murdoch Duncan) is typical of the Midnight Thriller line of books by Frederick Muller publishers in the 1950s.
The Inspector Flagg books were popular, if standard detective fare, by the very prolific Duncan, who wrote some 220 books during his career. Frederick Muller published nine of them in the 1950s and attempted to give them a more striking appearance than the usual traditional detective novels of the time.
The covers of the Muller editions tended to sit somewhere between the conservative illustrations of traditional British mysteries and the titillation of the mushroom publishers, who were flourishing during this period.
Although surviving examples are difficult to find these days, it would seem that Joe De Marco did a number of the Inspector Flagg covers for Midnight Thrillers, including the quite eye-catching Inspector Flagg and the Scarlet Skeleton (see below).
Presenting Inspector Flagg is a De Marco cover and it is quite a good one. The screaming woman quickly catches your attention and she is nicely set against the dark backdrop of an eerie sky, black tree branches and an ominous figure in a trench coat (presumably Inspector Flagg). The blonde hair and the lighter hues draw your attention to the woman, as does the open screaming mouth. The light colour dress is also used to draw her out from the dark backdrop. It is a very effective piece of staging, which is given more dramatic effect by the bold red lettering of the title. Some of the proportions seem to be a little out, but overall it is an effective and attention grabbing cover. The more pulpy publishers of the time would have probably clothed the screaming woman in more revealing attire, but it works quite well and probably fairly represents the contents of the book. It is a shame that more of the Midnight Thrillers with covers by Joe De Marco are not readily available these days.
I first happened upon the cover for Inspector Flagg and the Scarlet Skeleton in the late 1960s when the parents of a friend of mine had a copy. I have unfortunately never seen one since. The illustration by De Marco is quite striking, although the woman's light coloured dress seems to get lost against the whiteness of the snow.