TRASHY TUESDAY: SMOKING DOCTORS, SEXY NURSES AND THE OUTBACK – Australian medical paperbacks in the 1960s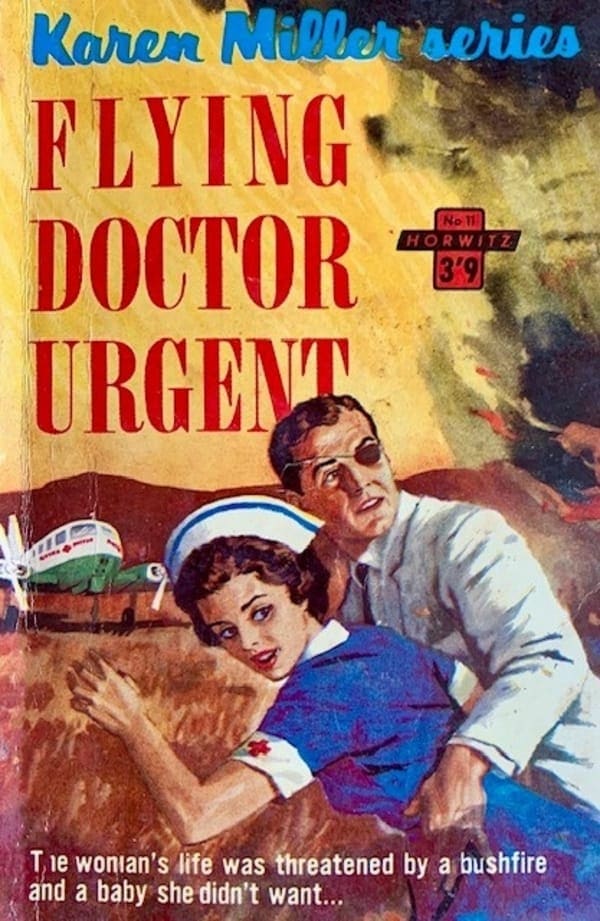 Medical adventures and medical romances were a popular sub-genre of early 1960s Australian paperback publishing, with a number of different series.
Interestingly, unlike Australian crime paperbacks which were usually set in America, the bulk of the medical novels utilised Australian settings, particularly the remote outback. The Karen Miller series (1961-63), mostly written by Rena Cross, tended to be set in a small Flying Doctor base in the Northern Territory. These books featured the standard medical romance tropes and the stories often revolved around the charismatic Flying Doctor, Rod Duquette, with his "lean, spare, tough look" and scar across his face "partly covered by an eye patch".
Cross included quite a bit of local colour in the books, including bushfires and crocodiles. Her depiction of the local indigenous communities were generally positive, although they would not stand scrutiny today, especially with her references to 'walkabouts' and bush telepathy:
"'That's the bush telegraph you've undoubtedly heard about.'
'Mental telepathy? No, surely, it can't be true,' said Jane astonished.'
'It most certainly is. It's very rare, but it's an established fact. Many aboriginals are only a few years away from a tribal existence, and there are aspects of tribal life that we white people find hard to understand.'" (Call For The Flying Doctor, 1962).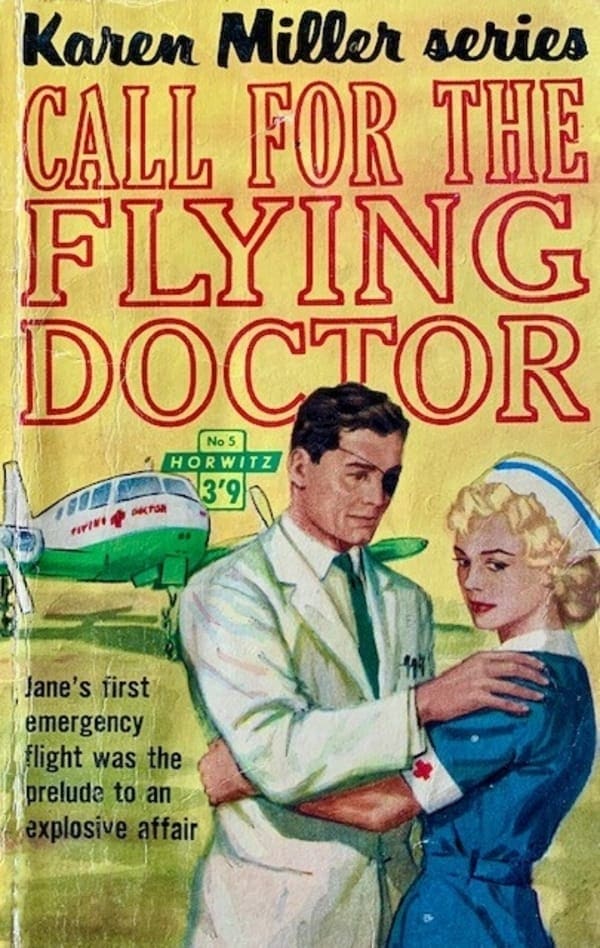 In addition to the Karen Miller books, Horwitz Publications also ran a number of other house series, including the Kerry Mitchell, Rebecca Dee and Noni Arden books. One of their most popular and longest lasting was the Shane Douglas Series which ran for some 60 books between 1959 to 1975. Written by Richard Wilkes-Hunter, the books seem to cover a range of different medical scenarios and situations, including some which were set during World War II (see Theatre Nurse below).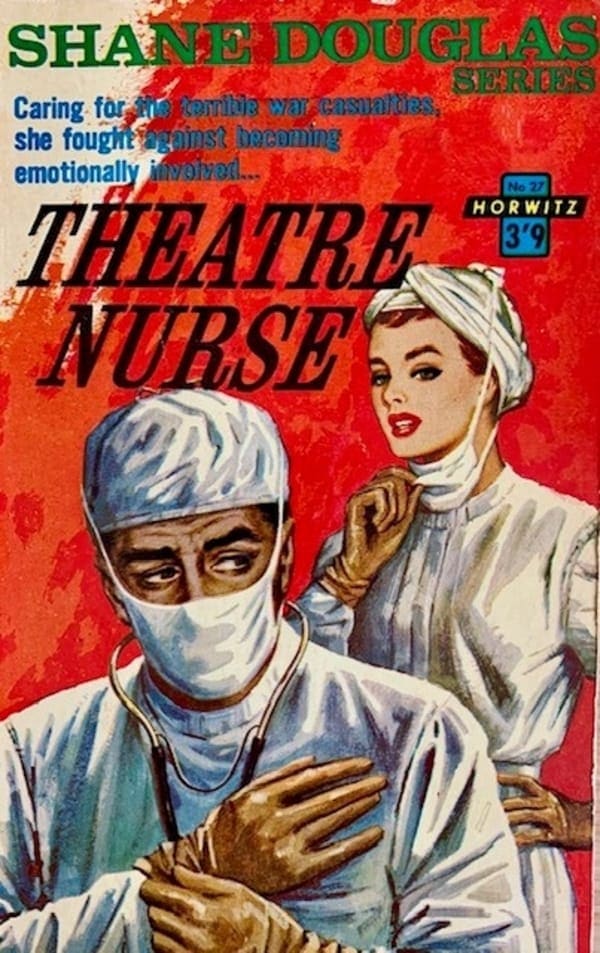 A selection of covers from the Shane Douglas series are set out below. Like many of the medical romances/adventures of the time, the covers frequently feature an attractive nurse staring intently at the doctor. I particularly like the Theo Batten cover on Sea Surgeon, which brings to mind the pandemic crises of 2020 with ship cruises, viruses and badly behaving medical staff: "In her arms he was tempted to forget the deadly epidemic threatening every passenger."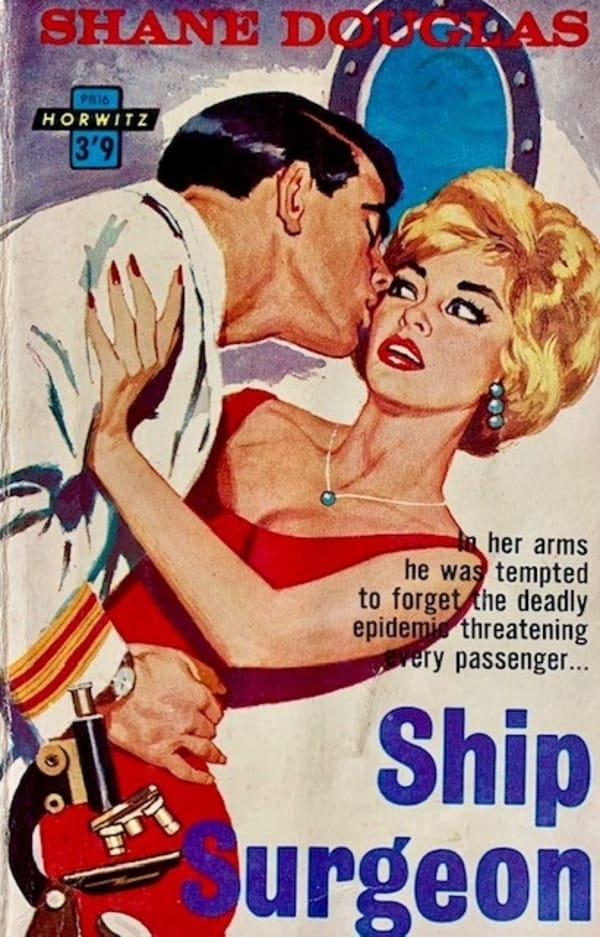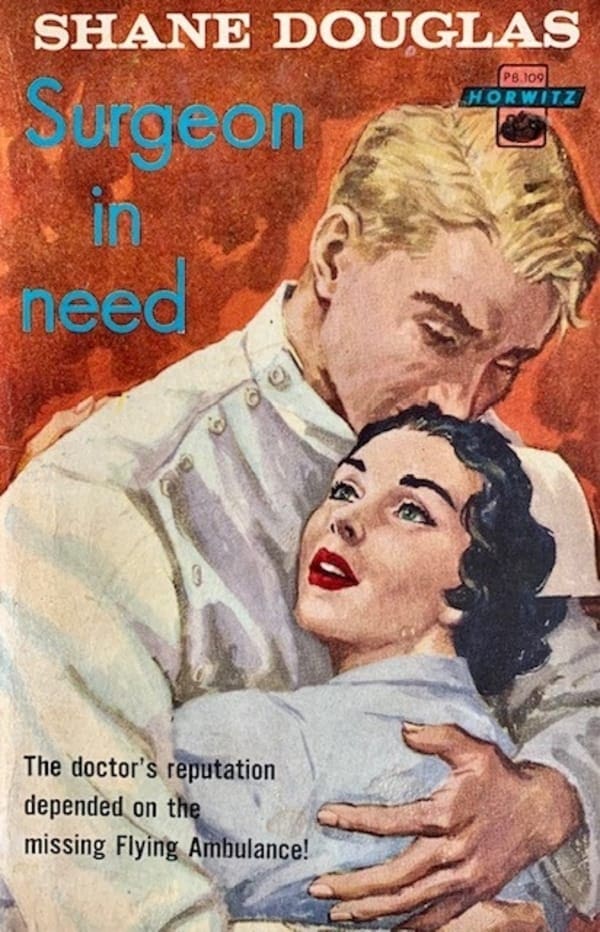 J. E. Macdonnell is probably best known as the prolific author of Australian naval war novels, which dominated the bookracks of newspaper stands for several decades. However, he too had a series of medical novels with Horwitz, which like the Karen Miller and Shane Douglas books, often took advantage of the Australian outback.
The Doctor's Challenge (below) had a doctor trying to heal a young Indigenous girl with a mysterious illness (although the cover shows a man being operated on). I also like how the doting girl in the background is wearing a stylish party dress and pearls at a remote station in outback Australia.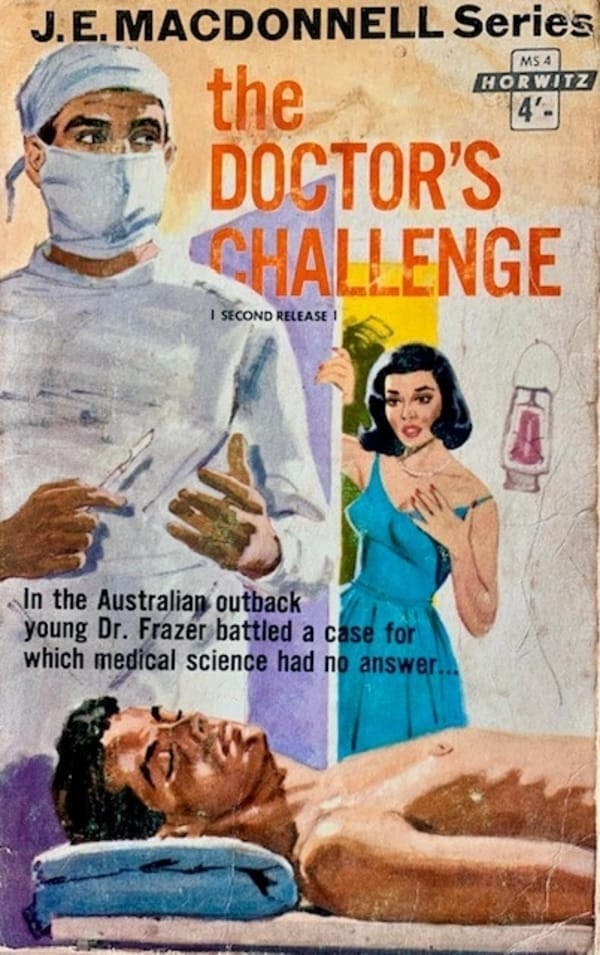 The Macdonnell books tended to be more action oriented, although they also had the usual romance tropes of a serious, attractive doctor and an appealing, well made-up nurse on the cover.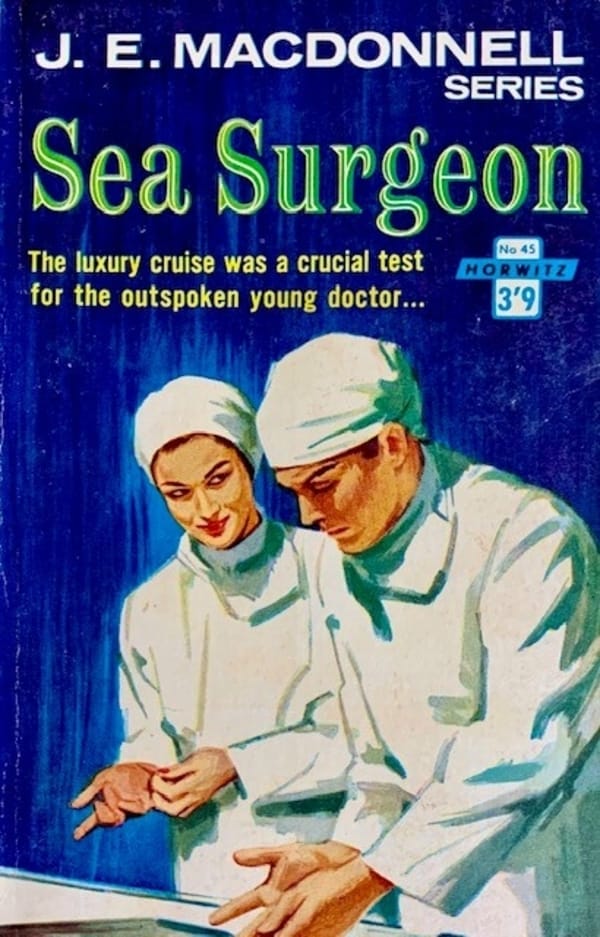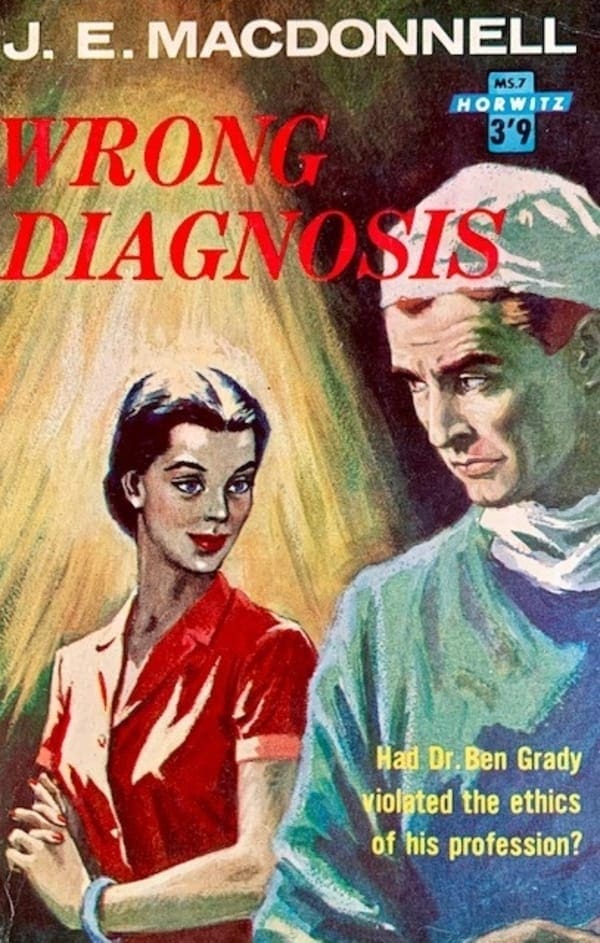 Other publishers also had their own medical series, although they could not generally compete with the Horwitz output. One successful non-Horwitz series, however, was the medical romances produced by Calvert Publishing during the 1960s. Ann Beverley was a major contributor to these, under her own name and as Evelyn Webb.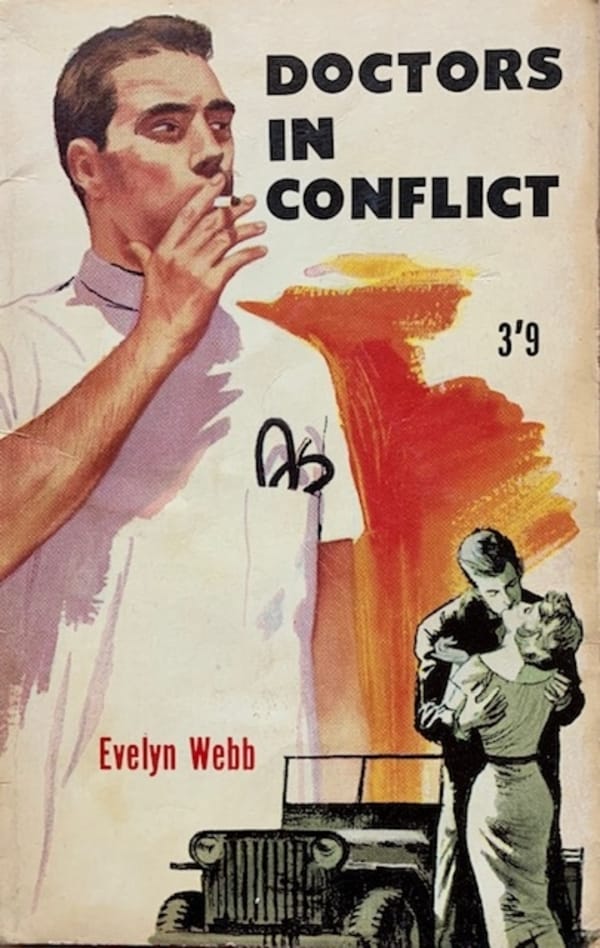 Typical of this series is Doctors In Conflict by Evelyn Webb, which was part of a 'Medics On Location' series.
The story features a medical team sent to the remote Friday Island to deal with a medical emergency, with ensuing romance and adventure. It is mainly of interest because of its cover which features a doctor (easily identified by his stethoscope) smoking! Something which would be unheard of now. Otherwise the cover has a nice romantic drawing with a jeep in the background to signal the 'On Location' aspect of the story. The artist is not identified, although it looks similar to the covers done by Col Cameron for Horwitz.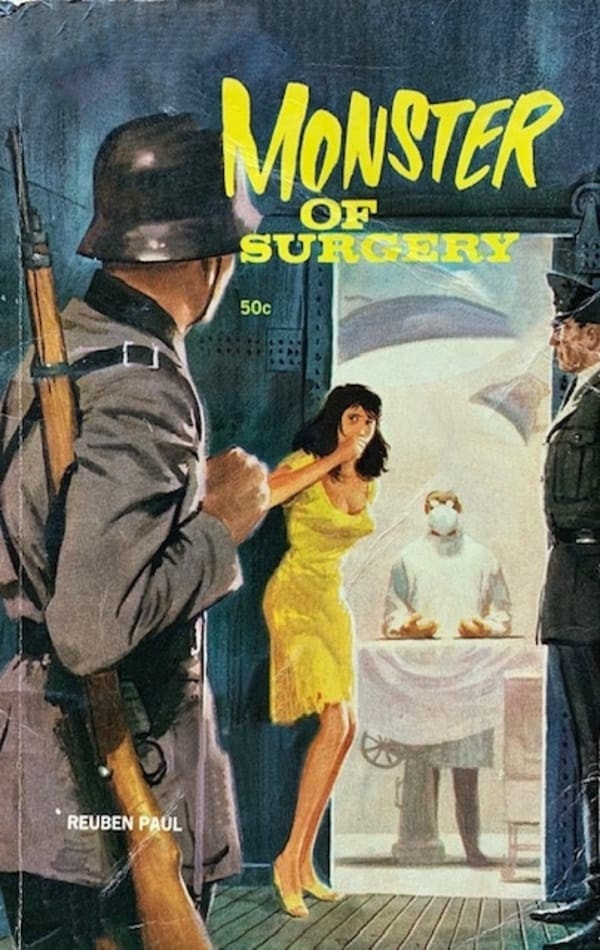 Calvert also explored the dark side of medicine with books about Nazi experiments, such as Monster of Surgery. This distressing theme was a surprisingly popular topic, with other publishers also touching on it through the popular books written under the Jim Kent, Ray Slattery and John Slater house names.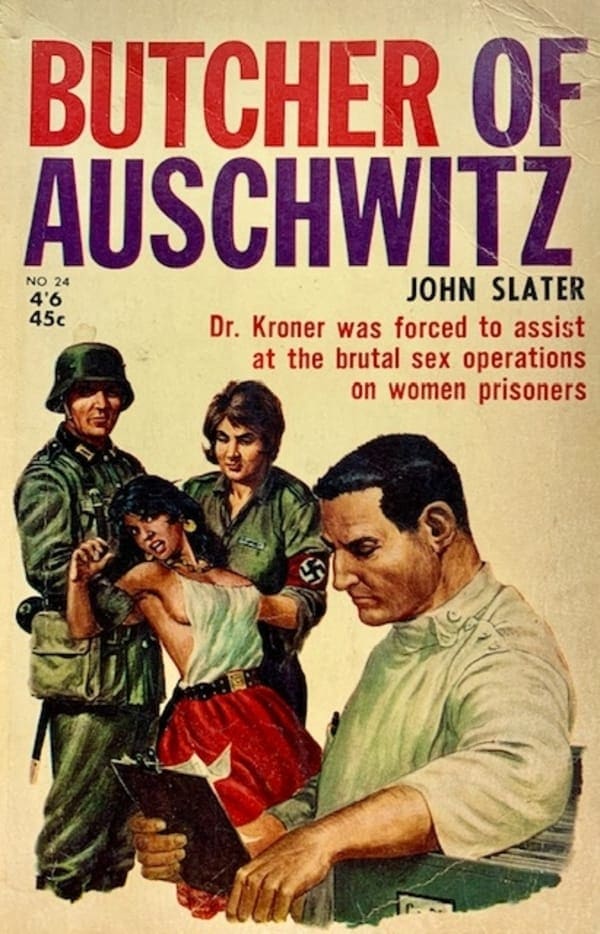 I have written on these books in various posts on this blog, including at the link below:
Although they are not my sort of thing, these medical adventures and romances are an interesting aspect of Australian paperback publishing in the 1960s and probably deserve more attention.