TRASHY TUESDAY: THE CASE OF THE PHANTOM FORTUNE by Erle Stanley Gardner (Pocket, 1974)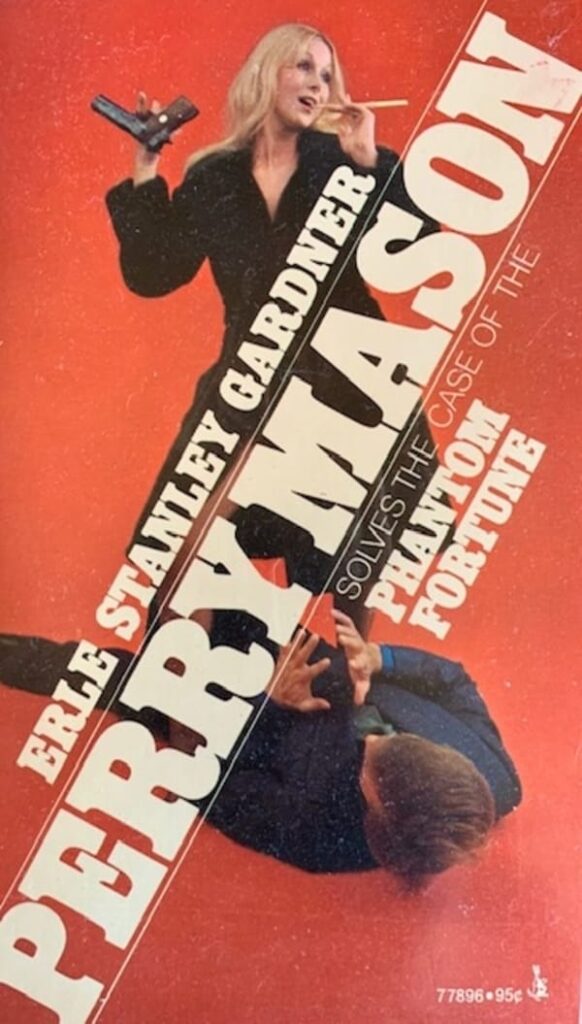 The Perry Mason novels by Erle Stanley Gardner were enhanced during the 1930s to the 1960s by some terrific paperback covers, including ones by Robert McGinnis and Sam Peff (I have included a couple below).
Unfortunately, they also attracted some dreadful photographic covers in the 1970s, as evidenced by this shocker for The Case Of The Phantom Fortune.
TCOT Phantom Fortune was first released in 1964 and was towards the end of Gardner's career and while a good mystery, it was not among his better novels. The early paperback editions, both in America and the United Kingdom, had some solid cover illustrations, but nothing special.
The 1974 edition by Pocket, however, is just odd. The posing of the photo does not make sense. The man is supposedly lying on the ground in fear, however, it is not clear why. The blonde is casually dangling a gun in her hand and looking off to the side, and seemingly posing no threat, unless she drops the gun! She is presumably posed to accentuate her arched right leg (see the back cover below), however, her leg is completely hidden by the book title, diluting the whole effect.
To top it off, she is absurdly holding an unlit cigarette in a very long cigarette holder and has a vacant, carefree expression on her face. While the guy's hands are posed as if to stop her from stomping her foot on him. even though both feet are firmly planted on either side.
There is very little sense or appeal to the photo and the whole thing is made further confusing by the positioning of the title, which hides much of the picture. In all, a mess, and far less appealing than the attractive covers below.