TRASHY TUESDAY: THE GOLDEN SERPENT by NICK CARTER (Manning Lee Stokes) (Mayflower, 1974)
The long running Nick Carter-Killmaster series of men's adventure books, enjoyed many covers of varying quality over its life, including some nice ones by George Gross. This British Mayflower edition is not one of them!
The Golden Serpent was released in 1967 by Award and had quite a well drawn and restrained cover of a woman leaning back on a sofa, with a Mayan sculpture in the foreground to locate it in Mexico. The cover has a slight Robert McGinnis feel to it, although it is not quite in that class (see below).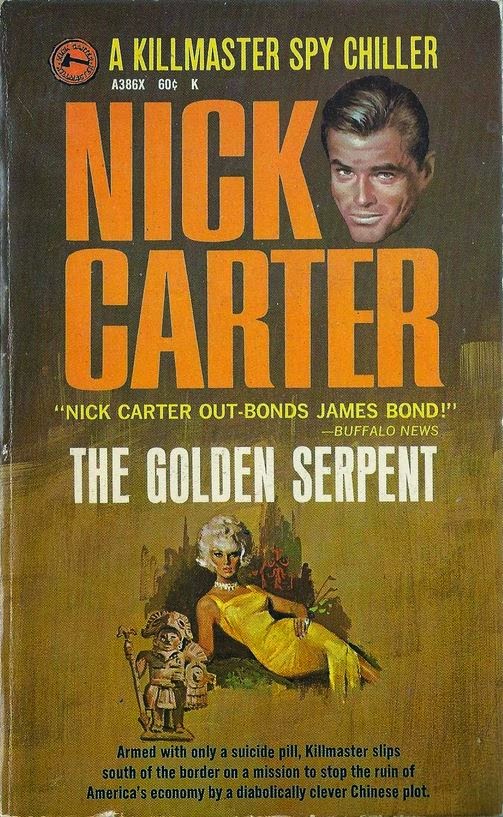 When The Golden Serpent was reprinted by British publishers Mayflower in 1974, however, they were going through their photographic cover phase and the result was probably one of the worst covers I have seen.
The cover gives the impression of being dashed off in a few minutes with very little thought. The model portraying Nick Carter was used on several of the titles that Mayflower did, and is a passable representation of Carter. On this one though, he is wearing a silly, frilly shirt and suit jacket and has an unlit cigar in his mouth. The gun adds some tension to the picture, but is undercut by the quizzical look on the girl's face, who seems totally unperturbed by what is happening or her state of undress.
Given that Carter is fully dressed and wearing a tuxedo, it is really unclear why the girl is semi undressed, with well positioned arms, and wearing casual slacks and a sombrero! Presumably the sombrero is meant to indicate the book's Mexican setting, but it almost looks like it has been crocheted and is not terribly Mexican in appearance. The unzipped jeans, add a sleazy touch to the picture. All up, the girl looks really out of place.
In all, it is a poorly staged photo which looks silly. It is almost as if the publishers said: "another Nick Carter cover, lets get the guy who usually does it, add a gun and a semi naked girl and we are done. And oh, we had better add a cheap sombrero because it is set in Mexico!"
I don't think that it is an enticing cover, but then again the suggestion of nudity and sex was probably enough to attract buyers in the 1970s.
Interestingly, Mayflower had a more provocative photographic cover on their later edition (below). Although sleazy, it actually had more to the do with the story and the whip wielding villainess.