TRASHY TUESDAY: THE VOLCANOES OF SAN DOMINGO by Adam Hall (Fontana, 1971)
I am not usually a fan of photographic covers, but this 1971 one for Adam Hall's The Volcanoes of San Domingo perfectly captures sense of seediness and danger that permeates the book.
The Volcanoes of San Domingo (1963) was the first book that novelist Elleston Trevor wrote under the name of Adam Hall, before he went on to use the pseudonym for the highly successful Quiller novels.
The book centres on the mystery of a plane bound for San Domingo, which went missing over the Pacific in 1961. For two years there is no sign of the plane and then a flight-steward on holidays reports back to London that he has seen the pilot alive in a seedy oceanside bar in South America. An airline official is sent to investigate and becomes obsessed with the mystery of the plane and another survivor, a beautiful French girl.
I can remember buying this book as a teenager in the 1970s, lured in by the seedy cover and the novel's intriguing premise as described on the back of the book.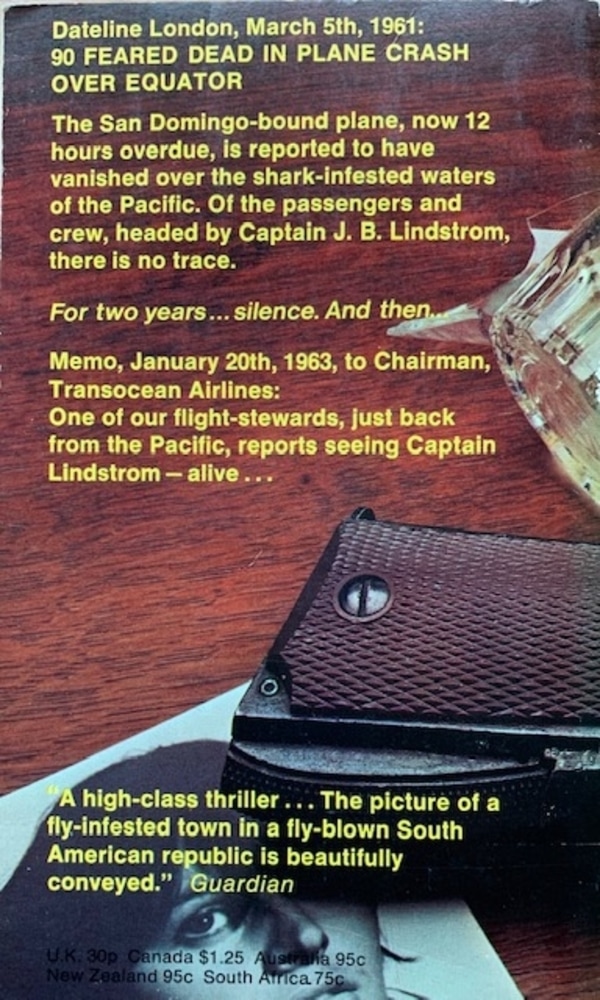 I do not think that I have ever seen a more downbeat cover than the one used on The Volcanoes of San Domingo. Whereas most photographic thriller covers of the period featured dramatic action scenes (see below) and usually attractive semi-clad women, the Fontana art department went in the totally opposite direction for Adam Hall's first book.
The photo on the cover epitomizes seediness from the broken glass with its unappealing residue to the soggy used cigar to the split drink with the flies and the fake looking insect lying in it. The well used colt 45. adds a nice sense of menace, while the black and white photo of a young woman tucked under the handle of the gun adds mystery. The only thing missing is some blood on the broken glass.
It is a nicely staged photo that really gives off a sense of decay and desperation. It drew me to the book back in the mid-1970s and still does!
More typical Fontana photographic covers from the early 1970s: