TRASHY TUESDAY: THIS IS FOR REAL by James Hadley Chase (Panther, 1973)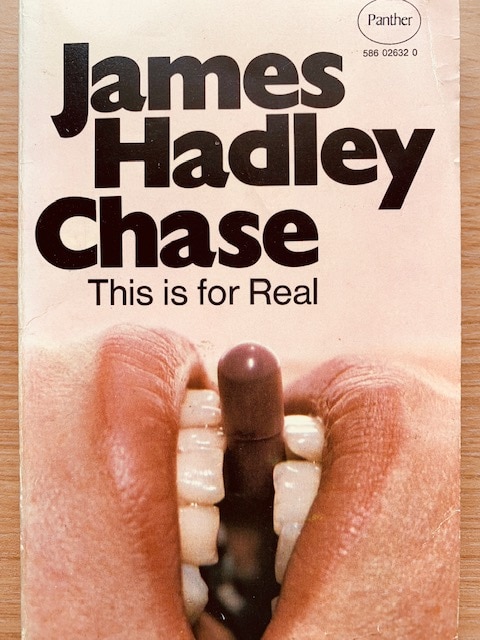 This eye-catching cover would not be deemed suitable these days, with the suggestion of drug taking, although the capsule is probably cyanide rather than ecstasy. 
James Hadley Chase (pseudonym of Rene Lodge Brabazon Raymond) was a British thriller writer probably best known for his tough fast paced novels that initially tried to imitate American gangster novels. During a career that spanned over forty years from 1939 to 1984 and nearly 90 novels, Chase covered a variety of styles and had several recurring central characters including California private eye Vic Malloy and ex-commando Brick-Top Corrigan. Chase sometimes skirted around the spy genre and in 1965 he started a series about Paris-based CIA agent Mark Girland which ran for 4 books. This Is For Real is the first book in the series and is a good, cynical tale that starts in Paris and ends violently in West Africa. Girland is a sort of free-lance agent for the CIA, his "sole interests were cool cash and hot women", and his jaundiced view about the operations of the various Intelligence Agencies adds a nice edge to the books. Girland's running war with the giant KGB agent Malik is also a feature and Chase resolves it in an interesting manner in the final book. The plotting is adequate and there is plenty of action and hints of sex. The romance element in This Is For Real, and the other books in the series, is clumsily handled and reflects the values of the time. In all it is a good read that has held up well and is worth checking out. The other three books in the series are: You Have Yourself A Deal, Have This One On Me and The Whiff of Money.
The covers of Chase's novels were usually adorned with sexy women and guns. The Panther covers for the series were more restrained and featured objects, such as a bleeding grenade in a glass for Have This On Me, rather than girls. The cover of This Is For Real is quite striking and certainly caught my attention when I bought it all the way back in the late 1970s whilst at university. It was the first Chase novel that I read.
Later editions, such as this 1980 edition of You Have Yourself A Deal,reverted to girls and guns.