TRUST by Chris Hammer (Allen & Unwin)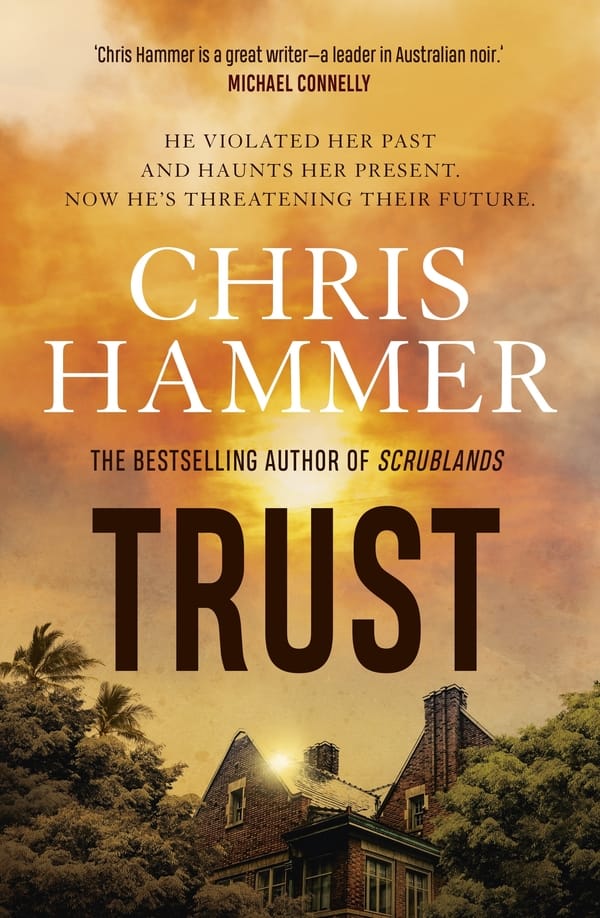 After successful forays into outback noir and small town crime, Canberra author Chris Hammer now turns his attention to big city corruption with his third novel, Trust.
Former journalist and successful true crime writer, Martin Scarsden is enjoying a peaceful time on the beach when a desperate phone call sends him rushing home to find an unconscious man sprawled on the floor and his partner, Mandalay (Mandy) Blonde, missing. It soon becomes clear that Mandalay has been kidnapped and that the reason for it lies in Sydney and her murky past with an apparent swindler, who years before stole millions from a bank before disappearing.
The discovery of a body causes a rethink of what happened five years ago, and Scarsden and Mandy suddenly find themselves in the centre of a bloody search for the missing millions. Meanwhile Scarsden's investigation into a large scale case of corruption takes him down some dangerous and unexpectedly tragic paths.
Trust is a tightly constructed and well paced crime thriller that smoothly moves along to a suitably surprising and bloody finale. The story twists its way through several unexpected developments and, despite its length, Hammer keeps the suspense at a high level and the final chapters are gripping and exciting.
As with the earlier books, Scrublands and Silver, all the characterisations are astute, well developed and subtly drawn. The central pairing of Scarsden and Mandalay come across as credible characters with flaws and secrets who are trying to make the best of what life has given them. Scarsden is particularly well drawn and believably torn between his new life and the pull of being a journalist again.
Scrublands was notable for its vivid descriptions of the drought riven community in which it was set, but in Trust Hammer shows that he is also capable of evocative urban imagery as Scarsden moves from the dark alleyways and dirty corners of the city's centre in winter, to more luxurious locations in Centennial Park and Elizabeth Bay where judges and businessmen live. He also nicely captures a Sydney cloaked in smoke from winter burn-offs:
"During the still of the night. A haze has spread across Sydney. Turning the grey dawn grey and the rising sun a lurid orange. This acrid shroud, choking and ominous, carries the smell of a thousand campfires and the sense of earth turned awry."
There are also sharp eyed comments on politics, corruption and the sense of economic unfairness that cloaks modern Australian society and the changing nature of Sydney. Hammer also frequently takes aim at the superficiality of modern journalism and the "clickbait and frippery" of today's newspapers. Although I think he is a bit harsh on the Sydney Morning Herald, given the more obvious target in Sydney.
In all, Trust is a terrific read that kept me enthralled from beginning to end. There is the usual requirement for the occasional suspension of disbelief, and at times revelations just seem to fall into Scarsden hands, but these are minor quibbles rather than serious complaints. I enjoyed the plotting and the rich, evocative descriptions of Scrublands, but I think that Trust is a stronger, more compelling and ultimately more thrilling crime novel.
Four and a half stars out of five!
Trust is released in Australia on 13 October 2020. It is now available in the United Kingdom on Kindle, with the hardback release scheduled there for
7 January 2021.
Thanks to Allen & Unwin and the Canberra Weekly for an advanced copy of the book for review.
Here are links to my earlier reviews of Scrublands and Silver:
https://murdermayhemandlongdogs.com/throwback-thursday-scrublands-by-chris-hammer-allen-unwin-a32-99/
https://murdermayhemandlongdogs.com/silver-by-chris-hammer-allen-unwin-32-99/