WHEN SHE WAS GOOD by Michael Robotham (Hachette, August 2020)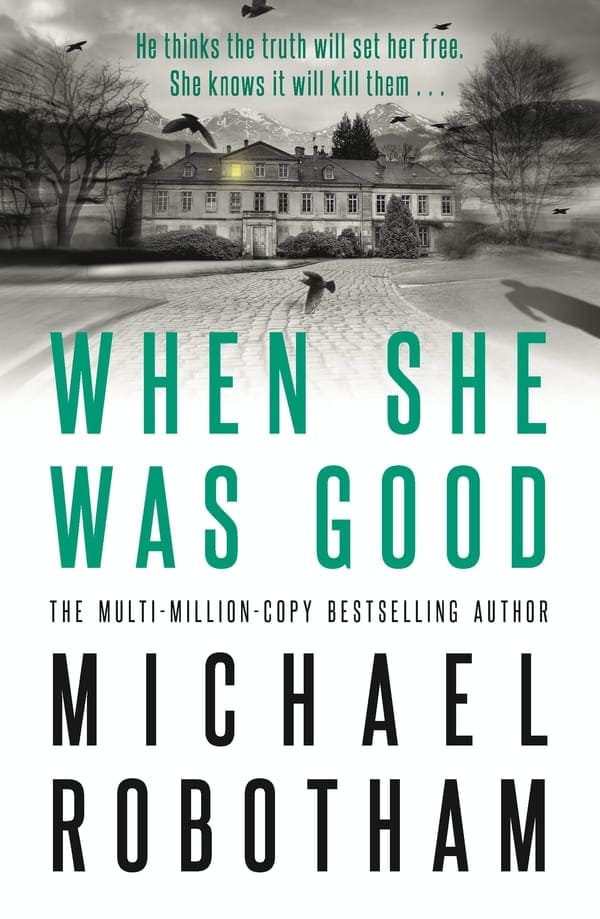 A new Michael Robotham novel is always a reason for celebration and his latest novel, When She Was Good, is no exception.
This follow-up to last year's Good Girl, Bad Girl, is a richly textured novel that quickly draws you into its thrall and keeps you happily engaged until the final bloody conclusion and the last page shock.
The story opens with talented, but damaged, forensic psychologist Cyrus Haven still trying to find the truth about Evie Cormac's past. Six years ago twelve year old Evie was found hiding in a secret room in a house in which a horrific murder had occurred. The police believe that the murdered man had been holding Evie captive and abusing her. Only Evie and Cyrus know that he was really trying to protect her from a powerful group of men who want her dead. Those men are still after Evie, who refuses to reveal what happened and is being held under another name in a child detention facility. When Haven is asked by the police to consult on a bizarre murder he finds an unexpected link to Evie's past. He starts digging into the background of the murder victim, a former police detective, hoping to uncover who was behind Evie's ordeal. Haven thinks that the truth will set Evie free, whereas she knows that looking for the truth will get them both killed.
This is a very polished piece of crime fiction that mixes together familiar elements of the crime novel and elevates them into something more substantial through Robotham's superior writing, clever plotting and credible characters.  The story moves at a very good pace and the alternating of the viewpoint between Haven and the very troubled Evie adds depth to the story and heightens the suspense.
One of the things I admire about Robotham's books is his meticulous plotting and the clever structuring of his story. Every scene serves a purpose and there is never a sense of things being added in to pad the book out. Unlike a lot of authors, Robotham does not just tell the reader something, he shows them. So instead of just telling us about Evie's ability to sense if someone is telling the truth, he shows it in action in the opening chapters and also her bloody-mindedness. Similarly, he subtly shows us Haven's empathy, intelligence, determination and his ability to read a crime scene. It adds a richness which is lacking from a lot of crime fiction.
At the centre of the book is the brilliantly captured Evie and her horrible past. As Cyrus tries to untangle the web of lies and cover-ups in the present, Robotham uses Evie's memories to show what really happened to her and how she survived. The tale of abuse is quite horrific, but not unnecessarily graphic or exploitative. He raises some significant social and moral issues, but does not belabour them or allow them to interfere with the smooth flowing of the story.
In all, When She Was Good is a very enjoyable novel that is enhanced by some fine writing and the occasional flashes of wry humour. Fans of the Sydney-based Gold Dagger Award winner's earlier novels about London clinical psychologist and occasional police adviser Joe O'Loughlin, may be missing the quirky psychologist, but Haven and Evie are more than adequate substitutes. When She Was Good is as good, if not better, than any of the O'Loughlin books and will keep you entertained and eagerly turning the pages all the way to the end and will leave you keenly awaiting the return of Cyrus Haven and Evie.    
Four and a half stars out of five!
When She Was Good is released in Australia in August and in the United Kingdom on 28 July 2020.
Thanks to the Canberra Weekly and Hachette Australia for an advanced copy of the book.