DARKNESS FOR LIGHT by Emma Viskic (Echo)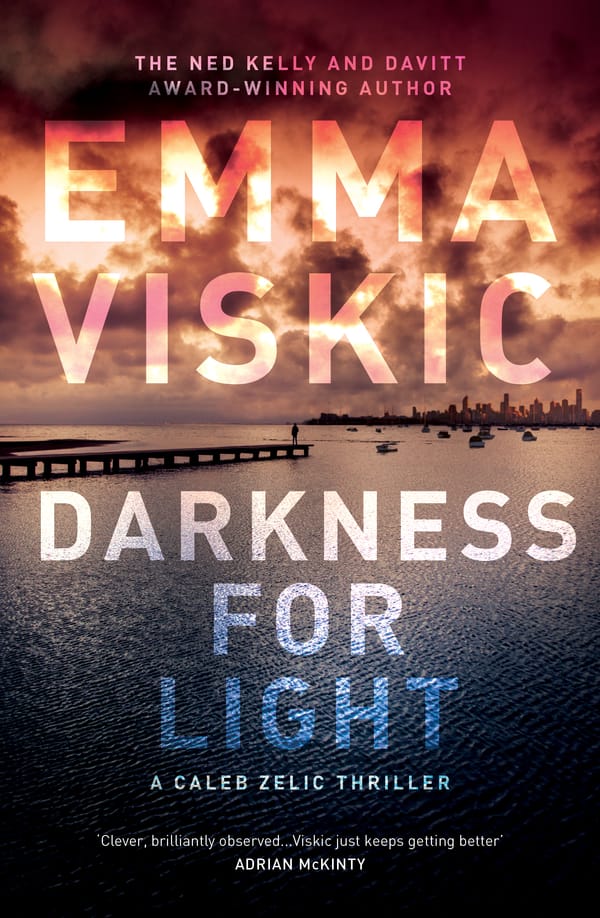 Emma Viskic's Darkness For Light came out in late 2019 and sets a high standard for Australian crime fiction in 2020.
It is the third entry in Emma's award winning series about deaf Melbourne private eye Caleb Zelic and is probably the best of the series so far.
It opens with the troubled Zelic trying to live a better life and move past a lifetime of bad decisions. He is in therapy, reconnecting with the Deaf community and trying to reconcile with his wife. Unfortunately, he cannot escape the consequences of his past and when a meeting with a potential client turns deadly, Zelic finds himself once more entangled with rogue Federal Police agent Imogen Blain and his double-crossing partner Frankie. When Frankie's niece is kidnapped, he must team up with his former partner to find the girl before it is too late.
Darkness For Light opens with a bang and the pace rarely lets up, as Zelic becomes caught up in a series of events beyond his control. Emma smoothly moves the book through its paces, and the plot twists and turns its way to a tough and violent conclusion. The characterisations are superb throughout and Emma even imbues the most minor of characters with a sense of credibility.
At the core of the novel is the tortured Zelic. He is capable and skillful at what he does, but there is also a sense of fragility about him. The reader very quickly comes to care for him and this sense of involvement adds to the tension, as you worry about his capacity to survive.
There is much to admire in this beautifully written book. In addition to the rich characters and well-worked out plot, there are sharp-eyed descriptions and observations of Melbourne, a strong sense of suspense, good dialogue and even moments of wry humour. An outstanding crime novel.
Four and a half stars out of five!
Darkness for Light was released in Australia in November 2019 and will be released in the United Kingdom in March 2020.