TRASHY TUESDAY: DEAD KNOWLEDGE by John W. Campbell (Malian Press, 1953)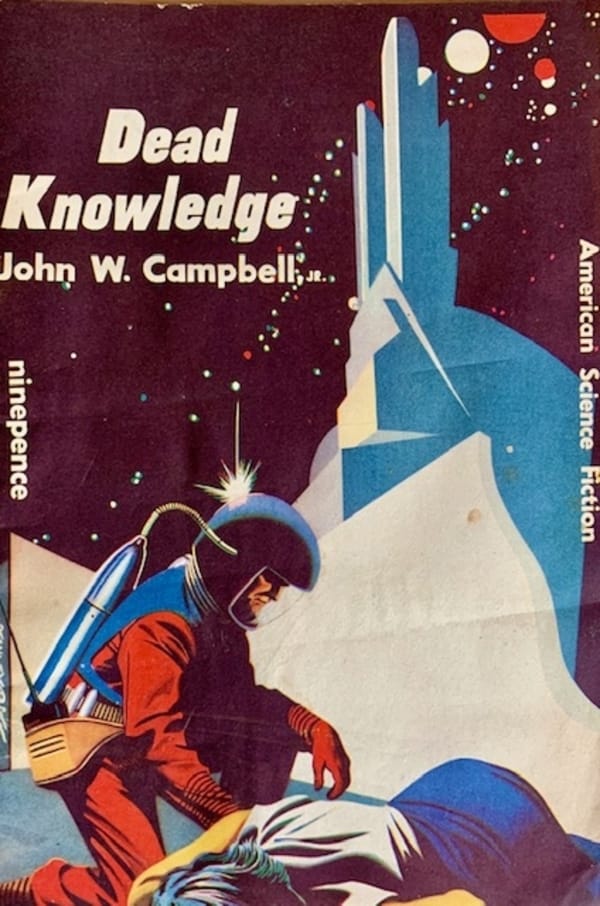 Sydney publishers Malian Press published a series of 34 page, unnumbered science fiction digests between 1952 and 1955 mainly under the banner of American Science Fiction. These were usually reprints of stories from American science fiction pulp magazines such as Amazing Stories and Thrilling Wonder Stories.
Dead Knowledge was published in August 1953 and contains a reprint of the eponymous novelette by famous American science writer and editor John W. Campbell, which first appeared in Astounding Stories in January 1938. It also has two brief short stories by Jack Vance, Men Of The Ten Books, and Arthur Porges, Rats. The latter being a rather dark tale about a future world being destroyed by nuclear war and intelligent rats.
The cover illustration for the digest is by renowned Australian cartoonist and illustrator Stanley Pitt, who did most of the covers for the American Science Fiction series. Pitt was easily the leading Australian comic artist of his time, and a noted illustrator of science fiction. He was also the first Australian artist to have his original work published in US comic books.
The illustration on Dead Knowledge is a nice understated piece of science fiction cover art, with simple colours and credible futuristic detail. The man in a space suit leaning over the body of a woman instantly raises questions in the reader's mind about what is happening and provokes interest. The Malian Press digests had no information on the covers, or inside, about the contents of the book and it was left to the covers to attract potential readers. The cover on Dead Knowledge lacks the spice and action of many pulp covers, but it is likely to have appealed to serious science fiction readers. It is also a reasonable representation of a scene from the Campbell novelette.
Thanks to Gayle Lovett for the copy of Dead Knowledge. Information on Malian Press's American Science Fiction series came largely from Graeme Flanagan's Australian Vintage Paperback Guide.